Twee prominente crypto-analisten beweren dat een omkeer in de koersen nadert.
Crypto Rand, de eerste van de twee analisten, heeft twee grafieken geplaatst op Twitter. De grafieken zijn een logaritmische en een lineaire meting van de afgelopen 18 maanden van de totale marktkapitalisatie van alle cryptocurrencies in omloop.

Overview of #CryptoCurrencies market cap in both Log & Linear scale.

Showing a clear breakout in both perspectives.

Output: Bullish.#Bitcoin #Blockchain #Trading pic.twitter.com/F7nmETGcwn

— Crypto Rand (@crypto_rand) November 5, 2018

Volgens Crypto Rand tonen beide grafieken aan dat de crypto-markt op het punt staan een doorbraak te maken. Zijn conclusie: "Output: Bullish."
Vildana Hajric, een analist bij Bloomberg, heeft een soortgelijke analyse gemaakt en conclusie getrokken. Zij onderzocht de Bitcoin koers met behulp van de Directional Movement Index (DMI). Zij concludeert tevens dat een doorbraak aanstaande is en dat er een bullish fase aan zit te komen.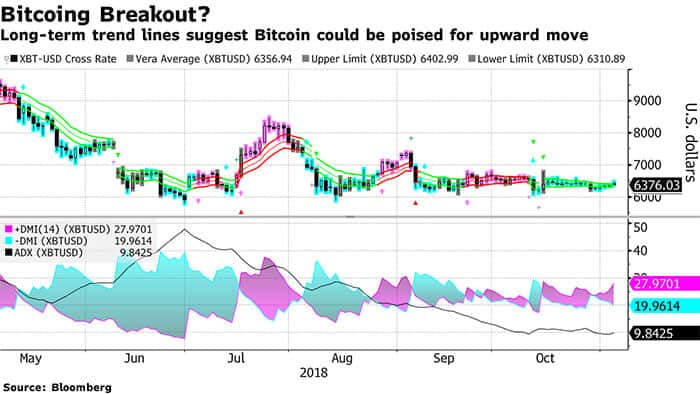 Vorig jaar steeg Bitcoin, dat rond de $6.500 verhandelde in november, naar $19.500 in december. Sindsdien is de koers weer teruggezakt naar ongeveer dezelfde waarde als in november 2017. Of er weer een dergelijke stijging opkomt is is nog maar de vraag.
Toch lijkt de markt weer de goede kant op te gaan. Na een jaar van langzame adoptie en strenge regelgeving, zoals de Securities and Exchange Commission (SEC) die herhaaldelijk Bitcoin-ETF's (Exchange-Traded Funds) af heeft gekeurd, lijken er steeds meer positieve ontwikkelingen plaats te vinden in de crypto-wereld.
Recentelijk kondigde Bakkt, de nieuwe cryptocurrency-exchange van de New York Stock Exchange (NYSE), aan dat Bitcoin-futures binnenkort beschikbaar zullen zijn op het platform. Er wordt verwacht dat deze ontwikkeling institutionele investeerders naar de markt zal brengen.
Er zijn meer prominente figuren in de crypto-wereld die bullish zijn en binnenkort een stijging in de koersen verwachten. Michael Novogratz van Galaxy Digital verwacht dat BTC begin 2019 de $10.000 zal overstijgen. Tom Lee van Fundstrat Global gaf aan dat hij nog dit jaar verwacht dat BTC richting de $20.000 gaat.
Wil je op de hoogte blijven van het laatste nieuws? Abonneer je dan op onze push-berichten, Facebook– of Twitter pagina.