In de afgelopen 24 uur is de totale waarde van de cryptomarkt weer met zo'n $3 miljard gestegen, van $137 miljard naar $140 miljard. Zowel de grotere cryptocurrencies als kleine tokens eindigden uiteindelijk de dag met relatief kleine verliezen, voornamelijk tussen de 1% tot 3%.
Is dit dan de bodem voor Bitcoin?
Het handelsvolume van Bitcoin (BTC) is in de afgelopen dagen ook flink gedaald. Zo is het met meer dan 27% afgenomen van zo'n $5,5 miljard naar $4 miljard. Opmerkelijk is dat de marktwaarde tijdens deze daling in volume relatief weinig beweging liet zien; een teken dat de verkoopdruk enigszins is gestabiliseerd.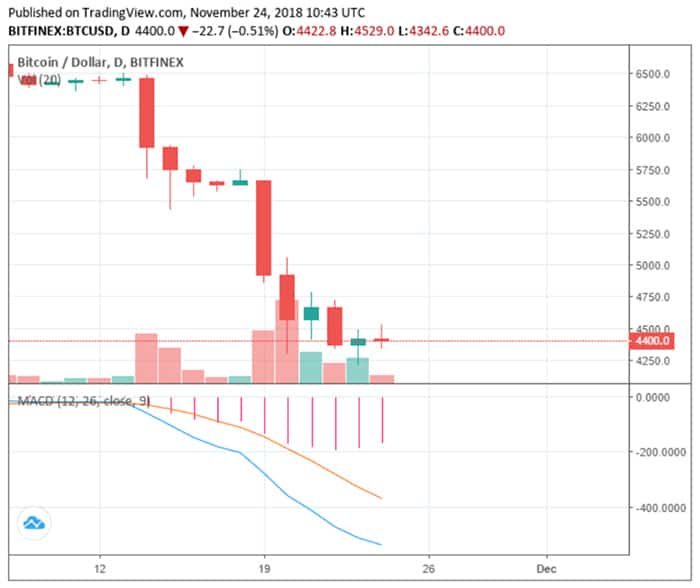 Econoom en crypto-handelaar Alex Krüger merkte op dat BTC haar dagelijkse over-verkoop signaal wist te behalen; een opmerkelijke gebeurtenis gezien dit maar een keer eerder is gebeurd op 17 januari 2015. Toentertijd bleef BTC haar bodem 8 maanden lang vasthouden met maar een kleine neerwaartse doorbraak tijdens de 'flash crash' van 18 augustus 2015.

Yesterday $BTC triggered my main oversold signal on the daily. This signal printed only once before: Jan/17/2015.

Very close to a bottom that held for eight months, and was breached only once ever after, briefly, during the Aug/18/2015 flash crash. pic.twitter.com/mePxaFafqS

— Alex Krüger (@krugermacro) November 24, 2018

Zoals al eerder het geval was bij Ripple (XRP) willen grotere cryptocurrencies na grote drops van zo'n 30-40% vaak weer herstellen op de middellange termijn. Als BTC stabiel blijft rond haar huidige niveau, dan zullen we mogelijk een soortgelijke trend zien in de komende weken.
Ook al weet BTC wel de $4.000 te doorbreken, dan zal stabiliteit rond de $3.800 tot $4.200 alsnog kunnen zorgen voor het opzetten van een basis in de $4.000 regio. Dit zou weer een signaal kunnen zijn dat een bodem-niveau bereikt is.
Volgens technisch analist Hsaka vertonen zich al enkele mooie "buy back wicks". Echter blijft Hsaka voorzichtig en laat weten dat de crypto-markten nog niet geheel uit de problemen zijn – hiervoor wacht de analist eerst op een positieve daily close.

$BTC 1D + 4h

Some nice buyback wicks showing up, but don't think we're out of the woods until a daily close above green. pic.twitter.com/yGHWZgB4Ak

— Hsaka (@HsakaTrades) November 24, 2018

Als men kijkt naar de prestaties van BTC in vergelijking met haar historische prestaties is de correctie van de afgelopen maanden echter een kleine; zo evenaarde BTC in eerdere correcties rond 2011, 2013, en 2015 een gemiddelde daling van zo'n 85%, tegenover een huidige daling van zo'n 78%.
Afgelopen vrijdag leek het er even naar dat de token-markt een kort herstel doormaakte toen Augur (REP) en Maker (MKR) wisten te stijgen met zo'n 5% tot 13%. In de afgelopen uren werden deze stijgingen evenwel volledig weggevaagd. REP daalde met zo'n 10% en MKR met zo'n 7%.
Vergeleken met historische hoogtepunten behaalden de meeste tokens, zelfs degenen met de meest opmerkelijke prestaties tegenover BTC en de USD, een gemiddelde daling van zo'n 98%.
Het uitzicht blijft enigszins pessimistisch voor de token-markt; zo hebben overheden steeds een kritischere houding tegenover ICO-praktijken en blijft de Amerikaanse Securities and Exchange Commission steeds meer druk uitoefenen. Een negatief beeld dus voor token-prijzen.
Wil je op de hoogte blijven van het laatste nieuws? Abonneer je dan op onze push-berichten, 
Facebook
– of Twitter.
[ci-widget-v2]