De Ethereum Merge is misschien wel de grootste ontwikkeling in het crypto nieuws van de afgelopen jaren. Veel mensen vieren de ontwikkeling daarom op verschillende manieren. Een van die manieren is middels het creëren van non-fungible tokens (NFT), zoals de NFT waar het in dit artikel om gaat; de allereerste NFT die op het nieuwe Ethereum-netwerk is aangemaakt!
€60.000 aan transactiekosten voor ETH NFT
De Merge is vanochtend met succes voltooid. De persoon in kwestie wilde koste wat kost de eerste NFT na de Merge creëren. Dat blijkt uit het astronomische bedrag dat hij of zij neer heeft gelegd voor de transactiekosten, namelijk 36,8 ETH ter waarde van zo'n €60.000 op basis van de Bitvavo ethereum prijs. De NFT werd binnen 20 seconden na de Merge aangemaakt!
De reden dat deze persoon zo'n enorm bedrag moest betalen heeft niets te maken met een fout van Ethereum, of de hoge transactiekosten in het algemeen. Nee, dit bedrag is vrijwillig neergeteld met dus als doel de allereerste NFT op het nieuwe Proof-of-Stake (PoS) netwerk te maken.
NFT om Ethereum Merge te herdenken
De NFT in kwestie heet "The Transition" en bestaat uit een zwart scherm met daarop witte tekst. Ook is een pandabeer te zien, de mascotte van de Ethereum Merge. Er zouden 100 exemplaren zijn aangemaakt. Deze worden op de website van de NFT geveild.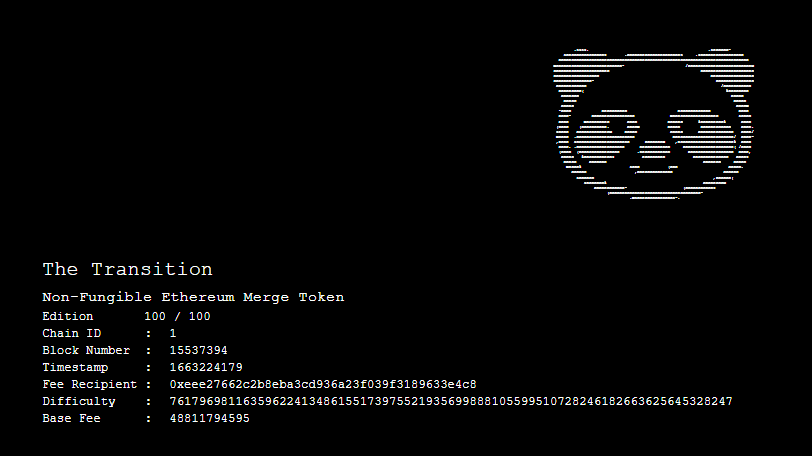 Verder is de vormgeving van de NFT nou niet geweldig. Het lijkt zijn waarde dan ook vooral te halen uit het feit dat het de allereerste 'post-merge' NFT is.
Verder is er allerlei andere informatie op de NFT te vinden, zoals in welk transactieblok de NFT is aangemaakt en op welk tijdstip. Kortom, een memorabele NFT die ongetwijfeld veel interesse zal wekken bij verzamelaars van dergelijke digitale verzamelobjecten.
Een NFT is een unieke token die op de blockchain staat. Deze tokens kunnen verschillende digitale, maar ook niet digitale objecten vertegenwoordigen. In het verleden was vaker in het NFT nieuws te lezen dat sommige van deze tokens voor enorme bedragen over de toonbank vlogen.