Volgens een recent rapport van Arcane Research is het energieverbruik voor bitcoin mining de laatste jaren aanzienlijk toegenomen, maar vergeleken met het wereldwijde verbruik is het een van de groenste industrieën ter wereld. 
Energieverbruik mining vs gaming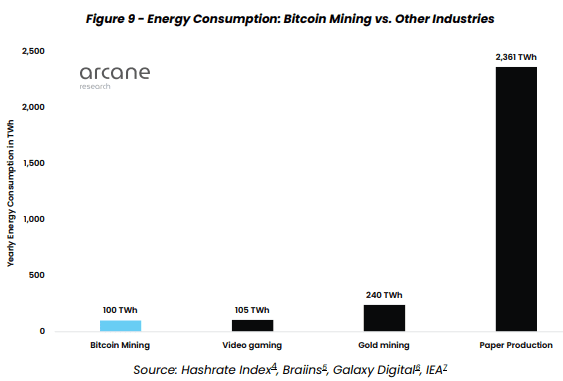 In deze grafiek is te zien dat de gaming-industrie ongeveer 105 TWh per jaar verbruikt, meer dan het minen van Bitcoin (BTC).
Goudmijnbouw verbruikt veel meer energie, op dit moment ongeveer 240 TWh per jaar. 
Om het contrast te laten zien met het energieverbruik voor de papierproductie, is ook dit opgenomen in de grafiek. Dit verbruik ligt op 2.361 TWh per jaar, wat 24 keer meer is dan bitcoin mining. 
In het verslag wordt ook gesteld dat de manier waarop bitcoin miners energie verbruiken verschilt van deze andere energie-intensieve industrieën.
Bitcoin miners gebruiken 60% duurzame energie
In een data review van het Bitcoin Mining Council is de impact van bitcoin mining vergeleken met andere industrieën De industrie maakt nog steeds een zeer klein deel uit van het wereldwijde totaal. Bijna 60% van de energiemix wordt geleverd door duurzame energiebronnen. 
Uit deze presentatie blijkt onder andere het volgende:
De wereldwijde bitcoin mining zorgt voor 0,086% van 's werelds CO2 productie.

Op jaarbasis is de mijn-efficiëntie met 46% gestegen en is de duurzame elektriciteitsmix toegenomen 

Het energieverbruik van bitcoin-mining is slechts 0,15% in vergelijking met het totale energieverbruik van de wereld.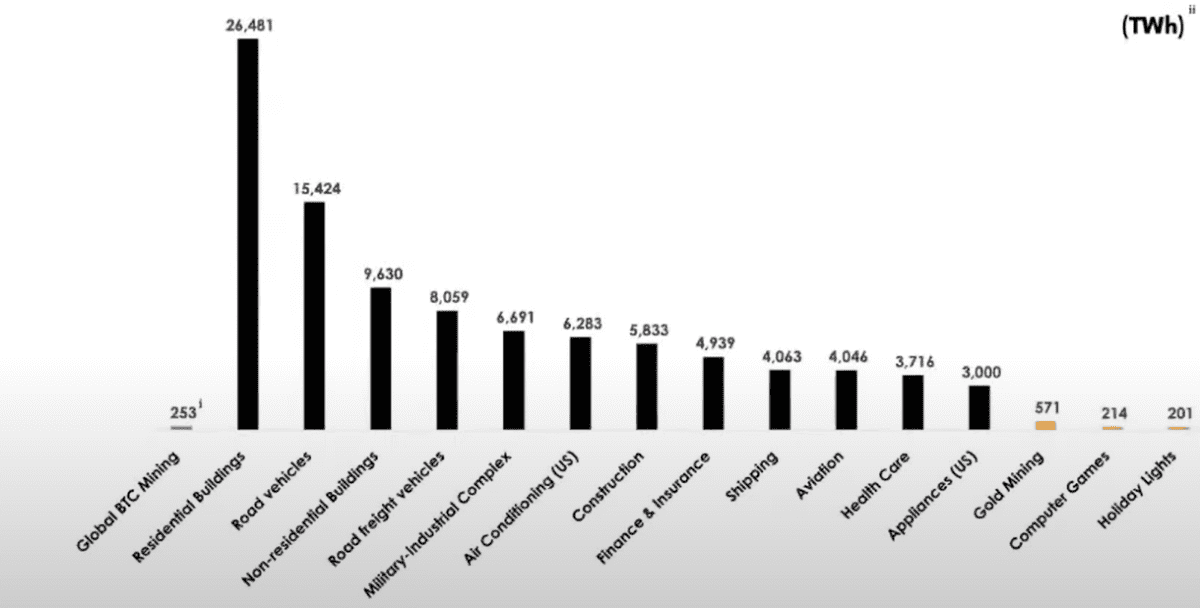 Energieverbruik van bitcoin mining is uniek
Er zijn een aantal zaken waardoor mining uniek is wat energieverbruik betreft. 
Ongeveer 80% van de operationele kosten van bitcoin mining bestaan alleen al uit elektriciteit. Omdat dit zo'n groot deel van de kosten is, willen miners zo min mogelijk energie verbruiken, of verhuizen naar plekken waar de prijzen lager liggen. 
Ook kunnen miners hun machines in een aan- of uitzetten wanneer ze maar willen. En dat niet alleen, ze kunnen zelfs hun verbruik aanpassen qua wattage.
Een ander voordeel van bitcoin mining is dat miners hun faciliteiten vrijwel overal kunnen neerzetten, en kunnen dus gebruik maken van energiebronnen die door niemand anders worden gebruikt vanwege locatiebeperkingen van andere industrieën.
Tot slot zijn de machines makkelijk naar andere locaties te voeren, omdat AISC-installaties goed draagbaar zijn. Hierdoor kunnen miners een belangrijke partij zijn in de bredere energietransitie.