De op een na grootste non-fungible token (NFT) marktplaats OpenSea is getroffen door een aanval. Het leek in eerste instantie te gaan om een zogenoemde exploit door een hacker. Later werd echter duidelijk dat de aanval op een andere manier plaatsvond en het om een phishing-aanval ging.
NFT-marktplaats OpenSea phishing
Afgelopen nacht Nederlandse tijd brak paniek uit. Een kwetsbaarheid in de code van het smart contract van OpenSea zou een hacker namelijk de mogelijkheid hebben gegeven om er met de NFT's van gebruikers vandoor te gaan. De aanval werd direct op Twitter gedeeld om de aandacht van de marktplaats te trekken:
🚨🚨OPENSEA EXPLOITED🚨🚨 Everyone tag @opensea to get them to pause their new contract while everyone figures out whats going on with the exploit! #NFT #NFTs #NFTTheft #NFTScam #NFTSecurity #NFTAlert

— gt_dog (@gt_dog84) February 20, 2022
Toen er uiteindelijk meer duidelijk werd over de aanval bleek het niet om een exploit te gaan. De persoon achter de aanval zou namelijk mensen direct hebben proberen te misleiden in wat men ook wel phishing noemt. Verschillende gebruikers van OpenSea ontvingen een e-mail die afkomstig leek van OpenSea waarin hen werd verzocht hun NFT's te verplaatsen naar een nieuw smart contract.
Blockchain-beveiligingsbedrijf PeckShield liet dit vanochtend vroeg in een tweet weten. De onderzoekers zeiden het volgende over de aanval:
"Hoewel niet bevestigd, is de OpenSea-hack hoogstwaarschijnlijk phishing. Gebruikers autoriseren de "migratie" zoals aangegeven in de phishing-e-mail en de autorisatie stelt de hacker helaas in staat om de waardevolle NFT's te stelen…"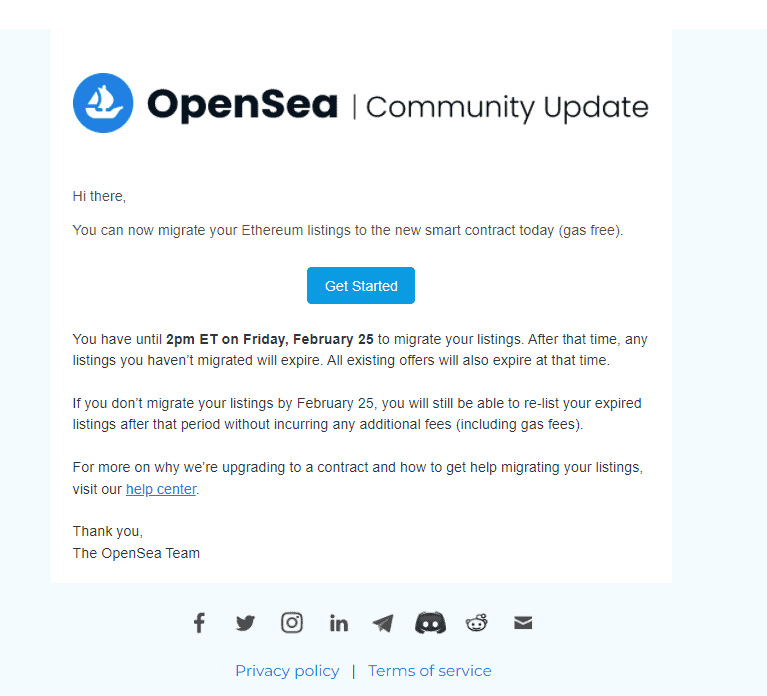 Aanval lijkt zorgvuldig gepland
Voor zover bekend zijn 32 mensen erin getrapt. De wallet van de aanvaller zou zo'n €1,5 miljoen aan ethereum (ETH) hebben ontvangen. De aanval op OpenSea gebruikers lijkt zorgvuldig gepland te zijn. Op 18 februari kondigde OpenSea namelijk aan dat het naar een nieuw smart contract migreert om een mogelijke exploit in de code te repareren. Gebruikers die NFT's te koop hebben staan op de marktplaats moeten hierom hun NFT's migreren naar het nieuwe contract.
Dit maakt de situatie voor gebruikers natuurlijk nog verwarrender en de e-mail van de aanvaller nog geloofwaardiger. De medeoprichter en CEO van OpenSea stelt gebruikers in een reeks tweets gerust en geeft ook wat tips mocht je bezorgt zijn dat je erin bent getrapt. Die tweets vind je hier!