De koers van XRP is deze week met 9% gestegen en het handelsvolume laat recordcijfers zien. Zo wisselden op één dag maar liefst 18,7 miljard XRP van hand. Dit lijkt te komen doordat moederbedrijf Ripple een kleine overwinning heeft geboekt in de rechtszaak tegen de SEC.
Ripple koers in het groen
De huidige Ripple koers is 0,36 euro, 3 cent meer dan het laagste punt van de afgelopen 7 dagen. Deze stijging gaat gepaard met een algehele groei van de cryptomarkt.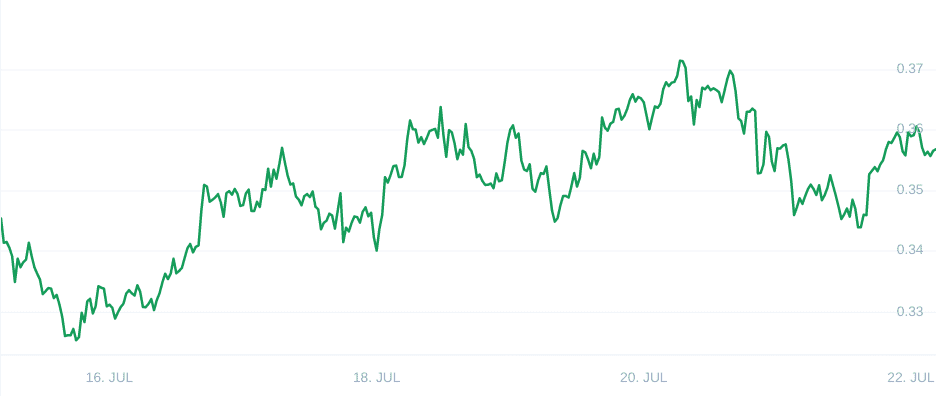 Ondanks de stijging is de waarde van XRP nog ver verwijderd van zijn all time high, deze werd op 4 januari in 2018 behaald en staat op 3,77 euro. XRP is hiermee een van de weinige crypto's die geen all time high behaalde tijdens de bull run van 2021.
Piek in handelsvolume XRP
Santiment deelde onderstaande grafiek waarin het transactievolume van XRP een enorme piek laat zien. Volgens het analysebedrijf was het handelsvolume afgelopen vrijdag 18,7 miljard XRP. Dit zou volgens hun kunnen zorgen voor volatiliteit op de markt en daar hadden ze gelijk in, gezien de 9% stijging van de afgelopen 7 dagen.
😮 #XRPNetwork saw a major anomaly to end the week, with a rapid surge up to 18.7B in $XRP trading volume in the final hour of Friday (UTC time). This may be worth monitoring for some unordinary upcoming weekend price action. 📊https://t.co/5ohmnn81WE pic.twitter.com/G6g78itdMn

— Santiment (@santimentfeed) July 16, 2022
Kleine overwinning Ripple in rechtszaak van 100 miljoen
Het lijkt of de koersstijging en de piek in het handelsvolume komt doordat een besluit van de rechter positief heeft uitgepakt voor Ripple. De rechtbank wees een verzoek van de SEC af om een toespraak van een oud-werknemer van de financiële waakhond te voorkomen.
Deze voormalig medewerker verklaarde jaren geleden dat Ethereum geen security is en dus niet valt onder de verantwoordelijkheid van de SEC. De rechtbank wilde niets weten van het bezwaarschrift van de SEC en noemde het voorstel zelfs hypocriet.
De zaak loop inmiddels al langer dan anderhalf jaar en in die tijd heeft Ripple laten zien dat ze niet bang zijn. Ze voegen de daad bij het woord en hebben inmiddels al meer dan 100 miljoen dollar uitgegeven aan juridische kosten.
De CEO van Ripple Brad Garlinghouse legt uit dat dit bedrag gerechtvaardigd is doordat hij niet alleen strijd voor zijn bedrijf, maar voor de hele crypto-industrie. Hij zegt dat de tactiek van de SEC gebaseerd is op het zo duur mogelijk maken van rechtszaken zodat de beklaagden sneller geneigd zijn om tot een schikking te komen.
Investeerders XRP niet welkom
Aan de andere kant van het spectrum staan XRP-investeerders, zij worden vertegenwoordigd door advocaat John Deaton. De investeerders willen betrokken worden bij de rechtszaak omdat ze door de aanklacht van de SEC veel geld zijn verloren. De SEC vindt echter dat deze investeerders niet welkom zijn en heeft daarom een bezwaarschrift tegen hun aanwezigheid ingediend bij de rechter.
Dat is gek, want het bestaansrecht van de SEC is juist om investeerders te beschermen.