De Canadese cryptocurrency exchange QuadrigaCX zit met een groot probleem. De CEO, Gerald Cotten, is namelijk overleden in India en hij was naar verluidt de enige die de private keys van de wallets beheerde. 115.000 klanten van de exchange hebben daardoor geen toegang meer tot hun cryptocurrency.
In december 2018 kwam het nieuws dat Cotton overleden zou zijn voor het eerst naar buiten. Het overlijden van de CEO is sindsdien omgeven van controverse aangezien hij 12 dagen voor zijn overlijden nog zijn testament bijwerkte. Zijn vrouw, Jennifer Robertson, zou door die wijziging van het testament alles wat Cotton had erven.
Daarnaast hield de exchange zich een maand stil rondom het overlijden van haar CEO. Veel klanten vonden de situatie daarom verdacht en verdenken Cotton ervan er met het geld vandoor te zijn gegaan. Deze week werd echter de overlijdensakte gepubliceerd waarin staat dat Cotton op 9 december is overleden.
Aangezien Cotton de enige was die de wachtwoorden en private keys van de wallets van de exchange wist, heeft niemand nu toegang tot die tegoeden. Zijn vrouw geeft aan dat er nu pogingen worden gedaan om de versleutelde laptop te hacken.
Een aantal klanten van QuadrigaCX spande een rechtszaak aan om crypto terug te krijgen, maar het Hooggerechtshof van Nova Scotia heeft besloten dat de exchange 30 dagen de tijd krijgt om uit te zoeken hoe het bij de tegoeden kan komen. Een andere manier om de ruim 115.000 getroffen klanten schadeloos te stellen zou de verkoop van QuadrigaCX zijn. Het blijft echter onduidelijk of dit genoeg op zou leveren om al die klanten schadeloos te stellen.
In totaal zou een bedrag van zo'n US$190 miljoen aan crypto en fiat-valuta verloren zijn gegaan. 7 maart loopt de periode waarin QuadrigaCX een manier moet vinden om bij de tegoeden te komen af. Volgende maand zal dus duidelijk worden of en hoe de exchange de klanten schadeloos gaat stellen.
Ondertussen draait de geruchtenmachine overuren. Het volk op social news website Reddit is van mening dat het hele zaakje stinkt en stopt dit niet onder stoelen of banken. Zo wordt er geopperd dat je in India een overlijdensakte gewoon kan kopen.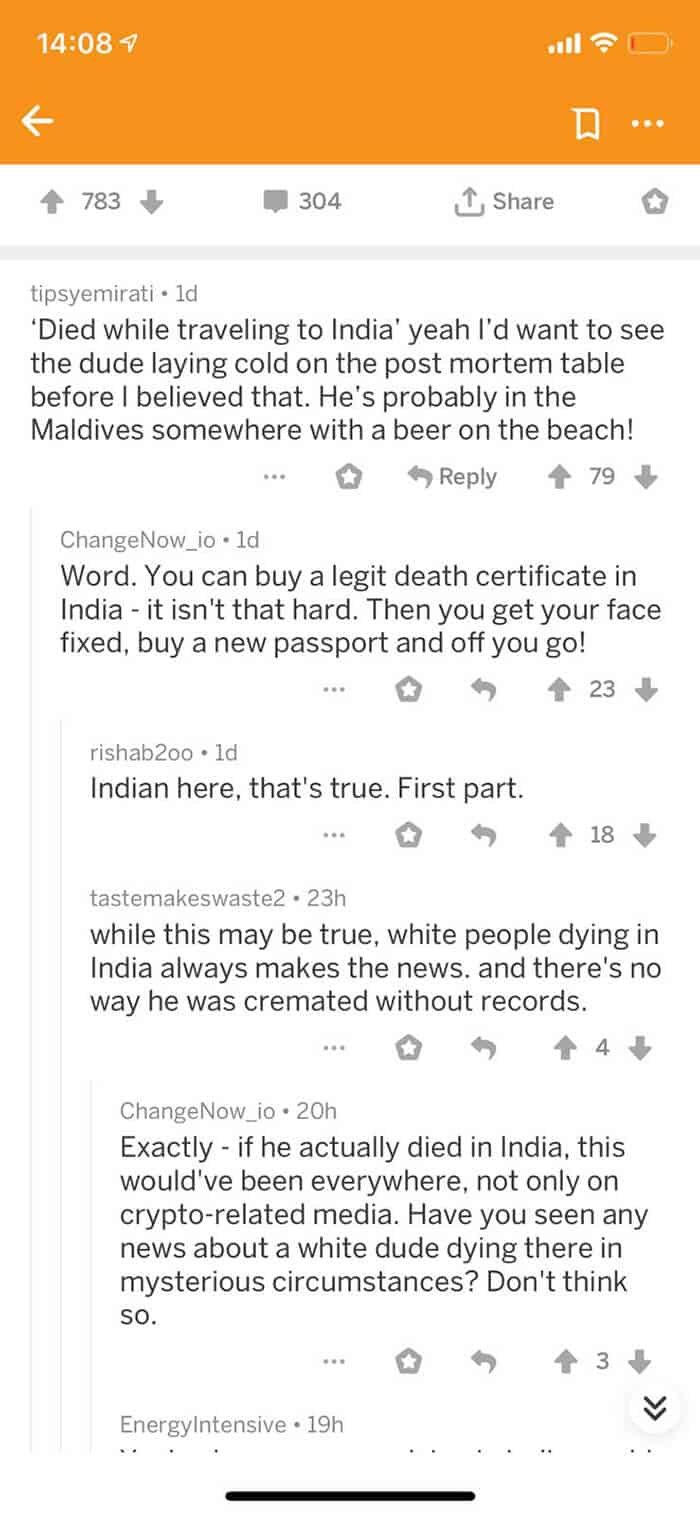 Hoe zit de vork in de steel? Laat het ons weten in de comments. Je mengen in de discussie op Reddit kan hier.
Wil je op de hoogte blijven van het laatste nieuws? Abonneer je dan op onze push-berichten, 
Facebook
 of Twitter.
[ci-widget-v2]