De Amerikaanse cryptocurrency-exchange en wallet Coinbase heeft vrijdag 3 augustus in een blogpost aangekondigd dat het de toevoeging van 37 nieuwe cryptocurrencies aan haar vorige maand gelanceerde custodial service Coinbase Custody, onderzoekt.
Coinbase Custody biedt institutionele beleggers de mogelijkheid te investeren in crypto door een samenwerking met een onafhankelijke broker-dealer, Electronic Transaction Clearing (ETC) dat aan de regels van de Securities and Exchange Commission (SEC) voldoet, en lid is van de Financial Industry Regulatory Authority (FINRA). Institutionele fondsen zijn wettelijk verplicht om een custodian (bewaarnemer) te gebruiken om hun tegoeden in bewaarneming te houden en hen te beschermen tegen diefstal. In ruil daarvoor brengen de custodians kosten in rekening om de assets veilig te houden.
Sinds de lancering ondersteunde Coinbase Custody alleen Bitcoin (BTC), Ethereum (ETH), Litecoin (LTC) en Bitcoin Cash (BCH). Onder de nieuwe cryptocurrencies die in aanmerking komen voor bewaring bij Coinbase Custody vallen onder meer Ripple (XRP), EOS (EOS), Monero (XMR), VeChain (VEN), Cardano (ADA) en Stellar (XLM). Hieronder een lijst van alle tokens die Coinbase Custody in overweging neemt.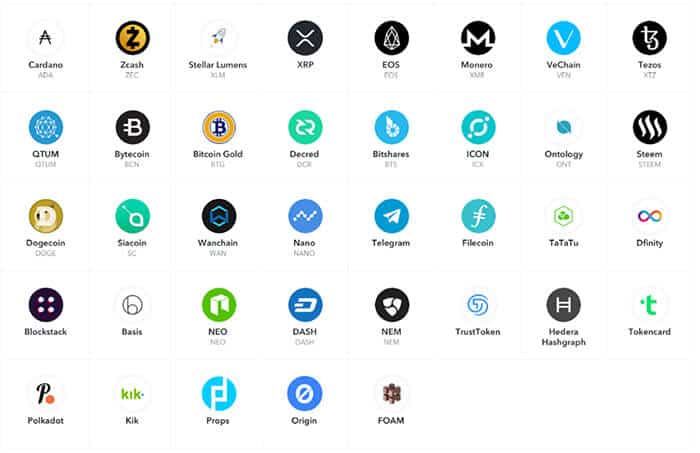 In de blogpost wordt benadrukt dat de crypto-assets toegevoegd kunnen worden "for storage only" en dat Coinbase ze "zo snel en veilig mogelijk" zal toevoegen. Coinbase verklaart dat ze momenteel niet bezig zijn met de optie om de currencies ook te verhandelen bij Coinbase Custody:
We maken deze aankondiging intern bij Coinbase en publiekelijk op hetzelfde moment om transparant te blijven met onze klanten over ondersteuning voor toekomstige assets.
Wil je op de hoogte blijven van het laatste nieuws? Abonneer je dan op onze push-berichten, Facebook– of Twitter pagina.