Als het gevestigde cryptocurrency-exchanges niet was opgevallen toen de commissievrije trading app Robinhood gratis cryptocurrency-handel aan begon te bieden eerder dit jaar, is hen dat nu waarschijnlijk wel.
Volgens een vacature die verscheen op de website van recruitment-bureau Greenhouse, werkt Robinhood naar verluidt aan een eigen wallet voor cryptocurrency. Hierdoor kunnen klanten van Robinhood hun crypto assets van andere wallets en brokerages naar het platform verplaatsen zonder ze eerst te verkopen.
Op dit moment is het voor klanten van de commissievrije investerings-app die hun cryptocurrencies in of uit Robinhood willen verplaatsen, nodig om deze te verkopen, het geld naar het gewenste platform te verplaatsen en vervolgens de cryptocurrencies naar keuze te kopen.
Nieuwe features, nieuwe bedreigingen voor vestiging
Uitgaande van de vacature, die als eerste door Business Insider werd opgemerkt, zoekt Robinhood een "Crypto Engineer" die onder meer verantwoordelijk is voor het toevoegen van nieuwe features aan het crypto-product van het bedrijf. In de vacature:
"Als Crypto Engineer zul je: nieuwe features voor ons crypto-product ontwikkelen, zoals het toevoegen van nieuwe currencies of het aanbieden van een wallet-functionaliteit."
Om te solliciteren wordt ten minste één jaar ervaring met het ontwikkelen van crypto op blockchain vereist, evenals eerdere ervaringen met distributed services.
Volgens een woordvoerder van Robinhood, wat momenteel een beurswaarde van $5,6 miljard heeft, vragen klanten van het bedrijf contant om een manier om cryptocurrencies naar de app over te zetten van andere services. Naast de mogelijkheid om cryptocurrencies te verplaatsen, kan het hebben van een eigen crypto-wallet klanten van Robinhood ook een veiligere manier bieden om hun digitale assets op te slaan.
Van traditionele investeringen naar crypto
Hoewel het vijf jaar geleden werd opgericht, richtte Robinhood zich in eerste instantie op beleggers die geïnteresseerd zijn in Amerikaanse aandelen, opties en beurs-verhandelde fondsen. Het was pas begin dit jaar dat de commissievrije crypto-trading werd geïntroduceerd. Aanvankelijk werd Robinhood Crypto uitgerold naar New Hampshire, Montana, Missouri, Massachusetts en Californië. Later werd de lijst uitgebreid met Arizona, Colorado, Florida, Indiana, Michigan, Mississippi, New Mexico, Pennsylvania, Utah, Virginia, Wisconsin en Texas, waarbij laatstgenoemde de meest recente toevoeging was.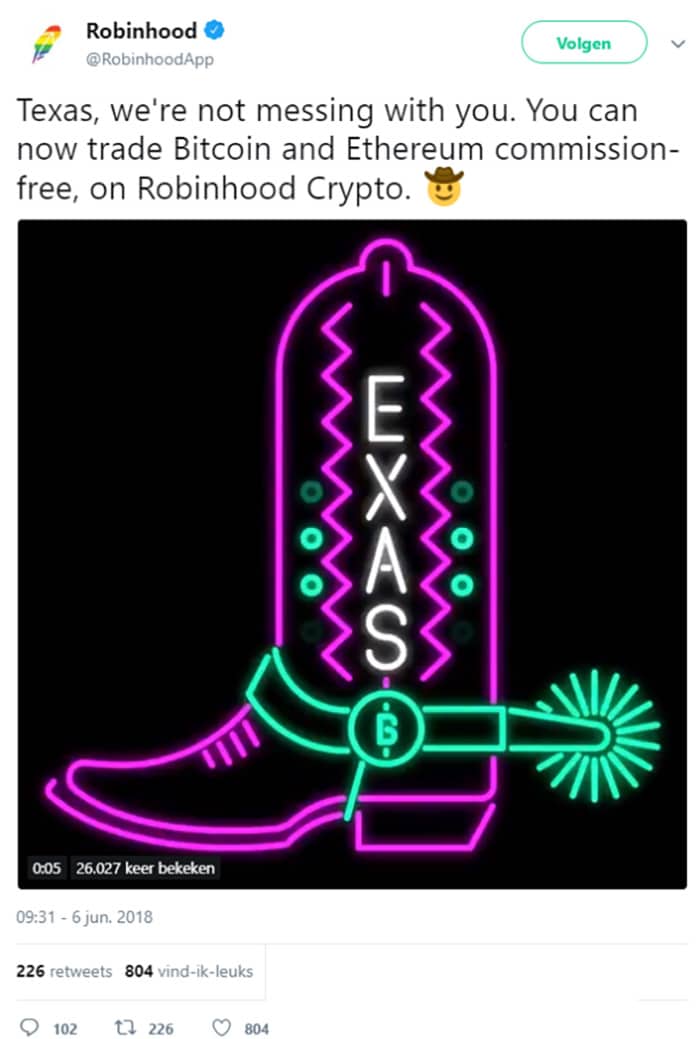 Vanaf het begin stond het platform alleen de handel in Bitcoin en Ethereum toe, maar features zoals het maken van aangepaste meldingen, toegang tot crypto-nieuws en marktgegevens waren beschikbaar voor 16 van 's werelds belangrijkste cryptocurrencies.
In een Series D financieringsronde heeft het FinTech-bedrijf vorige maand ongeveer $363 miljoen opgehaald, waardoor het bedrijf voldoende financiële armslag heeft om het op te nemen tegen gevestigde crypto-rivalen, door het commissievrije bedrijfsmodel uit te breiden naar meer staten.