Crypto Insiders leden ontvangen in onze Discord omgeving dagelijks nieuwe technische analyses voor cryptocurrencies. In dit artikel kijken we naar een behaald resultaat van een recente the sandbox (SAND) analyse uit onze Premium groep. Ben je nog geen lid of mocht je na het lezen van dit artikel nog vragen hebben, probeer dan een Premium-lidmaatschap 30 dagen volledig gratis.
Laatste the sandbox en metaverse nieuws
Technische analyse SAND koers
Op 3 november deelden de analisten van Crypto Insiders de onderstaande grafiek voor de SAND koers. Hierop is nog te zien waar de analisten hun rode verkoopzone tekenden. De analisten tekenden hier de zone omdat zij in een oudere analyse al hadden verwacht dat SAND hier weerstand zou tegenkomen en de koers vervolgens een omkeer naar beneden maakt.
Deze daling kon voorspeld worden doordat SAND een 12345 Elliott Wave patroon vormde en de vierde wave hier perfect uitkwam. Vervolgens konden de analisten een schatting maken waar de vijfde wave uit zou komen en konden ze op deze daling inspelen, bijvoorbeeld via een short positie.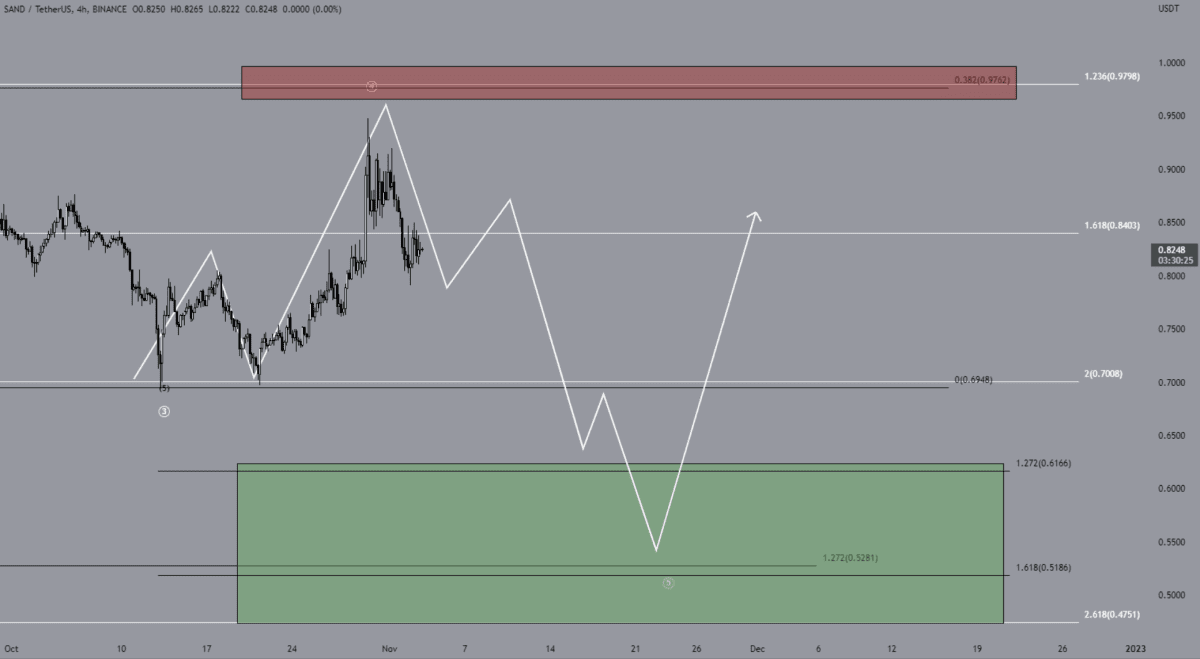 Inmiddels weten we dat deze daling heeft plaatsgevonden, en door het nieuws rondom de FTX exchange, zelfs sneller dan verwacht. In een nieuwe analyse konden de Crypto Insiders analisten de groene zone preciezer inschatten, namelijk rond de $0,52, zoals hieronder is te zien. Afgelopen nacht kwam SAND hier ook daadwerkelijk uit. Dat betekent dat de koers tussen de rode zone en groene zone met maar liefst 45% gedaald is, een mooie kans als je daar op kon inspelen.
Alhoewel in de onderstaande grafiek staat dat de analisten nu weer een stijging verwachten, is deze analyse al enigszins verouderd en is de markt afgelopen nacht flink gezakt. Of de analisten nog steeds een stijging verwachten, zullen zij later vandaag nog delen in de Premium omgeving van Crypto Insiders met een nieuwe analyse.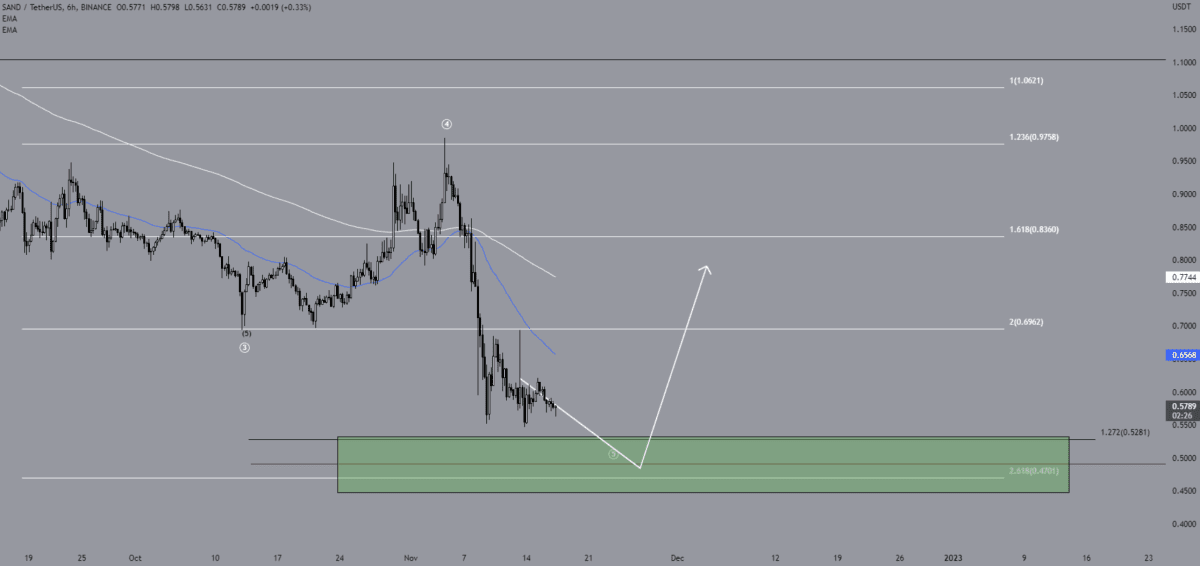 The sandbox kopen of verkopen?
Overweeg jij SAND te kopen of verkopen? Zoek jij hulp met handelen in crypto? Dan verwijzen we je graag door naar onze Premium membersgroep. Hier ontvangen leden als eerst de nieuwste technische analyses van een groot aanbod aan crypto.
Ook krijg je toegang tot exclusieve crypto-projecten, koersvideo's, handelsplannen en ask me anything (AMA) sessies met onze analisten. In onze Discord kunnen we 24/7 kennis met elkaar delen en proberen we samen met onze leden de markt voor te blijven. Voor meer informatie, neem een kijkje op onze Premium informatiepagina.
Disclaimer: Beleggen brengt risico's met zich mee. Onze analisten zijn geen financieel adviseurs. Raadpleeg altijd een adviseur bij het maken van financiële beslissingen. De informatie en tips die op deze website zijn verstrekt is gebaseerd op eigen inzichten en ervaringen van onze analisten. Deze dienen daarom alleen voor educatieve doeleinden.