Crypto Insiders leden ontvangen in onze Discord omgeving dagelijks nieuwe technische analyses voor cryptocurrencies. In dit artikel delen we een recente analyse van bitcoin (BTC) uit onze Premium groep. Ben je nog geen lid of mocht je na het lezen van dit artikel nog vragen hebben, neem dan eens een kijkje op onze Premium informatiepagina.
Laatste bitcoin nieuws
Technische analyse BTC koers
Bitcoin heeft eindelijk wat rust kunnen vinden na het drama omtrent de FTX exchange. Bitcoin zag de afgelopen dagen vooral zijwaartse prijsactie en kon in deze periode wat kracht sparen voor een beweging naar boven. Bitcoin dipte gisteren nog voor de tweede maal dit jaar onder $16.000, en probeert sindsdien de $17.000 te heroveren.
De analisten van Crypto Insiders verwachten dat de koers dit herstel voorlopig door kan zetten, maar vrezen dat het daarna erger kan worden. Dat leggen zij als volgt uit:
"Bitcoin is wat minder volatiel geworden en heeft ons de kans gegeven opnieuw de balans op te maken. Voor nu ziet het er naar uit dat bitcoin een impulsive 12345 Elliott Wave naar boven wil maken. Hierbij vormen we nu de derde wave van dit patroon omhoog. Deze wave zal vaak snel en explosief verlopen.

Na het voltooien van dit patroon verwachten we echter dat de koers weer erg bearish zal worden, zoals besproken in eerdere analyses van bitcoin. Wij zijn er nog steeds van overtuigd dat bitcoin eerst richting de $14.000 zal dalen voordat we weer omhoog kunnen."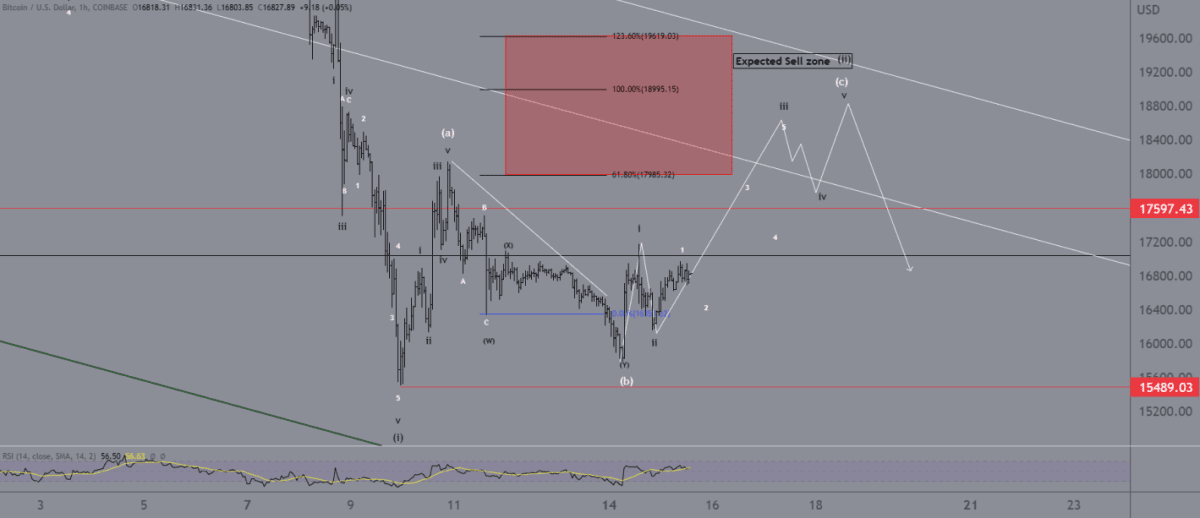 Ook de community is van mening dat bitcoin nog niet de absolute bodem heeft bereikt. Dat is terug te zien in de onderstaande poll die momenteel op het Twitteraccount van Crypto Insiders wordt gehouden:
Heeft bitcoin (#BTC) al de bodem bereikt?

— Crypto Insiders (@CryptoinsidersS) November 14, 2022
Mogelijk ook een interessante analyse
Gisteren is ook een analyse van ethereum (ETH) gepubliceerd op Crypto Insiders waarbij de analisten een blik worpen op de ETH koers. In deze analyse komen de analisten tot de conclusie dat, hoewel zij in eerste instantie erg bullish waren vover de koers, dit wellicht toch veranderd is in de afgelopen dagen. De ethereum anlyse kun je op deze pagina vinden. In de Premium ongeving van Crypto Insiders worden meer analyses eerder gedeeld.
Bitcoin kopen of verkopen?
Overweeg jij BTC te kopen of verkopen? Zoek jij hulp met handelen in crypto? Dan verwijzen we je graag door naar onze Premium membersgroep. Hier ontvangen leden als eerst de nieuwste technische analyses van een groot aanbod aan crypto. Ook krijg je toegang tot exclusieve crypto-projecten, koersvideo's, handelsplannen en ask me anything (AMA) sessies met onze analisten. In onze Discord kunnen we 24/7 kennis met elkaar delen en proberen we samen met onze leden de markt voor te blijven. Word lid en probeer een Premium-lidmaatschap 30 dagen gratis.
Disclaimer: Beleggen brengt risico's met zich mee. Onze analisten zijn geen financieel adviseurs. Raadpleeg altijd een adviseur bij het maken van financiële beslissingen. De informatie en tips die op deze website zijn verstrekt is gebaseerd op eigen inzichten en ervaringen van onze analisten. Deze dienen daarom alleen voor educatieve doeleinden.