In onze Premium omgeving voor leden ontvingen we deze week meerdere verzoeken voor een fundamentele analyse voor dit project. Om deze reden analyseren we vandaag de recente ontwikkelingen rondom dit project, on-chain data en meer. Lijkt het je nou leuk om mee te discussiëren over dit project of overweeg je een  positie in te nemen? In onze Discord community voor leden worden dagelijks verschillende technische analyses gedeeld door ervaren analisten en handelaren. Ook AVAX komt hier regelmatig aan bod. Zo proberen we samen met andere leden de markt voor te blijven en de juiste in- en uitstapmomenten te vinden.
Even opfrissen, wat is Avalanche (AVAX)?
Avalanche biedt een platform aan ontwikkelaars waar zij de mogelijkheid krijgen om zowel eigen blockchain ontwerpen en te ontwikkelen maar ook een platform waarop zij eigen gedecentraliseerde applicaties (dApps) kunnen bouwen door middel van smart contracts. Daarnaast wil Avalanche met haar project ervoor zorgen dat de transactiesnelheid, schaalbaarheid en decentralisatie wordt verbeterd. Zij geven aan dat dit een tekortkoming is van de (oude) traditionele blockchains.
Laatste nieuws / recente ontwikkelingen
Een interessante recente ontwikkeling rondom het Avalanche ecosysteem is het bericht dat er een mogelijke nieuwe investeringsronde zou komen voor Avalanche. Avalanche zou naar verluidt $350 miljoen op willen halen. Mocht deze investeringsronde doorgaan dan zou dit Avalanche een waarde van ongeveer $5 miljard geven. Wanneer de investeringsronde plaats zal vinden is vooralsnog niet bekend.
Daarnaast zien we dat Avalanche zich steeds meer bezig wil houden met een aantal andere populaire sectoren. Avalanche heeft namelijk een bedrag van $290 miljoen beschikbaar gesteld voor het ontwikkelen van een zogenoemde multiverse. De Multiverse bestaat uit verschillende subnets, een manier om veilige en betrouwbare netwerken te bouwen op een hoofdnet, is vooral gericht op de blockchain-gaming sector, decentralized finance (DeFi), non-fungible tokens (NFT) en institutionele use cases. Dit geld wordt gebruikt om ontwikkelaars te stimuleren met interessante projecten te komen.
On-chain en data analyse Avalanche (AVAX)
Totale waarde opgeslagen in Avalanche blockchain

Positie van Avalanche op basis van TVL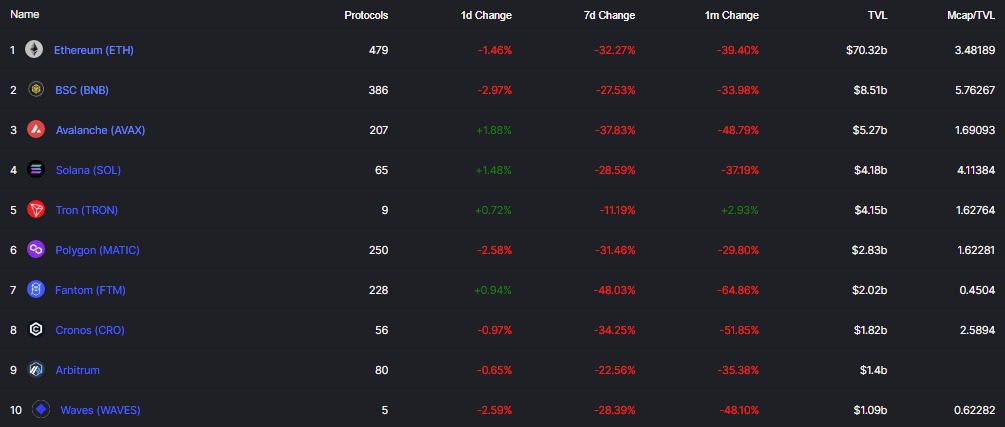 Wat zien we op deze grafiek/data?
Op de afbeelding hierboven zien we de total value locked (TVL). De TVL toont de totale waarde die is opgeslagen in de projecten die zijn gebouwd op de Avalanche blockchain. De totale waarde van alle projecten bij elkaar is op het moment van schrijven $5,27 miljard. Als deze TVL van Avalanche afzetten tegen vergelijkbare projecten zien we dat Avalanche momenteel op positie #3 staat onder Binance Chain en Ethereum (ETH).
Op de tweede afbeelding is te zien dat deze waarde is opgemaakt uit 207 verschillende op Avalanche gebouwde projecten. Uit deze info is ook op te maken dat de Avalanche blockchain erg populair is voor DeFi projecten en ontwikkelaars. We kunnen namelijk zien dat Avalanche op de derde plek staat op basis van TVL. In totaal zijn er 207 DeFi projecten gebouwd op Avalanche met een totale waarde van $5,27 miljard. De TVL komt vrij overeen met de totale marktwaarde van AVAX. AVAX heeft namelijk een totale marktwaarde van $8,6 miljard.
Wat kunnen we hieruit concluderen?
Hieruit kunnen we opmaken dat Avalanche erg populair is onder ontwikkelaars. Dit komt natuurlijk doordat Avalanche zich hier ook op focust. Het platform is zo ingericht dat ontwikkelaars door middel van smart contracts verschillende applicaties kunnen bouwen. Avalanche is dus erg goed in hetgeen waar het voor bedoeld is, wat altijd een mooi gegeven is voor een project.
Daarnaast is duidelijk te zien dat Avalanche op het gebied van DeFi een erg grote speler is. De applicaties te zijn gebouwd op Avalanche worden ook daadwerkelijk veel gebruikt. Toch zal Avalanche voorlopig nog niet kunnen tippen aan de platformen die boven haar staan, namelijk de Binance Smart Chain (BNB) met een waarde van $8,51 miljard en Ethereum (ETH) met een waarde van $70,32 miljard.
Top tien projecten gebouwd op Avalanche (AVAX)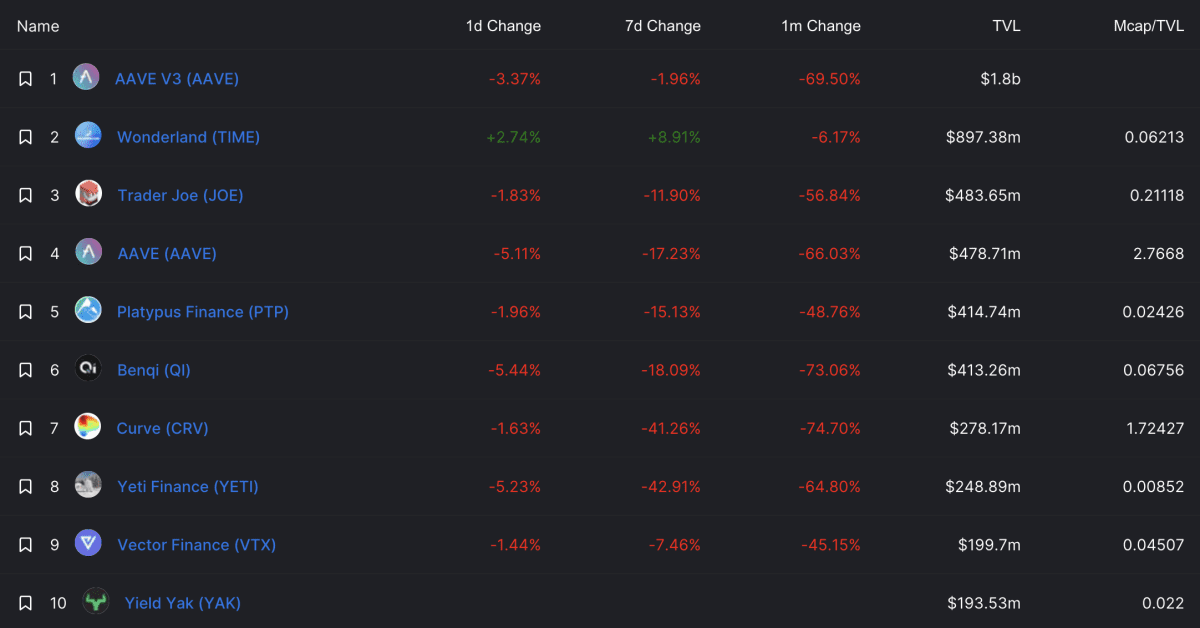 Wat zien we op deze grafiek/data?
De tien grootste projecten die gebouwd zijn op Avalanche zijn in bovenstaande lijst inzichtelijk gemaakt. Het grootste project is Aave (AAVE). Deze staat twee keer op de lijst aangezien de grootste een nieuwe versie van het platform is dan de nummer vier plek. Op de tweede plek staat Trade Joe (JOE), een gedecentraliseerde exchange (DEX). Een ander opvallend project die in de top tien staat is Curve (CRV). Dit is namelijk samen met AAVE in de top 100 staat op basis van marktwaarde.
Wat kunnen we hieruit concluderen?
De conclusie die we uit deze informatie kunnen trekken is dat Avalanche een serieus project is waar ook daadwerkelijk serieuze projecten met goede ontwikkelaars op gemaakt worden. twee projecten uit de top tien staat bijvoorbeeld al in de top 100 van grootste cryptocurrency projecten ter wereld. Een erg positief teken!
Ook aantal transacties nemen toe op het Avalanche (AVAX) netwerk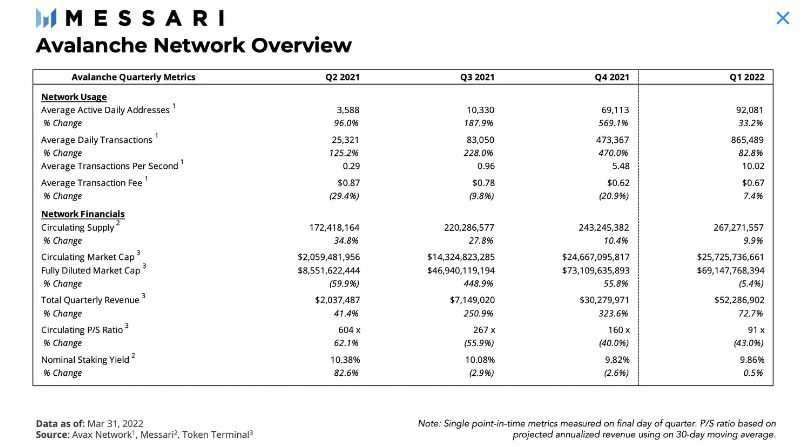 Wat zien we op deze grafiek/data?
Hierboven nemen we een kijkje naar de financiële kant van Avalanche, door middel van de kwartaalcijfers voor zowel 2021 als het eerste kwartaal van 2022. Uit deze gegevens kunnen we opmaken wat de groei is van Avalanche Network. Dit kunnen we zien door naar het aantal actieve wallet adressen te kijken. In Q2 van 2021 waren dit er slechts 3.588. In Q1 van 2022 zijn dit er al 91.081. Het aantal dagelijkse transacties is ook in een jaar van 25.321 naar 865.489 gestegen. Ook een belangrijk gegeven is het feit dat de gemiddelde transactiekosten van $0,87 per transactie naar $0,67 is gedaald.
Wat kunnen we hieruit concluderen?
Uit deze cijfers is duidelijk op te maken hoe hard Avalanche groeit. Er zijn veel meer actieve wallet adressen, wat betekent dat het netwerk steeds meer gebruikt wordt, er worden meer transacties in een kortere tijd verricht en het netwerk wordt met het kwartaal goedkoper. Dit zijn allemaal tekenen dat het goed gaat met het netwerk.
Social cijfers nemen wel af

Wat zien we op deze grafiek/data?
Uit de bovenstaande grafiek kunnen we opmaken dat het aantal Twitter volgers (blauwe lijn)  van Avalanche afneemt. Daarnaast zien we het aantal actieve gebruikers op Telegram (rode lijn) ook stagneren.
Wat kunnen we hieruit concluderen?
Hieruit kunnen we concluderen dat, ondanks het qua cijfers goed met het project gaat, de interesse in de sociale media van het platform toch afneemt. Waar dit precies door komt is echter onduidelijk. Het zou een aantal verschillende redenen kunnen hebben. Het is mogelijk dat mensen hun interesse zijn verloren in de posts die Avalanche plaatsen op hun Twitter of bijvoorbeeld doordat het op de markt niet goed gaat met alle cryptocurrencies en mensen hierdoor minder bezig zijn met de markt. Daarnaast zou het natuurlijk ook met het sentiment op de markt te maken kunnen hebben. Het sentiment is op het moment erg negatief door de harde crash van de afgelopen weken. Toch hoeft dit niet te betekenen dat de socials van een project niet kunnen groeien. Elrond is daar een mooi voorbeeld van. Al met al is het een interessant gegeven om in de gaten te houden.
Avalanche (AVAX) kopen of verkopen?
De crypto-markt is volatiel en het marktsentiment is continu in beweging en zwaar onderhevig aan economische gebeurtenissen en traditionele aandelenmarkten. Dit maakt het soms lastig om het juiste moment te bepalen om in een bepaald project te investeren.
Om antwoord te krijgen op de vraag om te kopen of verkopen verwijzen we je graag door naar onze Discord groep voor leden. Daar bediscussiëren onze analisten en ervaren handelaren dagelijks hun eigen in- of uitstapmomenten. Ook delen we hier regelmatig aanvullende koers-analyses en updates van projecten die we eerder in deze rubriek hebben behandeld. Via Discord kunnen we 24/7 kennis met elkaar delen en proberen we samen met onze leden de markt voor te blijven.
Disclaimer: Beleggen brengt risico's met zich mee. Onze analisten zijn geen financieel adviseurs. Raadpleeg altijd een adviseur bij het maken van financiële beslissingen. De informatie en tips die op deze website worden verstrekt zijn gebaseerd op eigen inzichten en ervaringen van onze analisten en dienen alleen voor educatieve doeleinden.