In de premium omgeving van Crypto Insiders worden dagelijks actuele technische analyses gedeeld door ervaren analisten. De afgelopen periode kwam ethereum (ETH) hier regelmatig aan bod. In dit artikel blikken we terug op deze technische analyse en brengen we de recente ontwikkelingen en verwachtingen voor de komende periode in kaart. Mocht je na het lezen van dit artikel nog vragen hebben, kun je deze eenvoudig stellen in onze Discord community. Hier worden onze technische analyses doorgaans 48 uur eerder gedeeld met onze leden.
ETH komt op het moment van schrijven uit op een prijs van $1.805 en is de koers dus over de afgelopen 24 uur met ongeveer 8% gedaald. Over de afgelopen zeven dagen ging het iets beter, echter zagen we alsnog een daling van bijna 6%. ETH staat desondanks natuurlijk nog op de tweede plaats qua grootste crypto op basis van de marktwaarde.
Wat is Ethereum?
Ethereum is een gedecentraliseerd computernetwerk dat draait op blockchain-technologie. Je kan op Ethereum, net als op Bitcoin (BTC), natuurlijk geld verplaatsen, maar Ethereum gaat nog een stap verder. Door de introductie van smart contracts kunnen ontwikkelaars hun eigen code loslaten op een gedistribueerd netwerk en allerlei verschillende applicaties bouwen.
Ethereum is ondertussen bezig met een gigantische update voor de gehele blockchain en wordt regelmatig verwezen naar als Ethereum 2.0, al heet het project nu eigenlijk anders. Met deze update maakt Ethereum de langverwachte overstap van proof-of-work (PoW) naar proof-of-stake (PoS). De nieuwe blockchain, de zogeheten Beacon Chain, lanceerde eind 2020. De verwachting is dat Ethereum 2.0 live gaat met de "merge" of fusie van de oude en nieuwe blockchain. Ethereum moet na de update schaalbaarder, sneller en veiliger worden alsmede minder energie verbruiken. Alle stappen voor de verbeteringen zijn zorgvuldig omschreven in de Ethereum 2.0 routekaart.
Laatste ETH nieuws
Een van de meest interessante ontwikkelingen omtrent Ethereum is natuurlijk het aankomende Ethereum 2.0, zoals hierboven beschreven. De zogenaamde merge lijkt steeds dichterbij te komen. Ethereum ontwikkelaars kondigden deze week nog aan dat 'Ropsten,' een van de belangrijkste testomgevingen voor Ethereum, op 8 juni al de overstap maakt naar PoS. Ropsten is niet het eerste testnet die deze transitie doormaakt. Eerder heeft ook het testnet Kiln hetzelfde gedaan. Hoe dichtbij de merge daadwerkelijk is, blijft echter nog enigszins onduidelijk. We houden het in elk geval nauw in de gaten.
Technische analyse ETH
De ETH koers is echter ondertussen hard onderuit gegaan en zocht onlangs zelfs de bodem rond de $1.700 op. Op de korte termijn lijkt de kans groot voor een verdere daling, mogelijk naar het gebied rond $1.500. Daarna zal ETH wellicht even afkoelen en verwachten we een klein herstel richting $2.500. Daarmee wordt de neerwaartse trend nog niet gebroken, maar biedt investeerders mogelijk een moment om winst te pakken. Daarna verwachten we echter dat ETH nog dieper kan zakken voordat de koers weer de ruimte krijgt om te stijgen. De targets en prijsniveaus zijn in de volledige technische analyse te lezen die in de Discord omgeving voor leden is gedeeld. Hier hebben we ook het stoploss niveau beschreven en kun je vragen stellen aan de analisten over de verschillende technische analyses.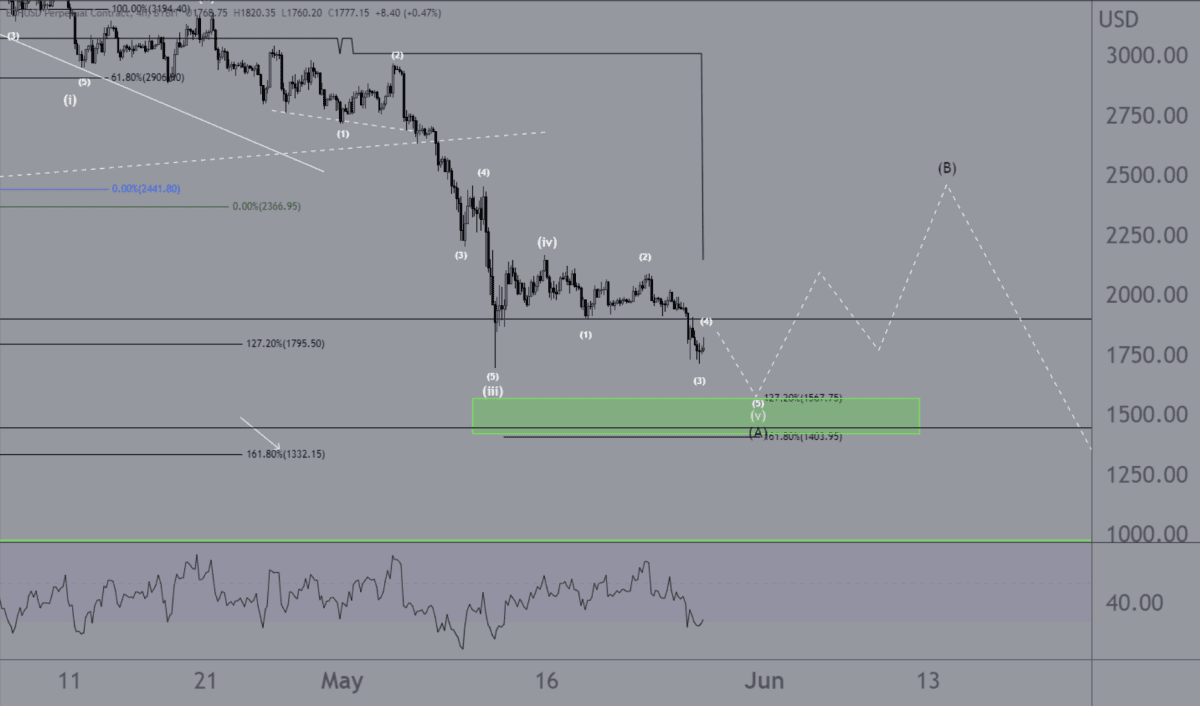 Zien we de ETH 2.0 merge nog dit jaar?
Met de lancering van ETH 2.0 zou de markt plotseling zeer bullish kunnen worden, het is mogelijk een grote katalysator voor de koers. Of de merge echter dit jaar nog plaatsvindt, laat staan deze zomer, is maar zeer de vraag. Welke verdere ontwikkelingen Ethereum zal maken zullen we goed in de gaten houden. De impact van deze update zal daarnaast ook van andere factoren afhangen die dagelijks veranderen. De crypto-markt is momenteel zwaar onderhevig aan macro-economische gebeurtenissen en traditionele aandelenmarkten. Dit maakt het extra lastig om koersen te voorspellen en juiste instapmomenten te kiezen om te investeren.
Diepgaandere koersanalyses voor Crypto Insiders leden
Wil jij graag dit soort koersanalyses van crypto eerder zien? Dan verwijzen wij je graag door naar onze Discord community voor leden. Hier bediscussiëren ervaren analisten en handelaren dagelijks hun eigen handelsplannen. Ook delen we hier regelmatig aanvullende koersanalyses en updates van projecten die we eerder in deze rubriek hebben behandeld. Via Discord kunnen we 24/7 kennis met elkaar delen en proberen we samen met onze leden de markt voor te blijven.
Disclaimer: Beleggen brengt risico's met zich mee. Onze analisten zijn geen financieel adviseurs. Raadpleeg altijd een adviseur bij het maken van financiële beslissingen. De informatie en tips die op deze website worden verstrekt zijn gebaseerd op eigen inzichten en ervaringen van onze analisten en dienen alleen voor educatieve doeleinden.