Vandaag zal Origin Protocol (OGN) worden behandeld in de Insider-analyse. Deze coin werd aangevraagd door leden die actief zijn in de premium omgeving van Crypto Insiders. Deze coin werd aangevraagd door de harde stijging die we over de afgelopen dagen zagen. Het doel van Origin Protocol is om non-fungible tokens (NFT) mainstream te krijgen. Daarnaast bieden ze ook een stablecoin in het Origin ecosysteem. Deze stablecoin heet Origin Dollar (OUSD).
Hieronder kijken we eerst naar de recente ontwikkelingen rondom het project van OGN en wat we nog in de toekomst kunnen verwachten. Daarna wordt het sentiment op de markt gemeten en analyseren we op basis van technische analyse de grafiek van de cryptocurrency. 
Wil jij ook stemmen op jouw favoriete coin? Neem dan een kijkje in onze premium omgeving voor leden en laat je stem achter. Je kan dit nu de eerste 30 dagen gratis uitproberen!
Recente ontwikkelingen OGN
Het was niemand ontgaan dat OGN bezig was met een geweldige stijging. De coin wist in enkele dagen met ongeveer 104% de lucht in te schieten. Maar hoe heeft deze stijging plaats kunnen vinden? De stijging zou mogelijk te verklaren zijn door deze tweet van het project. Hierin hebben ze een poll opgesteld waarin gevraagd wordt of de holders een nieuwe governance token zouden willen zien voor OUSD. Deze token wordt vervolgens naar elke OGN holder geairdropt.
Op het moment van schrijven heeft dit voorstel 99,97% stemmen voor. Deze airdrop zal dus hoogstwaarschijnlijk plaatsvinden. Met deze kennis hebben waarschijnlijk duizenden nieuwe investeerders en bestaande investeerders de token gekocht. Een hoge vraag in een korte tijd kan voor explosies in de koers zorgen. Het is nog onduidelijk wanneer de snapshot zal plaatsvinden, dus de stijging zou mogelijk nog even kunnen aanhouden als meerdere investeerders ineens een (grotere) positie willen in OGN.
Wat kunnen we nog van Origin Protocol verwachten?
Origin Protocol werkt zoals hierboven beschreven met een stemsysteem. Dit wilt zeggen dat ontwikkelaars en token holders zelf voorstellen kunnen opstellen. Hier kan dan vervolgens voor of tegen gestemd worden. De verschillende voorstellen worden op deze pagina aangegeven. Op het moment van schrijven staat er verder geen nieuw voorstel open, maar dat zou in principe elk moment kunnen gebeuren. Door deze pagina in de gaten te houden weet je wat er mogelijk in de toekomst zal gebeuren rondom het project. Ook proberen we je op de hoogte te houden van verdere ontwikkelingen in de Crypto-Insiders premium omgeving voor leden. Je kan dit nu de eerste 30 dagen gratis uitproberen!
Marktsentiment en adoptie
Op het moment staat er voor ongeveer $151,42 miljoen in de OUSD stablecoin. Dit is toch een flinke daling ten opzichte van de piek van ongeveer $300 miljoen. Echter laat het wel zien dat de stablecoin is en wordt gebruikt.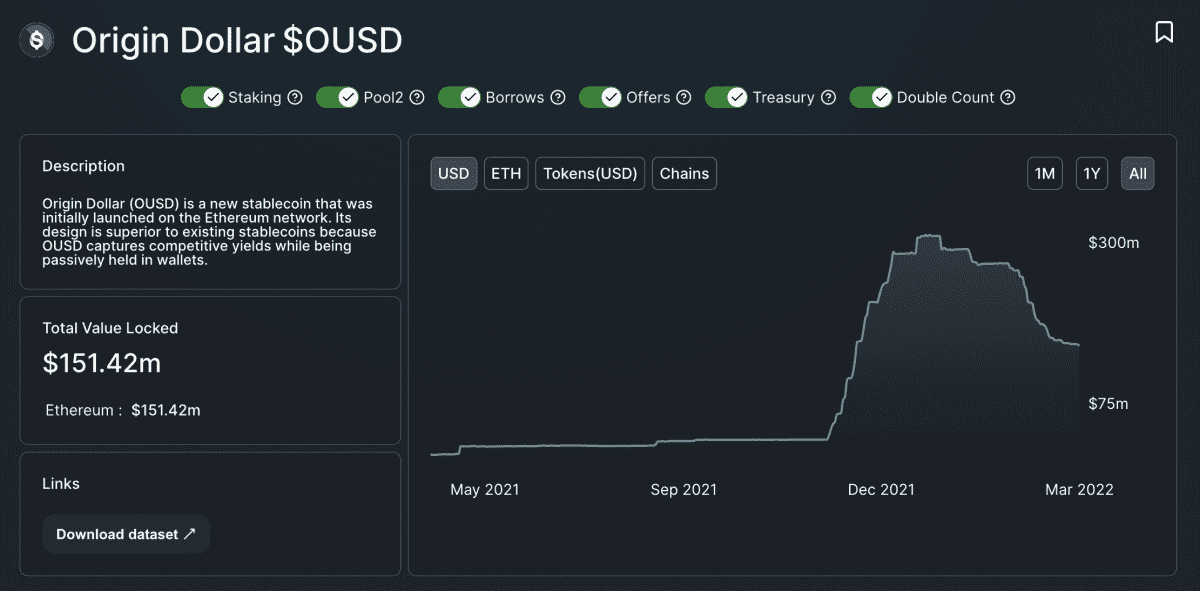 Ook blijkt het dat de meeste wallets die OGN bezitten winst hebben op hun positie. Bijna 64% staat nog in het groen. Met andere woorden betekent dit dat de meeste investeerders al voor een lange tijd in de coin zit en dus erg veel vertrouwen nog hebben in het project.

Technische analyse OGN
OGN is over de afgelopen 24 uur met ongeveer met 13% gedaald. Over de afgelopen zeven dagen ging het veel beter. In deze periode zagen we de koers met ongeveer 57% stijgen. OGN staat op het moment van schrijven op de 255e plaats op basis van marktwaarde. Hoewel we de afgelopen dagen een prachtige stijging hebben gezien staat OGN ongeveer 30% in de min YTD en ongeveer 86% sinds de all-time high.
Als we iets verder uitzoomen zien we dat de koers eigenlijk over de afgelopen periode steeds lagere bodems maakte. Dit is natuurlijk geen goed teken aangezien dit duidt op een neerwaartse trend. Ook zagen we dat de pieken steeds lager kwamen te liggen. Door de stijging van de afgelopen dagen zien we wel dat de vorige piek doorbroken is. Zou dit het begin kunnen zijn van een opwaartse trend?


Hoe bepaal ik het juiste moment om te kopen?
Overweeg je een positie te nemen in OGN maar weet je niet zo goed wanneer je het best kunt instappen? Vraag het aan een ervaren analist in onze premium omgeving voor leden! Hier worden dagelijks additionele technische analyses gedeeld door verschillende analisten die dieper op de koers ingaan. Je komt hier vrij eenvoudig in contact met verschillende analisten en ervaren crypto coaches, zij helpen je graag een weloverwogen beslissing te maken. Je kan dit nu de eerste 30 dagen gratis en vrijblijvend uitproberen!