In onze Discord community voor leden is er altijd veel aandacht voor Bitcoin (BTC). In deze reeks duiken we in de (on-chain) fundamentals achter Bitcoin en zullen we periodiek terugkomen om de ontwikkelingen in de gaten te houden. Dit artikel is een vervolg op onze vorige on-chain fundamentele analyse van Bitcoin. Zoals jullie van ons gewend zijn analyseren we verschillende statistieken om een duidelijk en realistisch beeld te schetsen. Mocht je na het lezen van dit artikel nog vragen hebben kun je deze eenvoudig stellen in onze Discord community voor leden.
Bitcoin (BTC)
Bitcoin heeft afgelopen maanden een sterke prijsdaling gezien wat veel angst in de markt heeft gebracht. Nadat de bitcoin koers tot rond de $17.500 is gezakt zien we nu een licht prijs herstel en is het sentiment wat positiever. Ondanks de lage koers van bitcoin zien we qua on-chain fundamentals een veel positiever verhaal. In deze rubriek kijken we periodiek terug naar de fundamentals van Bitcoin t.o.v. de koers om te kijken of de prijsactie fundamenteel gerechtvaardigd is.
Fundamental metrics bitcoin
In deze sectie kijken we naar belangrijke fundamentele metrics. Fundamentals focussen op onderliggende techniek, ontwikkeling en hoeveelheid gebruikers van een blockchain netwerk om een beeld te geven van de lange-termijn potentie van een project. Dit vormt de basis om risico's in te schatten en investeringskeuzes te maken.
Hash rate BTC miners
De Bitcoin hash rate is een goede indicator voor de veiligheid van het netwerk. De hash rate is de rekenkracht van het Bitcoin netwerk en wordt uitgedrukt in het aantal berekeningen per seconden. Miners zorgen voor deze rekenkracht en voeren de controles op de transacties uit in ruil voor wat bitcoin. Hoe meer controles en hoe gedecentraliseerder deze plaatsvinden, hoe beter dit is voor het netwerk. Daarnaast geeft de hoge hash rate aan dat veel mensen bereid zijn om tijd en geld te investeren in het minen van bitcoin en dus een positieve lange-termijn overtuiging hebben.
Sinds de laatste fundamentele analyze van bitcoin van een maand geleden zien we dat er weinig is veranderd en dat de Bitcoin hash rate nog steeds op recordhoogtes zit, dit geeft aan dat de mining vraag naar het netwerk en de veiligheid ervan nog steeds op een all-time high zit.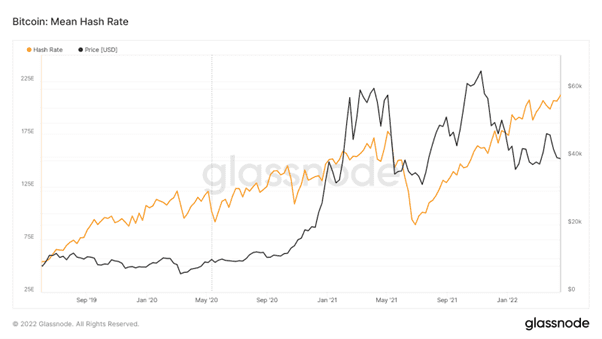 Bitcoin Holders
Het aantal unieke adressen op het netwerk geeft een indicatie naar de adoptie van het netwerk. Hoe meer gebruikers op het netwerk hoe meer vraag er is naar bitcoin. Dit is een goede indicator voor de lange termijn waarde van het netwerk en de bitcoin koers. Recent zagen we het totaal aantal wallet adressen stijgen boven de miljard. Dit laat sinds dat Bitcoin netwerk adoptie blijft toenemen ondanks de negatieve koers. Uit Figuur 2 is ook duidelijk dat de trend sterk positief is en dat we nog veel groei kunnen verwachten in de toekomst.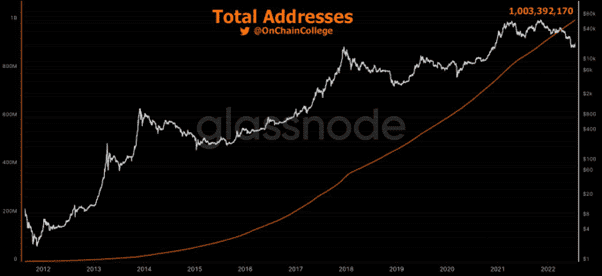 Bitcoin whales
Het gedrag van Bitcoin whales (oftewel wallets met grote hoeveelheden bitcoin) geeft een beeld wat het grote geld (vaak institutioneel geld) doet. Omdat whales dermate veel BTC hebben kunnen zij een relatief sterke invloed hebben op de koers. Figuur 3 laat het aantal adressen (oranje) zien dat het aantal Bitcoin adressen met >1000 Bitcoin verder aan het dalen is afgelopen weken ondanks de prijsstijging. Opvallend is dat het aantal bitcoin adressen met meer dan 1 BTC (Figuur 4) juist toeneemt.  Dit laat zien dat de kleine investeerder gebruik maakt van de lage koers om een hele Bitcoin te kunnen bezitten. Dit is verder ook positief voor Bitcoin omdat Bitcoin bezit wordt door steeds meer mensen in plaats van dat het vermogen licht bij een klein aantal wallets. Hierdoor knunen whales in de toekomst minder makkelijk de bitcoin koers manipuleren.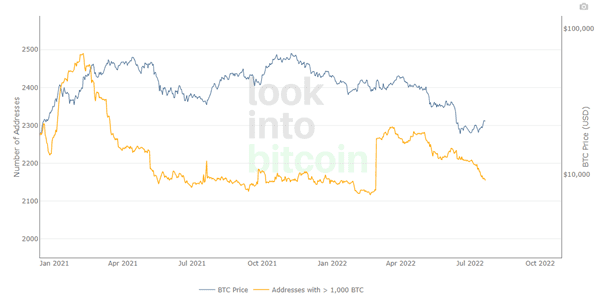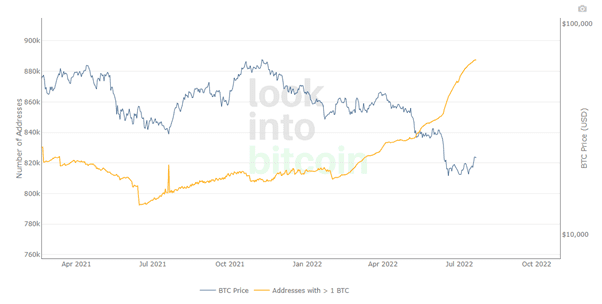 Bitcoin op exchanges
Exchanges worden voornamelijk gebruikt om te handelen. Veel bitcoin op een exchange betekent vaak dat een groot deel van de markt onzeker is en toegang wil hebben tot het snel verkopen van hun bitcoin. Wanneer veel BTC op cold-wallets staan (en dus moeilijker te verhandelen zijn) geeft dit een beeld van de lange termijn overtuiging van holders. In Figuur 5 zien we de netto bitcoin op exchanges.
In onze fundamentele analyze van vorige maand gaven we al aan dat ondanks de lage bitcoin koers veel bitcoin van exchanges gehaald worden. Dit laat zien dat er continu geïnvesteerd wordt in bitcoin, ondanks de prijs crash. Daarnaast is het indicatie dat meer bitcoin in handen komt van lange termijn investeerders. Sinds de prijsactie weer wat positiever is in de afgelopen weken zien we ook een lokale bodem wat betreft de afname van het aantal bitcoin op exchanges en zien we een lichte stijging. Dit suggereert mogelijk dat er een toename is van het aantal investeerders dat op de korte termijn wil verkopen in verband met de de recente prijsstijging.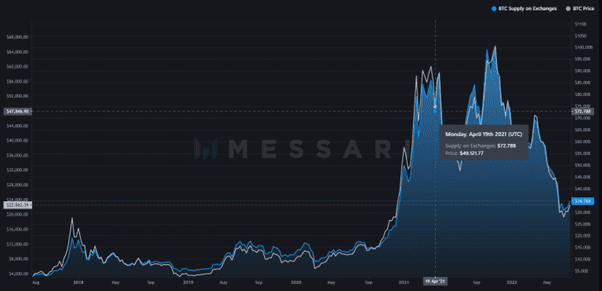 Bitcoin miners
Bitcoin miners hebben een essentiële invloed op de bitcoin koers. Omdat miners veel kosten maken i.v.m. aankopen van mining rigs en elektriciteitskosten moeten miners constant (een deel) van hun geminde bitcoin verkopen. Wanneer miners een bitcoin vasthouden geeft dit meestal weer dat zij een langere termijn overtuiging hebben dat de koers zal stijgen. In Figuur 6 is de netto verandering in Bitcoin holdings weergegeven van de miners. De chart is gemiddeld over 30 dagen om beter de trend weer te geven.
Sinds vorige maand zien we dat de verkoopdruk van bitcoin miners lichtelijk aan het afnemen is wat mogelijk deels een verklaring is voor de verbeterde bitcoin koers afgelopen weken. Een groot verschil ten opzichte van vorige maand is dat bitcoin miners nu een netto toename aan bitcoin hebben, vorige maand was dit nog sterk negatief. Dit laat zien dat steeds meer miners positief kijken naar de toekomst en verwachten dat de bitcoin koers zal stijgen.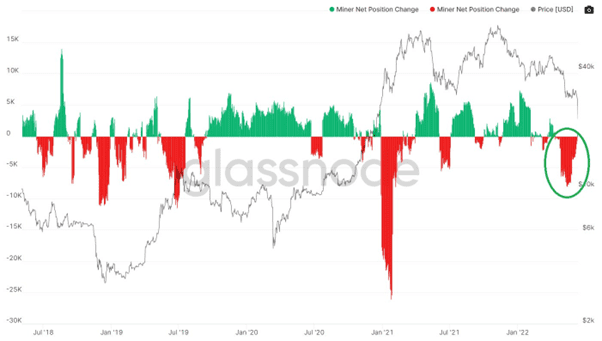 Conclusie
Net als vorige maand blijven we zien dat veel on-chain fundamentals sterk zijn ondanks de sterke prijsdaling van voorgaande maanden. Zo zien we dat de hash rate op een recordhoogte zit. Dit laat zien dat het aantal miners blijft toenemen en dat het netwerk nog nooit zo veilig en decentraal is geweest als nu. Het aantal Bitcoin adressen is ook op een recordhoogte met een totaal van ruim 1 miljard. Mogelijk zien we op de korte termijn wat verkoopdruk i.v.m. recente koersstijging en toename van het aantal bitcoin op exchanges de afgelopen maand. De bitcoin miner verkoopdruk is in ieder geval sterk afgenomen en momenteel beginnen steeds meer miners weer Bitcoin op te sparen. Dit motiveert mogelijk een lokale bodem voor Bitcoin nu steeds meer miners positiever gestemd zijn over de bitcoin koers op de lange termijn.
Bitcoin kopen of verkopen?
Om antwoord te krijgen op de vraag of dit het juiste moment is om te kopen of verkopen verwijzen we je graag door naar onze Discord groep voor leden. Daar bediscussiëren onze analisten en ervaren handelaren dagelijks hun eigen in- of uitstapmomenten. Ook delen we hier regelmatig aanvullende koers analyses en updates van projecten die we eerder in deze rubriek hebben behandeld. Via Discord kunnen we 24/7 kennis met elkaar delen en proberen we samen met onze leden de markt voor te blijven.
---
Disclaimer: Beleggen brengt risico's met zich mee. Onze analisten zijn geen financieel adviseurs. Raadpleeg altijd een adviseur bij het maken van financiële beslissingen. De informatie en tips die op deze website worden verstrekt zijn gebaseerd op eigen inzichten en ervaringen van onze analisten en dienen alleen voor educatieve doeleinden.