Na eerder een FA artikel aan Solana (SOL) gewijd te hebben is er recent veel tumult ontstaan rondom het project. Zo was er de Solana hack op 3 augustus en heeft het netwerk meerdere malen last gehad van crashes. In onze Discord community voor leden volgden we de ontwikkelingen van de hack en het gevolg hiervan op de fundamentals op de voet. In dit artikel geven we een overzicht van de fundamentals en on-chain data en kijken we hoe Solana is omgegaan met de negatieve gebeurtenissen. Zoals jullie van ons gewend zijn analyseren we verschillende statistieken om een duidelijk en realistisch beeld te schetsen. Mocht je na het lezen van dit artikel nog vragen hebben kun je deze eenvoudig stellen aan onze analisten in onze Discord community.
Solana (SOL)
In slechts 2 jaar tijd heeft Solana zich tot een vaste kracht in de top 10 tokens weten te manifesteren. Het doel van Solana is om een smart contract platform te worden dat toegankelijk is voor mainstream en Web3 toepassingen. Hierbij is het belangrijk dat het schaalbaar is (een bekend probleem met blockchain). Waar Ethereum (ETH) moeite heeft met schalen, belooft Solana een smart contract platform te zijn met lage transactiekosten en snelle verwerkingen. De sterke groei van Solana is echter niet zonder horten en stoten verlopen. Zoals eerder vermeld ondervond Solana recent een hack en is het netwerk meerdere keren uitgevallen. In onderstaande metrieken kijken we hoe deze ontwikkelingen effect hebben gehad op de fundamentals en on-chain activiteit.
Fundamentele metrieken Solana
In deze sectie kijken we naar belangrijke fundamentele metrieken. Fundamentals focussen op onderliggende techniek, ontwikkeling en hoeveelheid gebruikers van een blockchain netwerk om een beeld te geven van de lange-termijn potentie van een project. Dit vormt de basis om risico's in te schatten en investeringskeuzes te maken. 
Solana actieve adressen
Het aantal actieve adressen op het netwerk geeft een indicatie van de adoptie van het netwerk. Hoe meer actieve gebruikers op het netwerk hoe meer vraag er is naar solana. Dit is een goede indicator voor de lange termijn waarde van het netwerk en de solana koers. In verband met de hack kun je een sterke piek verwachten in actieve wallets wanneer er paniek ontstaat rondom de hack. Verrassend is dat de activiteit van de markt relatief laag bleef tijdens de hack. 
Op een langere termijn zien we dat de activiteit op Solana al een tijdje een negatieve trend heeft. Sinds de lokale piek rond mei 2022 is de activiteit op het netwerk gestaag aan het dalen van bijna 1,4 miljoen actieve wallets naar bijna 0,6 miljoen.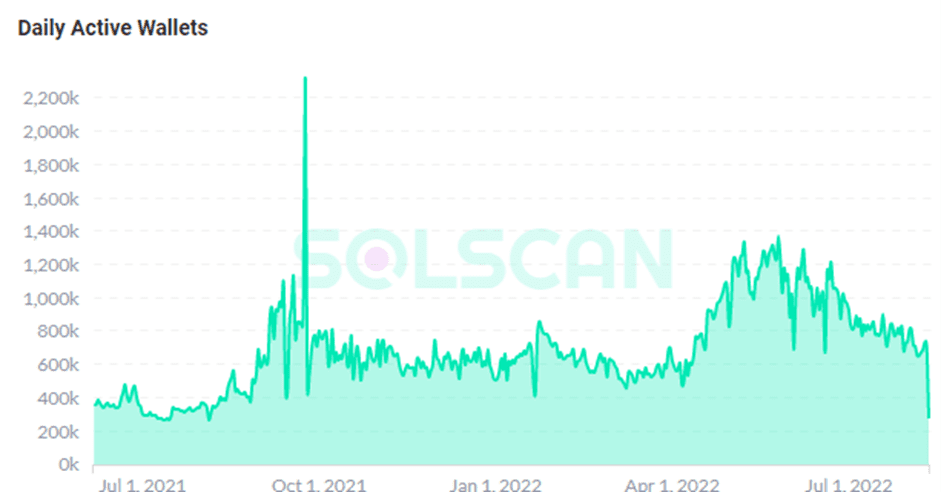 Solana dagelijkse transacties
Het aantal transacties op het netwerk laat zien hoeveel activiteit er is op het netwerk. Meer transacties duidt vaak op een toenemende vraag naar het netwerk. Dit komt bijvoorbeeld doordat er bruikbare smart contracts op het netwerk zitten die door middel van transacties gebruikt kunnen worden. 
In Figuur 2 zien we het verloop van het totaal aantal transacties op het Solana netwerk. Opvallend is dat er een lichte stijging in het totaal aantal transacties plaatsvindt, ondanks de dalende hoeveelheid actieve wallets en de sterke prijscrash (van 2 miljoen in april naar 8 miljoen transacties).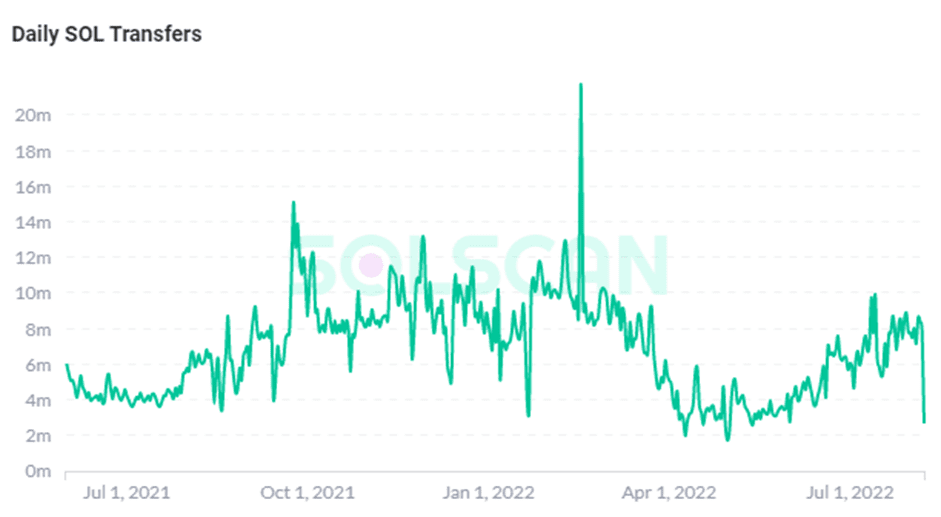 Nieuwe SOL wallets
De groei van het aantal nieuwe wallets op een netwerk is belangrijk om inzicht te krijgen in de adoptie van een netwerk. Meer wallets resulteert vaak in meer vraag naar gebruik van het netwerk, dit zal op de lange termijn zorgen voor een prijsstijging van de solana koers. 
In Figuur 3 zien we de dagelijkse groei van het aantal wallets op het Solana netwerk. Hier zien we duidelijk dat de groei van nieuwe wallets aan het afnemen is, met name sinds april – mei 2022, wat gepaard gaat met de sterke prijscrash. Mogelijk hebben gebruikers en investeerders wat vertrouwen verloren in Solana na de sterke prijsdaling en netwerk problemen.
Smart contract groei
Belangrijk voor de groei van het netwerk is de ontwikkeling die op het netwerk plaatsvindt. Gebruikers halen veel nut uit verschillende smart contract protocollen en dit zorgt ervoor dat ze gebruik blijven maken van een netwerk. Een groei in het aantal smart contracts op een netwerk is daarom een indicatie van een gezond netwerk dat zich blijft ontwikkelen. Daarnaast biedt een groeiend netwerk meer nut voor gebruikers wat de vraag en gebruik van de native token zal verhogen. 
In Figuur 4 zien we dat het aantal actieve Programs sterk is gegroeid in de afgelopen anderhalf jaar, van 0 naar ruim 1.100 dagelijks actieve programma's. Dit is erg positief en laat een snelle ontwikkeling zien van het netwerk. Echter zien we wel een terugname in de groei van het netwerk en het aantal actieve smart contracts. Dit lijkt samen te hangen met de afname in actieve wallets.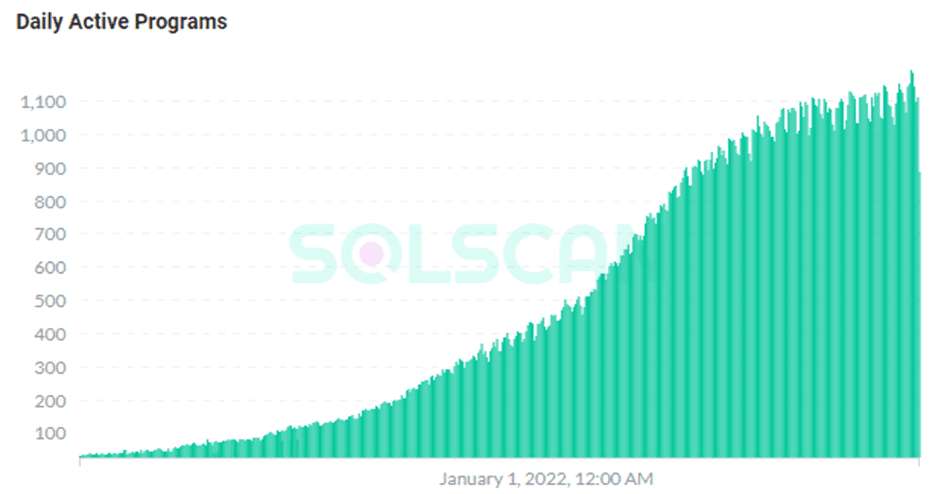 NFT adoptie 
Non-fungible tokens (NFT's) zijn afgelopen 2 jaar sterk in populariteit gegroeid. Solana is een netwerk dat ook veel NFT adoptie heeft. Door de snelle transactie tijden en lage kosten zijn er veel decentralized games actief op het Solana netwerk. Vaak maken die gebruik van NFT's in hun games. Verder heeft Solana ook meerdere grote NFT marktplaatsen die actief zijn op het netwerk, voorbeelden zijn solanart.io en solsea.io. 
In Figuur 5 zien we de groei van dagelijkse nieuwe NFT's. Hier zien we dat het aantal nieuwe NFT's per dag hard is gegroeid, soms zelfs tot een piek van ruim 140.000 nieuwe NFT's op 1 dag. Momenteel zien we over de langere termijn een stijgende trend. Dit is opvallend is als je kijkt naar de reductie in gebruikers groei op het netwerk.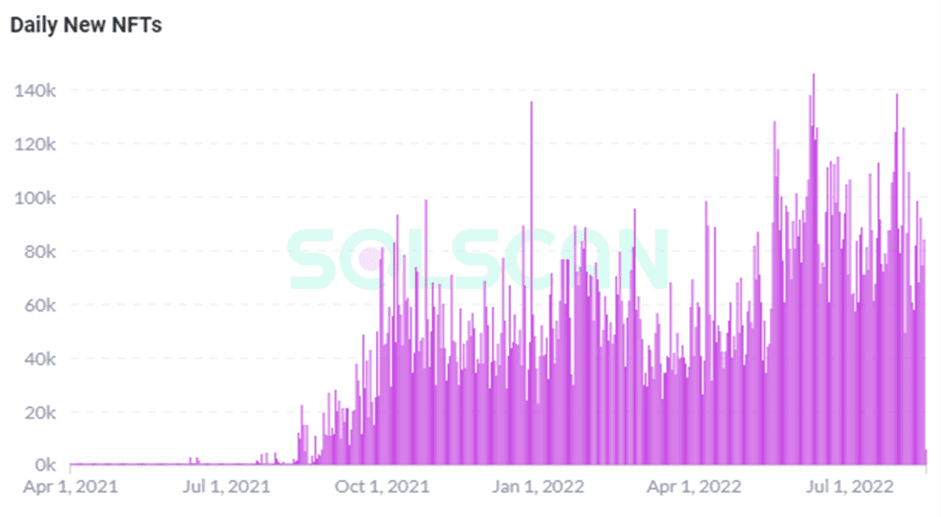 Conclusie
Ondanks de recente prijscrash, hack en uitvallen van het Solana netwerk houdt Solana zich relatief sterk. Op het netwerk zien we vrijwel geen tekenen van paniek bij huidige gebruikers, zelfs op de dag van de hack (3 augustus). Zo bleven het aantal transacties en de paniek verkopen minimaal.
Opvallend is de sterke reductie in groei van nieuwe unieke wallets, nieuwe gebruikers en investeerders. Investeerders lijken toch huiverig te zijn om in te stappen op het Solana netwerk. Desondanks zien we een stijging in het aantal transacties, wat suggereert dat de mate van gebruik per wallet sterk toeneemt en dat de huidige gebruikersbasis erg fanatiek is. Het blijft positief om te zien dat op het netwerk nog steeds sterk ontwikkeld wordt, het aantal nieuwe smart contracts en de hoeveelheid NFT releases blijven groeien. 
Solana kopen of verkopen?
Om antwoord te krijgen op de vraag of dit het juiste moment is om te kopen of verkopen verwijzen we je graag door naar onze Discord groep voor leden. Daar bediscussiëren onze analisten en ervaren handelaren dagelijks hun eigen in- of uitstapmomenten. Ook delen we hier regelmatig aanvullende koers analyses en updates van projecten die we eerder in deze rubriek hebben behandeld. Via Discord kunnen we 24/7 kennis met elkaar delen en proberen we samen met onze leden de markt voor te blijven. 
Beleggen brengt risico's met zich mee. Onze analisten zijn geen financieel adviseurs. Raadpleeg altijd een adviseur bij het maken van financiële beslissingen. De informatie en tips die op deze website worden verstrekt zijn gebaseerd op eigen inzichten en ervaringen van onze analisten en dienen alleen voor educatieve doeleinden.
Disclaimer: Beleggen brengt risico's met zich mee. Onze analisten zijn geen financieel adviseurs. Raadpleeg altijd een adviseur bij het maken van financiële beslissingen. De informatie en tips die op deze website worden verstrekt zijn gebaseerd op eigen inzichten en ervaringen van onze analisten en dienen alleen voor educatieve doeleinden.