Gister waren er meerdere positieve berichten over bitcoin (BTC) op Crypto Insiders te lezen. Zo ziet de voorzitter van vermogensbeheerder Rockefeller International een grote overeenkomst tussen bitcoin en Amazon tijdens de beruchte dot-com bubble (internetzeepbel), die vervolgens met 300% steeg.
Ook bleek uit on-chain data dat de bitcoin-markt mogelijk in een accumulatiefase zit. Echter toonde andere on-chain data juist dat bitcoin mogelijk nog in een capitulatiefase zit. Ook is er veel angst en onzekerheid over de Amerikaanse prijsconsumentenindex (CPI), die morgen wordt gepubliceerd.
Dit gebeurde er met de bitcoin koers terwijl jij lag te slapen
Bitcoin is in de afgelopen 24 uur met 2,4% gedaald en sinds middennacht met 0,9%. De actuele prijs is op het moment van schrijven $20.025 op crypto exchange Coinbase. De euro prijs van bitcoin is €19.880 op de Nederlandse exchange Bitvavo. Het handelsvolume daalde sinds gisteren met 11%. De totale marktkapitalisatie van bitcoin ligt momenteel op $382,8 miljard. De bitcoin dominantie komt hiermee uit op 42,5%.
Analist denkt dat bitcoin bodem is bereikt
TechDev, een analist die vooral actief is op Twitter, denkt inmiddels ook dat bitcoin zijn bodem heeft bereikt. In de onderstaande grafiek vergelijkt hij de koers van bitcoin met NDQ, een exchange-traded fund (ETF) van de Nasdaq 100. Hiermee wil de analist aantonen dat elke bear-markt even lang duurt en dat we daarom nu mogelijk aan het einde zitten.
May be an important point. pic.twitter.com/Plcta8HrL1

— TechDev (@TechDev_52) July 8, 2022
Daarop voortbordurend heeft de analist een tweede grafiek erbij gepakt. Ook hiermee toont hij aan dat de huidige bear-markt mogelijk aan het einde zit. De tweede macro-cylcus duurt drie keer zo lang als de eerste. Waar de eerste (groene) explosieve cyclus 336 dagen duurt, zien we dat de tweede groene cyclus 1057 dagen duurt (~3*336). Daarna volgde de correctie van de all-time high naar de nieuwe bodem (blauwe cyclus), die eerst 147 dagen duurt, en in de tweede cyclus 406 dagen (~3*147).
My opinion…

Two macro #Bitcoin cycles.

Second is ~3X longer than first. pic.twitter.com/tvpdMq9DJn

— TechDev (@TechDev_52) July 8, 2022
De eerste rode cyclus duurde 728 dagen, dus dat zou kunnen betekenen dat de huidige rode cyclus ongeveer 2.184 dagen lang is. Ook deze grafiek toont mogelijk aan bitcoin zijn bodem heeft bereikt.
Premium crypto analyse van de dag: ADA
In de Premium omgeving van Crypto Insiders worden dagelijks nieuwe analyses gedeeld. Onlangs keken onze analisten naar de koers van ADA. Sinds de koers de rode zone van $0,68 aan heeft getikt, wordt een daling naar de groene zone op de grafiek verwacht. Deze analyse is gemaakt op basis van Elliot Waves. We zien dat er verschillende waves samenkomen in dit gebied. Daarna kan de koers wellicht weer stijgen. Hoe ver dat is, zullen onze analisten delen in een nieuwe grafiek met de leden uit onze Discord community.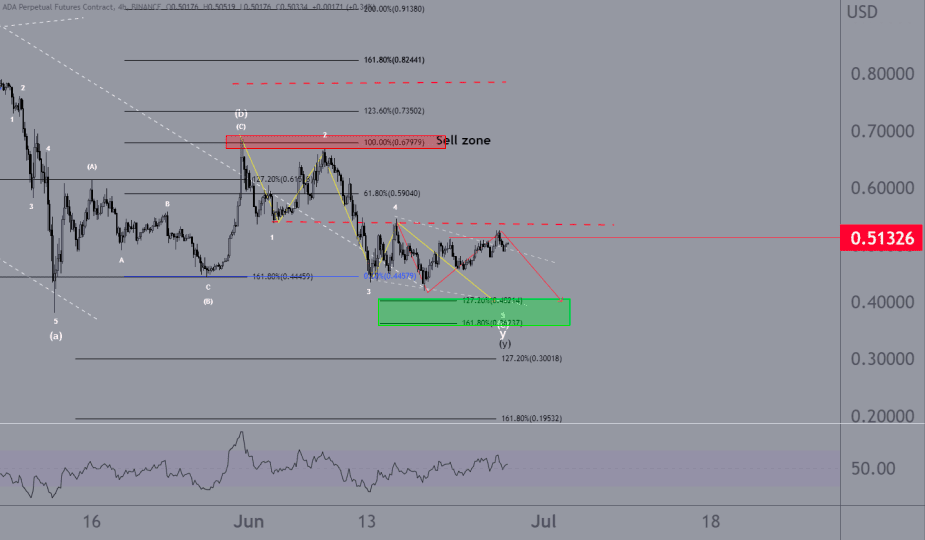 Handel samen met Crypto Insiders op Discord
Om antwoord te krijgen op de vraag of dit het juiste moment is om te kopen of verkopen verwijzen we je graag door naar onze Discord groep voor leden. Hier bediscussiëren ervaren analisten en handelaren dagelijks hun eigen in- of uitstapmomenten. Ook delen we hier als eerst onze technische en fundamentele analyses. In onze Discord community kunnen we 24/7 kennis met elkaar delen en proberen we samen met premium leden de markt voor te blijven.
Disclaimer: Beleggen brengt risico's met zich mee. Onze analisten zijn geen financieel adviseurs. Raadpleeg altijd een adviseur bij het maken van financiële beslissingen. De informatie en tips die op deze website worden verstrekt zijn gebaseerd op eigen inzichten en ervaringen van onze analisten en dienen alleen voor educatieve doeleinden.