Vandaag wist Solana (SOL) de meeste stemmen te krijgen in de Crypto-Insiders premium Discord groep. Solana wist in een hele korte tijd erg veel populariteit te winnen en is ondertussen ook een van de grootste en populairste cryptocurrencies op de markt. De koers van SOL wist in de afgelopen 24 uur met ongeveer 2% te stijgen. Over de afgelopen zeven dagen zagen we de koers echter afnemen met zo'n 12%. SOL staat op het moment van schrijven op de 9e plaats op basis van marktwaarde.
Wat is Solana?
Het doel van Solana is om het schaalbaarheidsprobleem van decentrale netwerken te verbeteren. Dit wilt zij doen door ervoor te zorgen dat een netwerk veel meer transacties per seconde kan verwerken dan dat het op dit moment kan. Mochten we uiteindelijk allemaal onze dagelijkse boodschappen en uitgave met cryptocurrency willen doen, kunnen we het ons niet veroorloven om een half uur in de supermarkt te wachten tot de transactie is bevestigd en voltooid. Daarom is het van belang dat transacties direct verwerkt worden. 
Daarnaast is Solana een platform waarop smart contracts opgesteld kunnen worden en waar ook andere projecten op gebouwd kunnen worden. Dit is eigenlijk wat Ethereum (ETH) ook kan echter begint Solana steeds meer een echte bedreiging te worden voor dat platform.
Recente ontwikkelingen
Een nieuwtje dat niemand is ontgaan is dat Wormhole, de brug waarmee gebruikers digitale activa tussen verschillende netwerken kunnen versturen, is gehackt. De hacker kon hier ongeveer 120.000 wETH buitmaken, wat ongeveer gelijk stond aan $320 miljoen. De hacker wist op een of andere manier de verificatie signatures te vervalsen waardoor het systeem dacht dat het een legitieme transactie was. Op deze manier kon hij 120.000 ETH op Solana aanmaken. Hij stuurde er 93.750 terug naar Ethereum. 
Daarnaast in wat positiever nieuws wist Solana op 1 februari dit jaar Solana Pay uit te brengen. Solana Pay is in essentie een betalingssysteem waarmee een consument middels cryptocurrencies haar alledaagse aankopen kan doen. De verkoper kan ervoor kiezen om betaald te krijgen in een stablecoin, waardoor de winkel geen koersrisico loopt. De transactie zal direct aankomen in de wallet van de verkoper en kost niks. Door gebruik te maken van Solana Pay kunnen er ook specifieke extra's bijkomen. De klant kan bijvoorbeeld als hij dat wilt via Solana Pay op de hoogte worden gehouden van kortingen of uitverkopen van de winkel, maar kan ook op basis van zijn of haar loyaliteit aan de winkel speciale en gepersonaliseerde kortingen krijgen. Mocht de klant vaak haar schoenen kopen bij een specifieke winkel kan de winkelier ervoor kiezen om deze klant extra korting te geven op haar volgende aankoop. 
Daarnaast doet Solana Pay natuurlijk ook wat met non-fungible tokens (NFT). Hierbij kan het dus zijn dat als een klant bepaalde limited edition schoenen koop zij daarbij ook een NFT krijgt van deze schoenen die te gebruiken is in een metaverse. Op deze manier kan ook haar avatar met de schoenen rondlopen. Ook krijgt de klant dan een NFT van de bon van de schoenen, zodat zij altijd via deze NFT kan aantonen dat zij daadwerkelijk de eigenaar is van deze schoenen. Wanneer er weer een nieuw paar limited edition schoenen uitkomt kan zij via de Solana Pay app een notificatie krijgen. De app zit dus vol met handige functionaliteiten als dit.
Wat kunnen we nog van Solana verwachten?
Solana is zoals eerder gezegd een van de populairste coins van het moment en is dat niet geworden door niks te doen. Natuurlijk zullen er nog vele updates en nieuwe applicaties van en op Solana aan zitten te komen. Helaas is de roadmap voor 2022 nog niet bekend gemaakt. Dit wilt echter niet zeggen dat het project niks zal uitvoeren dit jaar. Hoewel we dus nog niks kunnen zeggen over de nieuwe updates zit er wel een populair evenement aan te komen.
Er staat bijvoorbeeld weer een nieuwe Solana Hackerhouse op het programma. Dit evenement zal beginnen op 14 maart en loopt door tot en met 18 maart. Dit evenement maakt het voor ontwikkelaars mogelijk om een aantal dagen op een centrale plek aan nieuwe technische innovaties te werken. Het voordeel van het feit dat het een centrale plek is is dat je als ontwikkelaar hier veel andere gelijkgestemde tegenkomt en hier met ze kan sparren of samen werken. Voor Solana is dit natuurlijk ook een slimme zet omdat zij zo ook in aanraking komen met veel nieuwe onontdekte talenten die uiteindelijk misschien wel bij Solana willen blijven hangen. Het zal dus interessant zijn om te zien wat voor nieuwe ontwikkelingen hieruit komen.
Marktsentiment
Uit een enquête die is gehouden door CoinMarketCap blijkt dat 73% van de respondenten aangeeft Solana een goed project te vinden. Toch blijkt het dat bijna 30% een negatieve beoordeling geeft. Dit zou te maken kunnen hebben met de negatieve prijsactie die de cryptocurrency al enkele maanden ondervindt. 

Zoals te zien is op de onderstaande grafiek neemt het gemiddelde zoekvolume voor SOL per week wel redelijk af. De absolute piek vond in september 2021 plaats. Na deze piek zien we het zoekvolume toch langzaamaan afnemen. Dit komt overeen met de prijs zoals te zien is in het onderdeel technische analyse.

Technische analyse
De koers van SOL is, net als vele andere coins op de markt, de laatste maanden over het algemeen alleen maar aan het dalen. Dit in combinatie met een steunlijn die is begonnen in augustus van vorig jaar zorgt ervoor dat er op de grafiek een hele grote neerwaartse driehoek wordt gevormd. Dit patroon is normaliter een bearish patroon. Het feit dat de koers al een aantal keer de steunlijn heeft getest maar er nog niet doorheen is gebroken is een interessant gegeven. Op het moment van schrijven hangen we op deze steunlijn. Dit zal een belangrijk moment worden voor de koers. Bij een neerwaartse uitbraak zouden we dus nog verder kunnen zakken. Er is verder ook geen steunlijn in de buurt die die klap op zou kunnen vangen. De eerstvolgende steun ligt pas rond de $50. 
Hoewel de 200 dagen moving average (MA) nog naar boven lijkt te krullen is de 50 dagen MA er al hard doorheen gebroken. Dit wilt zeggen dat er een death cross heeft plaatsgevonden. Dit is, zoals de naam al doet vermoeden, een bearish teken. De RSI staat vooralsnog vrij in het midden. Dit betekent ook dat er nog genoeg ruimte is om verder te zakken. Alles wijst erop dat SOL op dit moment nog bearish is.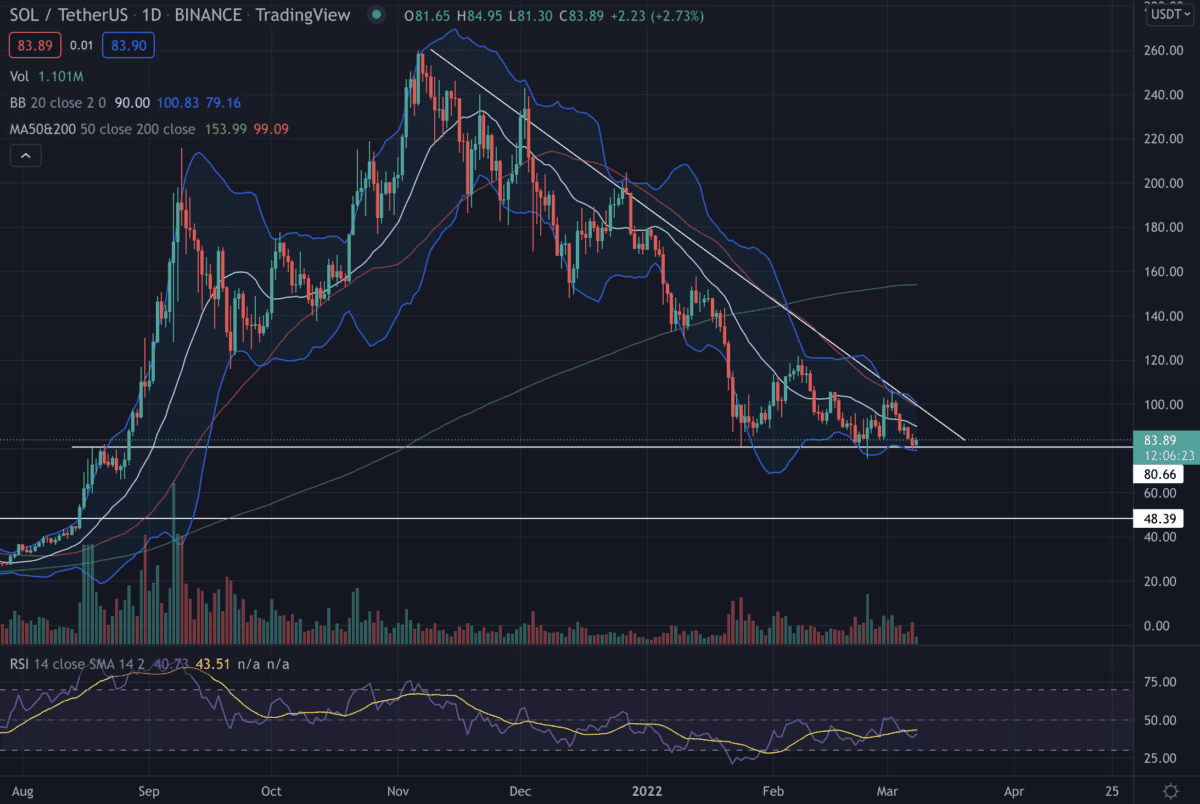 Wat zijn de verwachtingen voor de komende periode?
Of het nieuws nog verdere impact gaat hebben op de prijs is afhankelijk van een groot aantal factoren die dagelijks verschillen. Overweeg jij een positie te nemen in SOL? In ons Discord kanaal voor leden bediscussiëren we het nieuws en zullen we verdere updates met jullie blijven delen. Ook zullen hier additionele technische analyses gedeeld worden door een van onze analisten die dieper op de koers ingaan. Je komt hier eenvoudig in contact met onze analisten en crypto coaches, zij helpen je graag een weloverwogen beslissing te maken.