De prijs van Tron is met meer dan 20% gedaald in de afgelopen week. Dit is gebeurd nadat Tron haar eigen mainnet-protocol, Odessey 2.0 genaamd, heeft gelanceerd, dat zich afscheidde van de Ethereum-chain. De lancering van het mainnet op 31 mei was een beslissing om het "archaïsche gas verbrandingsmechanisme en hoge gaskosten" te verlaten, naast de onderlinge strijd over gemeenschaps-bestuur, volgens een aankondiging van de Tron Foundation.
Justin Sun, oprichter van Tron, kondigde ook een bug bounty-programma aan met een beloning van $10 miljoen voor het mainnet. Ondanks deze steun is de prijs echter omlaag gegaan.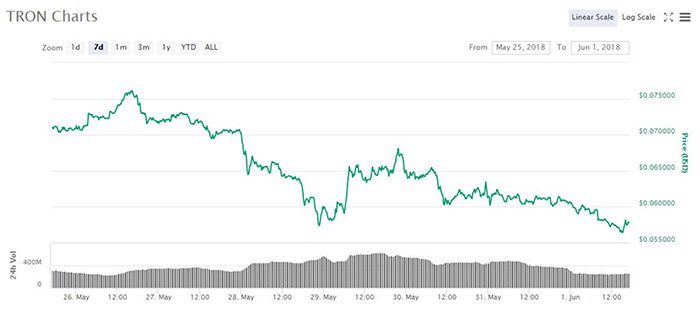 De Tron-prijs was $0,073 op 26 mei. Momenteel staat deze op $0,056. Dit betekent een daling van meer dan 23% in dat tijdsbestek.
Het mainnet-protocol was langverwacht voor het project en was een prestatie voor het ontwikkelingsteam. Omdat het het project zou loskoppelen van de Ethereum-blockchain, zou Tron nieuwe onafhankelijkheid verwerven in haar plannen voor ontwikkeling en bestuur. Tron Labs zei het volgende:
We moeten onafhankelijk zijn. We moeten een gelijk, democratisch systeem bereiken, met democratische verkiezingen als een integraal onderdeel van het gemeenschapsbestuur. Dit is de enige manier om de volkssoevereiniteit en de natuurlijke rechten van het token te handhaven, een hoeksteen van ons waardesysteem rond decentralisatie.
Als mogelijke concurrentie voor interesse van investeerders, lanceren andere projecten nu of zeer binnenkort hun eigen mainnets. Ook EOS zal binnen een paar dagen haar eigen mainnet lanceren.
Tron is bekritiseerd wegens vermeende over-hyping, zoals de samenwerking met Baofeng, en het plagiëren van white papers van andere projecten.
De lancering van het mainnet is de basis voor verbeterde infrastructuur voor DApps en het aantrekken van nieuwe ontwikkelaars om applicaties op blockchain te bouwen, volgens "A Letter to the Community" in een blog-update. Hiermee wordt baan gemaakt voor applicaties van derde partijen om onafhankelijk van de Ethereum-chain uitgevoerd te worden. Het is duidelijk dat het veel te vroeg is om de prijs van Tron te gebruiken als indicatiemiddel voor het succes van de introductie van het mainnet.