De week begon voor bitcoin (BTC) prima zoals we al in de premium omgeving voor leden van Crypto Insiders hebben besproken. We zagen ook een aantal interessante nieuwtjes voorbij komen op de website. Zo maakte een van de grootste Amerikaanse elektriciteitsbedrijf bekend meer te willen doen met bitcoin mining en verkocht een hacker naar verluidt de persoonlijke gegevens van ongeveer 1 miljard Chinezen. De hacker had deze informatie buit weten te maken uit een database van de politie in Shanghai en vroeg hier 10 BTC voor. Weer genoeg te beleven dus in de bitcoin-sector.
Dit gebeurde met de bitcoin koers terwijl jij sliep
Bitcoin is met 1,5% gestegen sinds 00:00. De actuele prijs is op het moment van schrijven $20.250 op crypto exchange Coinbase. De euro prijs van bitcoin is €19.450 op de Nederlandse exchange Bitvavo. Het handelsvolume daalde in hetzelfde tijdsbestek met 12%. Over de afgelopen zeven dagen daalde bitcoin met 2% in waarde. In de afgelopen 24 uur steeg de koers echter met ongeveer 5,8%. De totale marktwaarde van bitcoin bedraagt op het moment van schrijven $389 miljard. Vergeleken met de totale crypto marktkapitalisatie komt de bitcoin dominantie hiermee uit op 43%, iets onder het niveau van 24 uur geleden.
Analist vindt deze niveaus belangrijk
Analist CryptoBullet heeft op 2 juli met zijn bijna 50.000 volgers op Twitter zijn kijk op de markt gedeeld. In een van zijn meest recente tweets gaf hij de prijsniveaus waar hij goed op zal letten en gaf ook de reden waarom hij goed op deze niveaus zal letten.
Some very important #BTC levels:

16k – Average Deviation from MA50 (-25%)

14k – 2019 Echo Bubble Top

12.2k – Celsius Liquidation

10.7k – Key Horizontal Level https://t.co/hEcnj8wsak pic.twitter.com/1Xke0F7WSe

— CryptoBullet (@CryptoBullet1) July 2, 2022
Als eerste pakt de analist het niveau van $16.000. Deze prijs is belangrijk aangezien dit op de grafiek het niveau is waar de gemiddelde deviatie van de maandelijkse 50 moving average op terecht komt. Hier zou de koers mogelijk wat steun kunnen vinden. Mochten we toch door dit niveau zakken, dan kijkt de analist naar de $14.000.
Mochten we rond de $14.000 uitkomen, dan zijn we weer op het niveau van de piek van 2019. Dit was rond juni 2019 de hoogste prijs die we in tijden hadden gezien. Dit punt zou dus opnieuw een reactie uit kunnen lokken bij traders. Mogelijk is dit niveau van weerstand dan in support omgeslagen. Mocht ook dit niveau niet standhouden, dan zakt koers wellicht naar $12.200.
Bij de $12.200 komen we op de prijs waar het leenplatform Celsius geliquideerd wordt. Dat zou verder slecht nieuws kunnen betekenen voor de cryptocurrency markt en zou kunnen leiden tot een flash crash. Mocht Celsius geliquideerd worden, moet het bedrijf bijna alle 24.000 BTC verkopen. Als dit allemaal in een klap gebeurt, dan zal de koers hard kunnen dalen. Zelfs zo laag dat het volgende punt van CryptoBullet wordt behaald, namelijk de $10.700.
Celsius' stETH Aave wallet is still the largest position by notional size (excl. illiquidity discount). Debt has been paid down on this position also.

Health factor now 2.05 (assuming Beta of 1 and no illiquidity discount, their liquidation price is $497 per stETH) [Unrealistic] pic.twitter.com/y61XbpkLgk

— DeFiyst (@DeFiyst) July 1, 2022
Het niveau van de $10.700 is niets meer dan een oudere steunlijn. Dit niveau wist in de bullrun van 2017 en in de zijwaartse markt van 2019 veel raakpunten te bieden, zowel als steun als weerstand. Dit zou de laatst linie zijn voor we echt harde klappen zouden vangen. Laten we hopen dat we niet bij dit niveau komen.
Premium crypto analyse van de dag: SOL
Vandaag zijn er weer verschillende nieuwe analyses gedeeld in de Discord omgeving van Crypto Insiders. Vandaag nemen we de analyse van solana (SOL) met je door! Voor SOL is er wat gewijzigd. Aangezien deze coin zo gezakt ik, ziet het naar uit dat de koers nu een duidelijke opwaartse beweging maakt. Vooralsnog lijkt de prijsactie op een ABC Elliott Waves-patroon, maar mocht de 161,8% Fibonacci worden gehaald, zou dit ook nog een zogenaamd 12345 patroon kunnen zijn. Voor nu lijkt deze crypto in elk geval bullish te worden.
De volledige analyse en de updates voor SOL zijn te lezen in onze Discord omgeving. Hier worden technische analyses gedeeld samen met uitgebreide beschrijvingen van professionele analisten. Ook kan je direct in contact komen met deze ervaren handelaren die klaar staan om al je vragen te beantwoorden.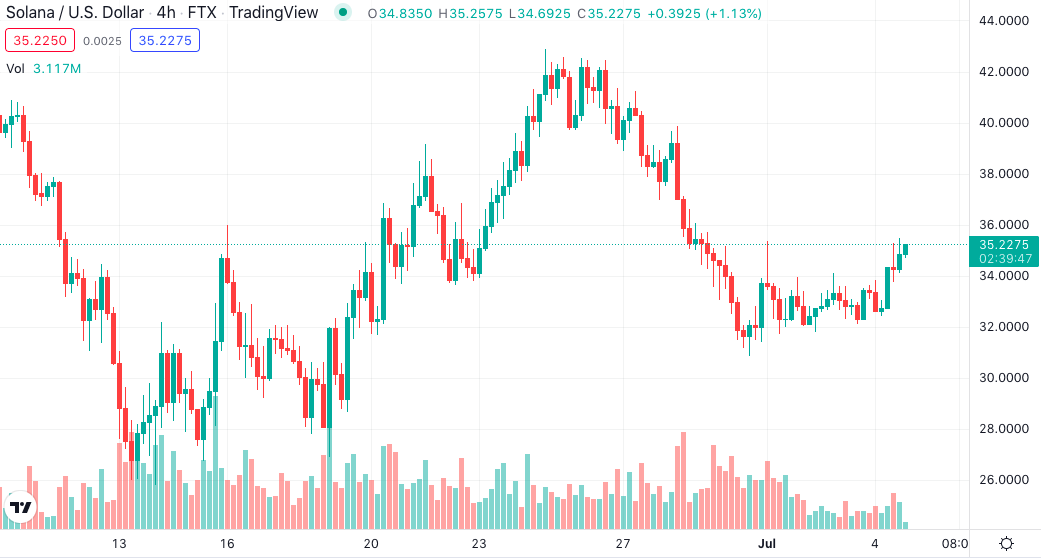 Handel samen met Crypto Insiders op Discord
Om antwoord te krijgen hoe en wanneer je handelt in deze markt, verwijzen we je graag door naar onze Discord groep voor leden. Hier bediscussiëren ervaren analisten en handelaren dagelijks hun handelsplannen. Ook delen we hier als eerst onze technische en fundamentele analyses. In onze Discord community kunnen we 24/7 kennis met elkaar delen en proberen we samen met premium leden de markt voor te blijven.
Disclaimer: Beleggen brengt risico's met zich mee. Onze analisten zijn geen financieel adviseurs. Raadpleeg altijd een adviseur bij het maken van financiële beslissingen. De informatie en tips die op deze website worden verstrekt zijn gebaseerd op eigen inzichten en ervaringen van onze analisten en dienen alleen voor educatieve doeleinden.