Bitcoin (BTC) is in de afgelopen 24 uur met 1,2% gedaald en sinds middennacht met 1% gededaald. De actuele prijs is op het moment van schrijven $19.800 op crypto exchange Binance en €19.940 op de Nederlandse exchange Bitvavo. Het handelsvolume daalde in de afgelopen 24 uur met 0,8%. De totale marktkapitalisatie van bitcoin bedraagt op het moment van schrijven $379 miljard en de bitcoin dominantie komt uit op 39,8%.
Meest gelezen bitcoin nieuws van gister
Technische analyse: BTC rondt eerste wave omlaag af
Onze technische analisten spraken gisterenavond in Discord over bitcoin aan de hand van een zogeheten Elliot Wave theorie. Volgens de analisten heeft de bitcoin koers zijn eerste wave nu afgerond en dat betekent dat wellicht nu een kleine stijging volgt richting de trendlijn. Dit zal dan de tweede wave zijn.
Daarnaast zien de analisten een afwijking op de relative strength index (RSI) en dat is vaak een teken dat een zogenaamde innerwave volgt. Zoals op de onderstaande grafiek is te zien, zijn de analisten niet bepaald bullish over de middellange termijn. Zoek je naar meer uitleg over deze analyse, neem dan een kijkje in onze Discord groep! Onze analisten beantwoorden graag je vragen.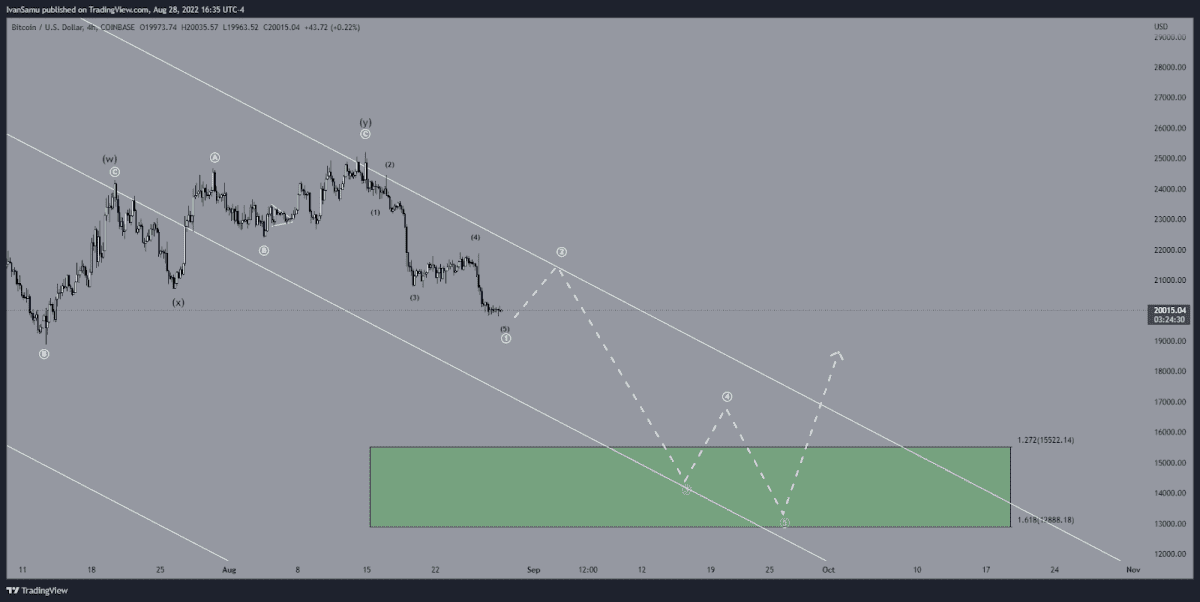 Fundamentele analyse: BTC aanbod blijft afnemen
Ondertussen blijft het aantal bitcoins op exchanges alsmaar afnemen. Deze zomer hebben HODL'ers grote hoeveelheden BTC van beurzen gehaald, meldt Arcane Research op 22 augustus.
Hodlers have been moving their precious #bitcoin out of exchanges like never before following this summer's collapse of major crypto lenders.

These events undoubtedly damaged the lenders' trustworthiness, but are hodlers also losing trust in exchanges? pic.twitter.com/v4Tr0rNOaS

— Arcane Research (@ArcaneResearch) August 22, 2022
Op de bovenstaande afbeelding is de stroming van bitcoin per maand te zien. Alleen in mei zien we een toename in bitcoin op exchanges, maar in juni zien we zelfs een uitstroom van 119.000 bitcoin. In totaal is er in 2022 al ongeveer 390.000 BTC van de centrale exchanges gehaald (ongeveer 2% van circulerend aanbod).
Dit wordt meestal gezien als een positief teken voor de BTC koers op de lange termijn. Investeerders zijn immers niet bereid om tegen de huidige prijzen hun BTC te verkopen. Ook meldt Arcane Research dat er een sterke stijging is in het verkoop van hardware wallets bij leveranciers zoals Ledger en Trezor.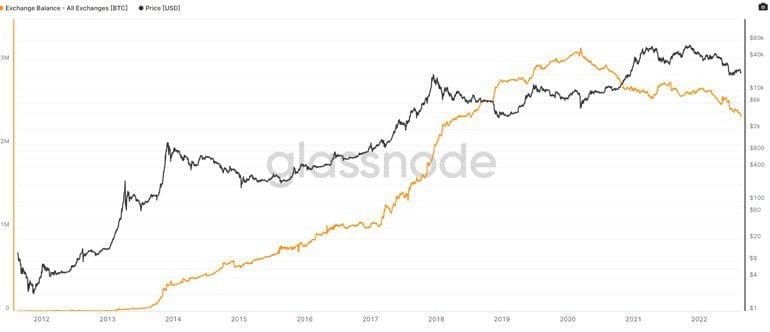 Ook gegevens van Glassnode bevestigen deze trend. Op de bovestaande grafiek is te zien dat de hoeveelheid BTC op exchanges al sinds de coronacrash van maart 2020 fors afneemt. Het BTC balans op exchanges is sindsdien van ruim 3,1 miljoen BTC naar 2,3 miljoen BTC afgenomen. Dat is een daling van ruim 25%!
Wat gaat de bitcoin koers nu doen?
Dit is natuurlijk de hamvraag die ook onze analisten dagelijks bezighoudt. In onze Discord groep houden wij onze leden aan de lopende band op de hoogte met actuele technische en fundamentele analyses. Alhoewel niemand de toekomst kan voorspellen, bieden wij hulp en tools om deze volatiele markt op een effectieve manier te navigeren. Premium leden kunnen hier ook eenvoudig vragen stellen aan onze analisten en handelsstrategieën met elkaar delen.  Door 24/7 kennis met elkaar te delen,  proberen we samen de markt voor te blijven. Dat is wel zo veilig!
Dus….waar wacht je nog op? Neem een kijkje in onze gratis Discord community, we kijken er naar uit om je te ontmoeten!
Disclaimer: Beleggen brengt risico's met zich mee. Onze analisten zijn geen financieel adviseurs. Raadpleeg altijd een adviseur bij het maken van financiële beslissingen. De informatie en tips die op deze website zijn verstrekt is gebaseerd op eigen inzichten en ervaringen van onze analisten en dienen alleen voor educatieve doeleinden.