Disclaimer: Beleggen brengt risico's met zich mee. Onze analisten zijn geen financieel adviseurs. Raadpleeg altijd een adviseur bij het maken van financiële beslissingen.
---
Bitcoin (BTC) dipte afgelopen weekend weer onder $20.000 en blijft daar vooralsnog vlak onder consolideren. Veel dieper zakte bitcoin gisteren niet meer en de koers hield stand boven $19.650. Afgelopen nacht maakte bitcoin nog even een forse piek en tikte bijna $21.000 aan, maar werd vervolgens direct afgewezen en zakte gelijk weer onder $20.000. Op het moment van schrijven komt de bitcoin prijs uit op $20.800 op Binance en €19.900 op Bitvavo. Daarmee staat de BTC koers vandaag 0,5% in de plus.
Het handelsvolume van bitcoin steeg in de afgelopen 24 uur met 13%. De totale marktkapitalisatie komt momenteel uit op $379 miljard en de dominantie  van bitcoin op 38,1%. De fear & greed index toont met 22 aan dat de angst op de markt nog altijd erg hoog ligt.
Bitcoin Fear and Greed Index is 22 ~ Extreme Fear
Current price: $19,924 pic.twitter.com/jvVpWbVlj3

— Bitcoin Fear and Greed Index (@BitcoinFear) September 6, 2022
Bitcoin nieuws van gisteren
Bitcoin exchange instroom van miners
Wanneer bitcoin naar exchanges wordt gestuurd of juist van exchanges wordt gehaald, kan dat een indicatie geven over toekomstige prijsontwikkelingen. Een aantal dagen geleden ontving Binance 4.400 bitcoin van mining bedrijf Poolin. Deze lading aan bitcoin brengt mogelijk de prijs onder druk.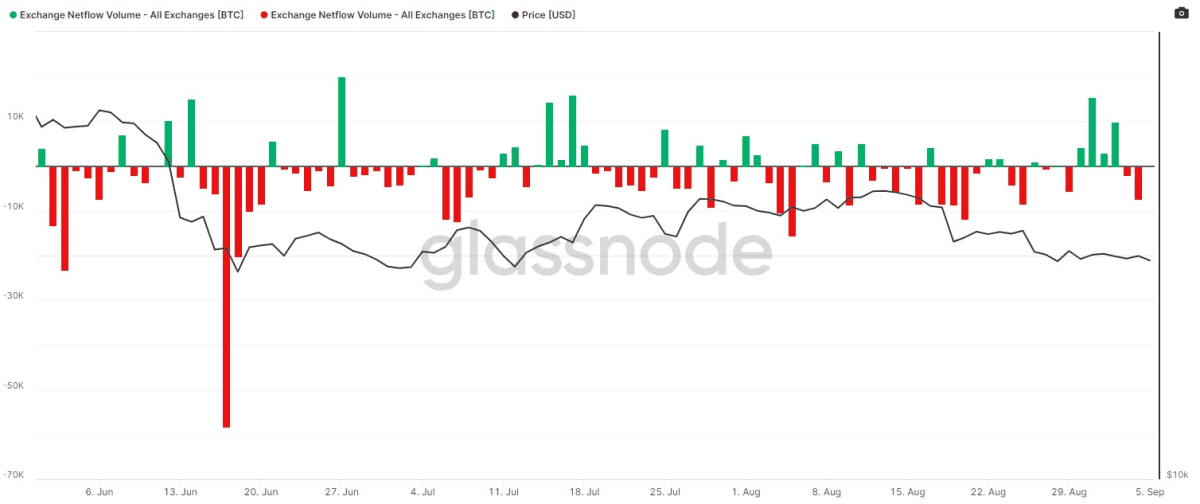 In het bovenstaande figuur zien we een overzicht van het aantal bitcoin dat de afgelopen 3 maanden netto naar exchanges is gestuurd of opgenomen. In begin september zien we dat er een aantal dagen achter elkaar relatief veel bitcoin naar exchanges is gestuurd. Sinds eergister zien we die trend omdraaien. De recente bitcoin stroom naar exchanges lijkt dus vooralsnog weinig impact te hebben op de prijs, al moeten de BTC wellicht nog verkocht worden.
Breekt bitcoin koers uit driehoekig patroon?
Nadat bitcoin hevig daalde eind augustus, gaat de koers vooralsnog een consoliderend september in. Bitcoin vormt momenteel een zogenaamde triangle of driehoekig patroon. Een triangle patroon is te herkennen aan de lagere pieken en hogere dalen. Dit patroon breekt vaak uit in dezelfde trend richting waarin deze gestart is, in dit geval is dit dus omlaag.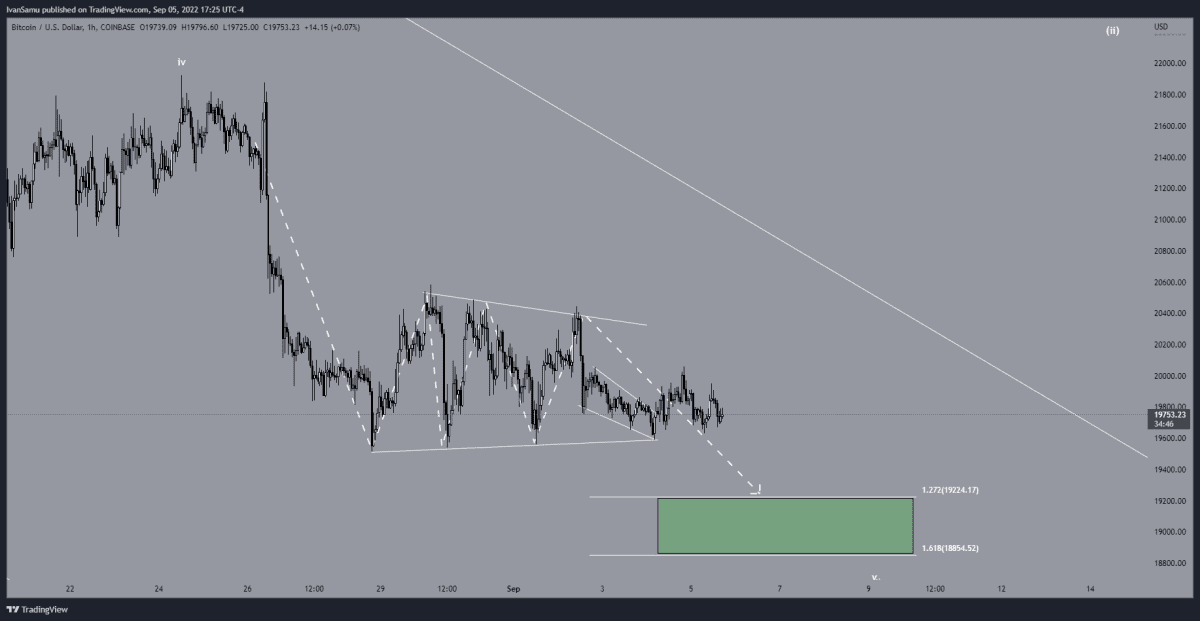 Om het bovenstaande scenario te versterken, zien wij op BTC een erg mooi kanaal onstaan, dit kanaal is al twee keer getest aan de bovenkant. Een logisch gevolg is dus een test aan de onderkant van het kanaal. Dit zou dus ook betekenen dat we de triangle pattern naar onder uitbreken. Zoek jij een uitgebreidere uitleg over de bovenstaande analyse? Neem dan een kijkje in onze Discord groep.
Handel samen met Crypto Insiders op Discord
Zoek jij hulp met handelen? Wil je graag meer kennis opdoen over de markt? Neem dan een kijkje in onze Discord groep voor leden. In deze omgeving willen we de leden leren hoe zij zelf analyses kunnen lezen en maken. Daarnaast komen actuele onderwerpen elke dag aan bod en kijken we naar de verschillende sectoren binnen de markt. In onze Discord community kunnen we 24/7 kennis met elkaar delen en proberen we onze premium leden op de hoogte te houden. Wil jij dit soort analyses eerder lezen? Neem dan ook een kijkje in de Discord omgeving. Hier kan je ook direct in contact komen met verschillende analisten en crypto enthousiastelingen die klaar staan om jou te helpen!