De bitcoin (BTC) koers heeft in het jaar 2022 nog weinig fleurige momenten gekend. Iedere kleine opleving werd snel opgevolgd door een keiharde correctie. Op het moment van schrijven handelt de bitcoin koers op 19.000 dollar en is er even weinig beweging.
Stilte voor de storm?
Het is goed mogelijk dat er sprake is van stilte voor de storm. Vanavond om 20.00u Nederlandse tijd maakt de Federal Reserve namelijk de nieuwe Fed Funds Target Rate bekend. Momenteel ligt die range op 2,25 tot 2,50 procent en de verwachting is dat de Federal Reserve de rente verhoogt met 0,75 procent.
The US is bracing for the latest rate hike decision from the Federal Reserve as it aggressively tries to curb the inflation all Americans are feeling. pic.twitter.com/riBriClxF4

— CNN (@CNN) September 21, 2022
Er is echter ook een kans dat de rente met 1,00 procent omhooggaat en dat zou bitcoin en de rest van de markt vrijwel zeker een nieuwe tik geven. Het lijkt er echter op dat weinig mensen willen gokken op de volgende actie van de belangrijkste centrale bank ter wereld, want de koers staat praktisch stil vandaag.
Al heeft bitcoin de afgelopen week al een behoorlijk pittige week achter de rug waarin bijna 16 procent werd ingeleverd. De bulls hebben het zwaar dit jaar en kunnen alle hulp gebruiken, wat dat betreft zou het welkom zijn als de Federal Reserve het bij een renteverhoging van 0,75 procent houdt.
---
Bitvavo giveaway
Bitvavo gaat een aantal van onze lezers verrassen met kaarten voor de Nations league wedstrijd Nederland – België op zondag 25 september! Niet alleen worden er kaarten weggegeven, ook zullen er andere Oranje prijzen worden verloot onder trouwe lezers.
Zie jij het bijwonen van de wedstrijd Nederland 🇳🇱 – België 🇧🇪 op andermans kosten wel zitten, meld je dan hieronder aan met je eigen naam en je e-mailadres. Met een beetje geluk zit jij dan over iets meer dan twee weken in het stadion!
Heb je een account bij Bitvavo? Geef dan dit e-mailadres op
Wees er wel snel bij, want met de winnaars wordt op woensdag 21 september contact opgenomen!
---
Licht aan het einde van de tunnel
Iedereen wacht momenteel op een verandering in de houding van de Federal Reserve. Dat lijkt het enige te zijn wat de markten kan redden. Om de Federal Reserve van koers te laten wijzigen moet echter eerst de inflatie terug naar hun doelstelling van 2 procent of de economie moet in grote problemen komen.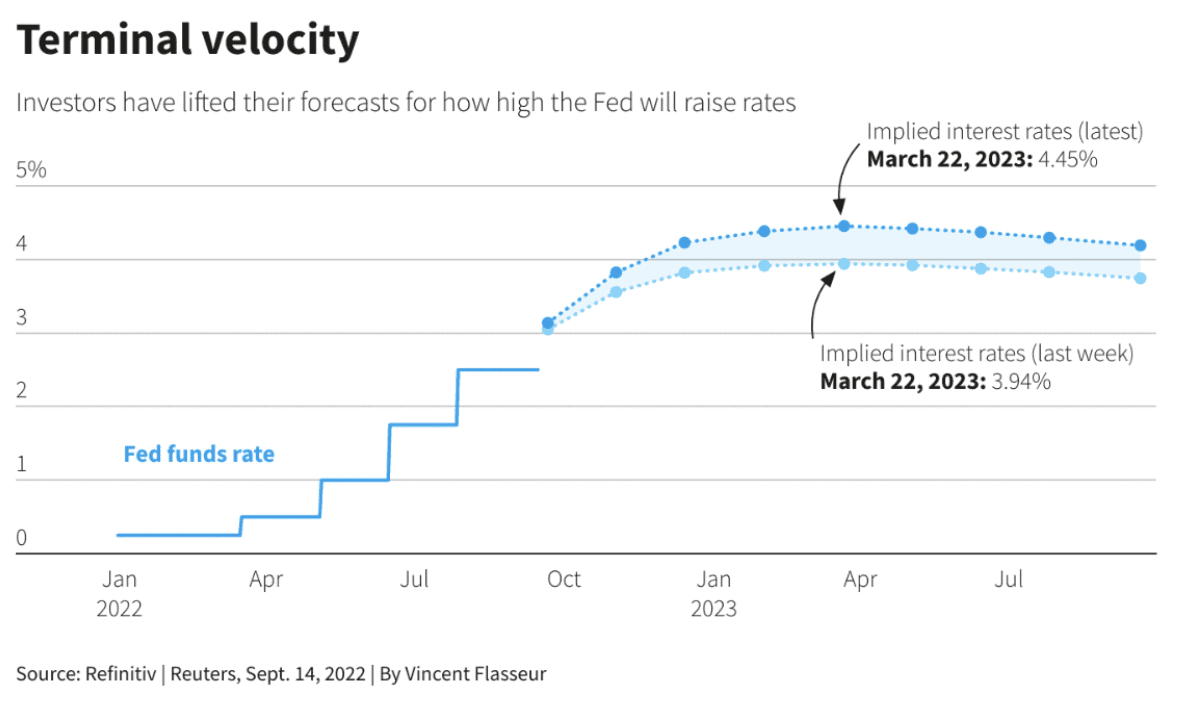 Professionele investeerders verwachten nu dat de rente in maart 2023 zijn piek bereikt op een rente van 4,45 procent. Dat betekent dat we vanaf de huidige rente-range van 2,25 to 2,50 procent nog een redelijke weg te gaan hebben. Op het huidige tempo duurt het echter niet lang voordat de Federal Reserve hier uitkomt.
Het is goed mogelijk dat de markten nog één keer een flinke schuiver of capitulatie-evenement meemaken, voordat de koersen weer groen zullen kleuren. Er heerst op dit moment simpelweg een hoop onzekerheid in de markt.