Na bitcoin (BTC) afgelopen weekend even onder $18.000 dipte, is de koers sinds de start van de week aan het consolideren tussen $20.000 en $21.000. Dat zorgt ervoor dat de angst iets afneemt, maar deze blijft nog altijd zeer hoog. De vrees is nu dat bitcoin mogelijk nog een lange tijd in dit gebied vastzit en daar kan zelfs een dieper dieptepunt nog tussen zitten.
Bitcoin Fear and Greed Index is 11 – Extreme Fear
Current price: $20,935 pic.twitter.com/gAWDGhcY3p

— Bitcoin Fear and Greed Index (@BitcoinFear) June 24, 2022
Bitcoin stijgt 2% in 24 uur
De bitcoin koers piekte dinsdag rond $21.600 en dipte woensdagavond weer even onder $20.000. Vervolgens steeg bitcoin iets, maar kwam gisterenochtend nog even te veel weerstand rond $20.750 tegen.
Bitcoin zakte vervolgens, maar vond tegen gisterenavond support rond $20.300 en kon vanaf daar weer aardig stijgen. Vroeg vanochtend piekte bitcoin rond $21.250 en daalde toen weer iets. De BTC prijs stijgt op het moment van schrijven naar $20.900 uit op Binance en €19.850 op Bitvavo. Daarmee staat de BTC koers vandaag weer 2% in de plus.
Bitcoin stijgt met aandelen, maar men vreest recessie
De bitcoin koersstijging van gisterenavond ging, zoals analist Caleb Franzen aangeeft, gepaard met groen kleurende obligaties en aandelenmarkten als de S&P 500 en Nasdaq. Het suggereert mogelijk dat de inflatie zijn piek heeft bereikt. Echter heeft de Federal Reserve al gewaarschuwd dat de kans op een "zachte landing" alsmaar kleiner wordt. De vrees voor een recessie neemt steeds verder toe en dat kan betekenen dat het nog lang duurt voordat beleggers weer genoeg vertrouwen hebben om in riskantere activa te investeren.
Quick thoughts: Bonds, stocks, & crypto are rallying today as economic data softens and inflation expectations decline.

We're seeing yields fall dramatically since the Fed's +0.75% hike last week.

The market is potentially suggesting that inflation has peaked.

— Caleb Franzen (@CalebFranzen) June 23, 2022
Wanneer begon de bitcoin bear-markt?
De crypto gemeenschap was maanden lang het oneens of bitcoin al in een bear-markt zat of nog in een midden-cyclus correctie van een bull-markt. Inmiddels geven steeds meer analisten toe dat het waarschijnlijk toch een berenmarkt is en is de discussie enigszins verschoven. De vraag lijkt nu te zijn: begon de bear-markt na de top van november 2021 of eigenlijk al na de top van april 2021? Volgens analysebedrijf Glassnode valt de huidige berenmarkt in elk geval nog in historische verwachtingen:
The #Bitcoin drawdown from ATH has reached 73.3%, compared to previous bear market lows of between 75% and 84%.

The duration in this bear is:
– 435-days from the Apr-2021 ATH
– 227-days from the Nov-2021 ATH

This firmly places the current bear within historical bear norms. pic.twitter.com/YQPvAEmklU

— glassnode (@glassnode) June 23, 2022
Gebrek aan bitcoin kopers volume
Alhoewel meerdere indicatoren op een bodem wijzen, betekent dit niet dat bitcoin ook snel een echte trendommekeer zal maken. Zoals analist Rekt Capital aangeeft, ligt het kopers volume zeer laag vergeleken met het verkopers volume van vorige week. Ook ligt dit volume laag in vergelijking met vorige bodems rond de beruchte 200-weken moving average. Zo lang het kopers volume onder gemiddelde blijft, ligt de kans op een snel herstel ook onder het gemiddelde.
The end of the week is closing in and the #BTC buy-side follow-through on last week's extreme sell volume is still very low compared to buyer volume at previous Bear Market Bottoms formed around the 200-week MA$BTC #Crypto #Bitcoin pic.twitter.com/8GrycKxIbI

— Rekt Capital (@rektcapital) June 23, 2022
Bitcoin miners verkopen flink
De afgelopen tijd hebben we vaker beschreven dat bitcoin-miners behoorlijk onder druk staan door de combinatie van een lage prijs en een hoge hash rate. Analysebedrijf IntoTheBlock meldt dat miners sinds 14 juni maar liefst 18.251 BTC verkocht hebben.
Miners are rushing to sell in order to cover expenses/loans.

With the Hash Rate maintaining at historically high levels and $BTC hovering around $20k, miners are struggling to break even.

Miner reserves have dropped by 18,251 $BTC since June 14th.https://t.co/bol3akiImy pic.twitter.com/YcIOolpFNS

— IntoTheBlock (@intotheblock) June 23, 2022
Crypto Insiders leden stemmen over bitcoin mining
We vroegen onlangs aan onze leden uit de Discord Premium groep hoe zij tegen bitcoin mining aankijken. Evenveel mensen geven aan dat het of niet genoeg opleverde of dat zij wachten tot de kosten omlaag gaan. Verreweg de meesten geven echter toe dat zij niet weten hoe zij dit überhaupt moeten doen.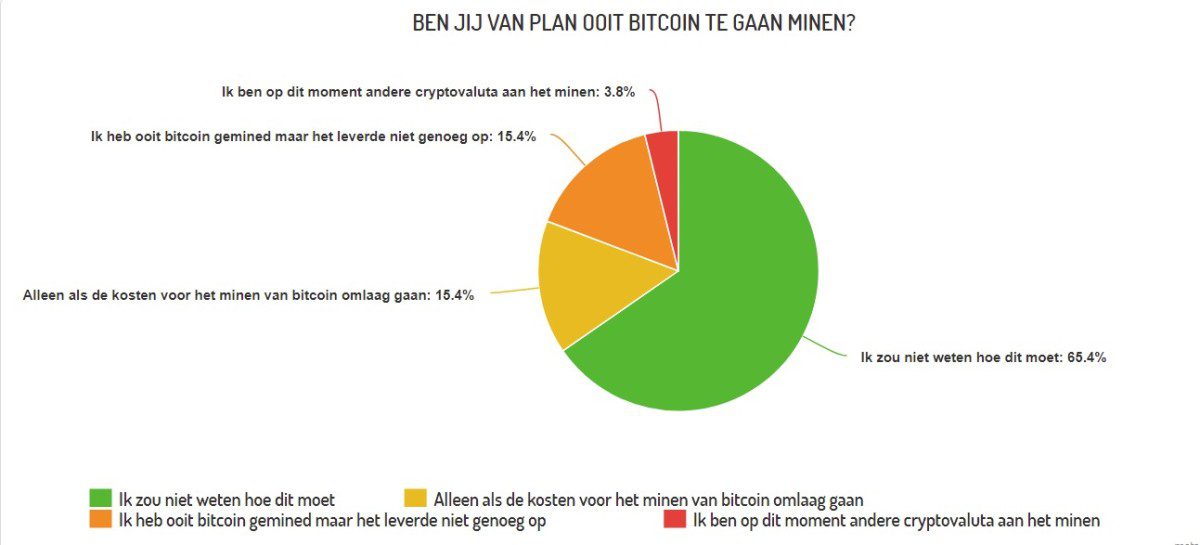 Bitcoin stroomt Coinbase uit
De grote cryptocurrency exchange Coinbase kondigt aan dat het strenge regelgeving gaat hanteren, waarschijnlijk ook voor Nederlandse gebruikers. Later daarover meer op Crypto Insiders. Het lijkt al te leiden tot een flinke uitstroom van BTC uit Coinbase:
Time to welcome new #Bitcoin whales.

Average $BTC outflows from @Coinbase hit a 9-year high. Average inflows are high as well.

There are lots of exchange in/outflows from whales lately, but actually, nothing changed on BTC reserve across all exchanges.https://t.co/Ptw2mg9YuR pic.twitter.com/s697lSvw27

— Ki Young Ju (@ki_young_ju) June 23, 2022
Crypto Insiders Premium voor bitcoin analyses
Wil jij diepgaandere bitcoin analyses ontvangen? Dan verwijzen wij je graag door naar onze Discord community voor leden. Stel vragen aan analisten, klets met onze fanatieke community en ontvang dagelijks technische en fundamentele analyses van bitcoin, maar ook andere crypto. Via Discord Premium kunnen we 24/7 kennis met elkaar delen en proberen we samen met onze leden de markt voor te blijven.
Disclaimer: Beleggen brengt risico's met zich mee. Onze analisten zijn geen financieel adviseurs. Raadpleeg altijd een adviseur bij het maken van financiële beslissingen. De informatie en tips die op deze website worden verstrekt zijn gebaseerd op eigen inzichten en ervaringen van onze analisten en dienen alleen voor educatieve doeleinden.