Bitcoin (BTC) dook gisteren toch weer onder $20.000. In eerste instantie reageerde de markt nauwelijks op de Ethereum (ETH) "merge." Ook nieuwe Amerikaanse economische cijfers brachten weinig teweeg. Toch maakte bitcoin een paar uur later een kleine daling. Praat erover mee in onze Discord omgeving!
Bitcoin zakte van $20.170 naar $19.600 en lukte vervolgens niet meer om $20.000 te heroveren. Afgelopen nacht dipte bitcoin nog even naar $19.550. De bitcoin koers komt op het moment van schrijven uit op $19.770 op Coinbase en €19.800 op Bitvavo.
Daarmee staat de BTC prijs vandaag 2% in de min. Het handelsvolume daalde in de afgelopen 24 uur met 11,3%. De totale marktkapitalisatie komt uit op $378 miljard en de dominantie op 39,3%. De Fear & Greed Index zakt naar 20.
Bitcoin nieuws van gisteren
Is BTC klaar om weer omhoog te bewegen?
Na de heftige sell-off van 13 september, zien we momenteel de koers stabiliseren rond $20.000. Bitcoin creëert momenteel een falling wedge patroon. Het patroon is op de grafiek te herkennen aan de witte trendlijnen. Dit patroon ontstaat vaak na een sterke daling, maar wordt meestal gevolgd door een bullish uitbraak.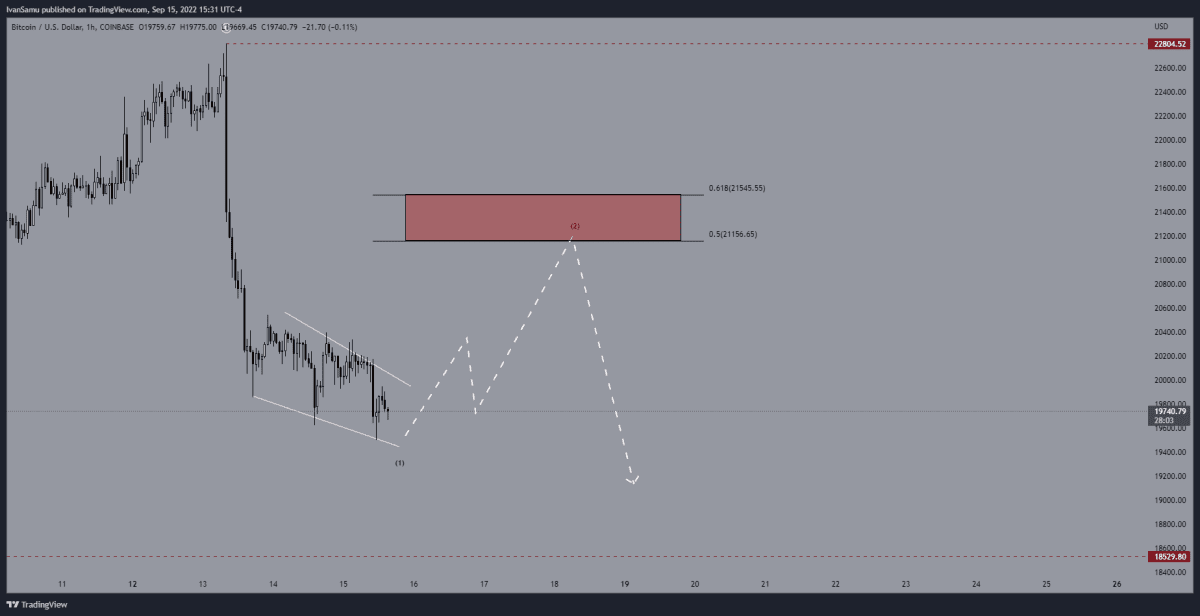 De analisten uit onze Discord omgeving verwachten dan ook binnenkort een stijging van de BTC koers tot ongeveer $21.200. Daarna verwachten zij echter dat bitcoin opnieuw zal dalen en wellicht kan de koers deze keer onder de recente low van $18.500 uitkomen.
Bitcoin risicoprofiel in historisch interessante zone
De MVRV Z-Score is een metriek die gebruikt wordt om inzicht te geven of bitcoin over- of ondergewaardeerd is ten opzichte van zijn 'echte' waarde. Wanneer de score laag is, is dat een indicatie voor een mogelijke marktbodem.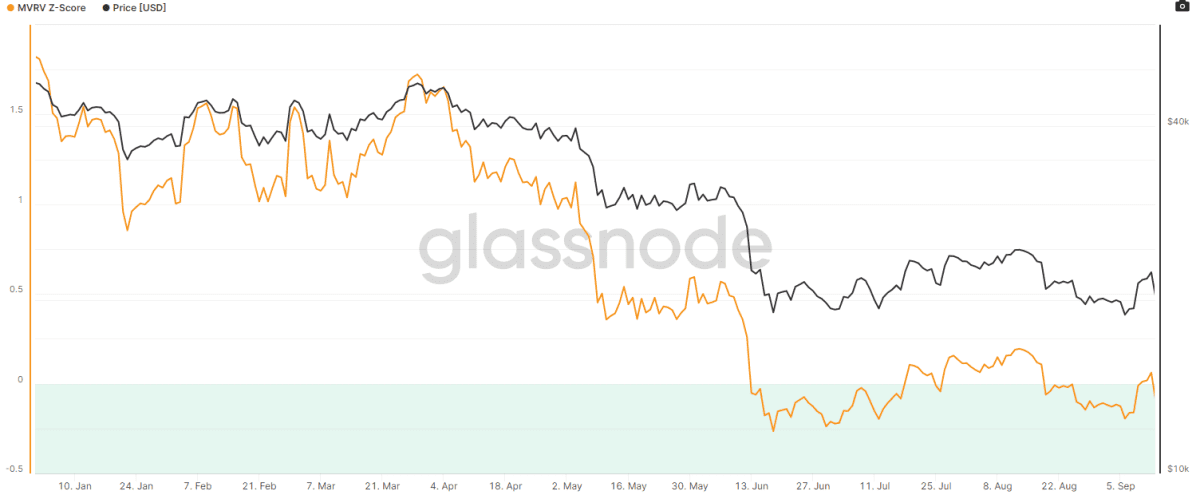 Op de bovenstaande grafiek zien we de MVRV-Z score van bitcoin. We zien dat bitcoin sinds gisteren weer terug is in de groene zone, een historisch lage waarde. Bitcoin kon onlangs kort uit dit gebied klimmen na een kleine rally afgelopen week, maar valt inmiddels weer terug in dit bereik. Het is wellicht een teken dat het risicoprofiel voor bitcoin aantrekkelijk is voor een lange termijn visie.
Handel samen met Crypto Insiders
Zoek jij hulp met handelen? Heb je vragen en wil je technische analyses voor direct ontvangen? Word lid en probeer een Premium-lidmaatschap 30 dagen gratis. Hier delen onze analisten 24/7 hun marktkennis en de nieuwste analyses. Hier kan je ook direct in contact komen met verschillende marktexperts en crypto-enthousiastelingen die klaar staan om jou te helpen!
Disclaimer: Beleggen brengt risico's met zich mee. Onze analisten zijn geen financieel adviseurs. Raadpleeg altijd een adviseur bij het maken van financiële beslissingen. De informatie en tips die op deze website zijn verstrekt is gebaseerd op eigen inzichten en ervaringen van onze analisten en dienen alleen voor educatieve doeleinden.