Een technische indicator, die omslagen in trends detecteert, suggereert dat het einde van de sell-off periode van Bitcoin nabij is. Dat zou kunnen beteken dat de koers van Bitcoin binnenkort weer gaat stijgen, zo meldt Bloomberg op 22 augustus.
De "GTI VERA Convergence Divergence Indicator" detecteert omkeringen in trends door de 'Moving Average Convergence Divergence' (MACD) te nemen en de Volatility Explosion Relativity Adjusted (VERA) theorie erop toe te passen.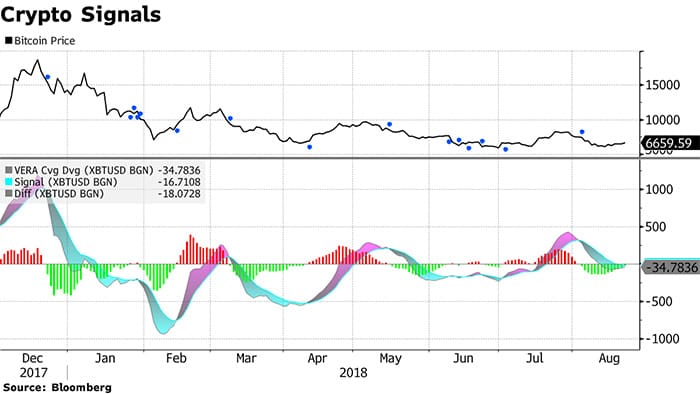 Bitcoin heeft in het afgelopen jaar een bearish periode meegemaakt waarbij het van bijna $20.000 naar bijna $6.000 is gezakt. Op 23 augustus is Bitcoin met 3,7% gedaald naar $6.400. Deze daling komt hoogstwaarschijnlijk doordat de Securities and Exchange Commission (SEC) weer een aantal Bitcoin-ETF's heeft afgekeurd.
Op 22 augustus steeg de cryptocurrency met bijna $400 in ongeveer 20 minuten tijdens een periode van onderhoud bij BitMEX. Kort daarna verloor Bitcoin weer het grootste deel van haar kortstondige winst. Volgens Alex Kruger, cryptocurrency-analist bij FX, is dat juist de soort manipulatie waarom de SEC Bitcoin-ETF's afkeurt.

The $BTC lightning +7% breakout during Bitmex's downtime shows why odds of SEC approving the CBOE bitcoin ETF proposal should be close to zero. Even if no manipulation (that's debatable) this stresses the importance of Bitmex, a fully unregulated market with 40% market share.

— Alex Krüger (@krugermacro) August 22, 2018

Vorige maand werd al het ETF-voorstel van de Winklevoss-tweeling afgekeurd. De markt wacht met spanning af of het voorstel van CBOE en VanEck & SolidX door de SEC zal worden goedgekeurd.
De laatste keer dat de indicator aangaf dat er een omslag nadert, steeg de Bitcoin-koerswaarde met 39% in de daaropvolgende maand.