Ons zoekgedrag op internet vertelt een hoop. In het geval van zoektermen omtrent cryptocurrency is het wellicht een indicator voor in welke mate men overweegt te investeren. Zo zagen we eind juni, toen de bitcoin (BTC) koers stevig boven de psychologische grens van $10.000 handelde, dat Google Trends liet zien dat de interesse in bitcoin toenam.
Nu blijkt dat de zoekopdrachten op Google naar bitcoin voor het eerst sinds eind 2017 de zoekopdrachten naar reguliere aandelen zijn overstegen. in het overgrote deel van 2018 en in het eerste kwartaal van dit jaar waren er meer zoekopdrachten naar aandelen, maar toen bitcoin in april aan een rally begon stegen ook de zoekopdrachten op Google naar bitcoin: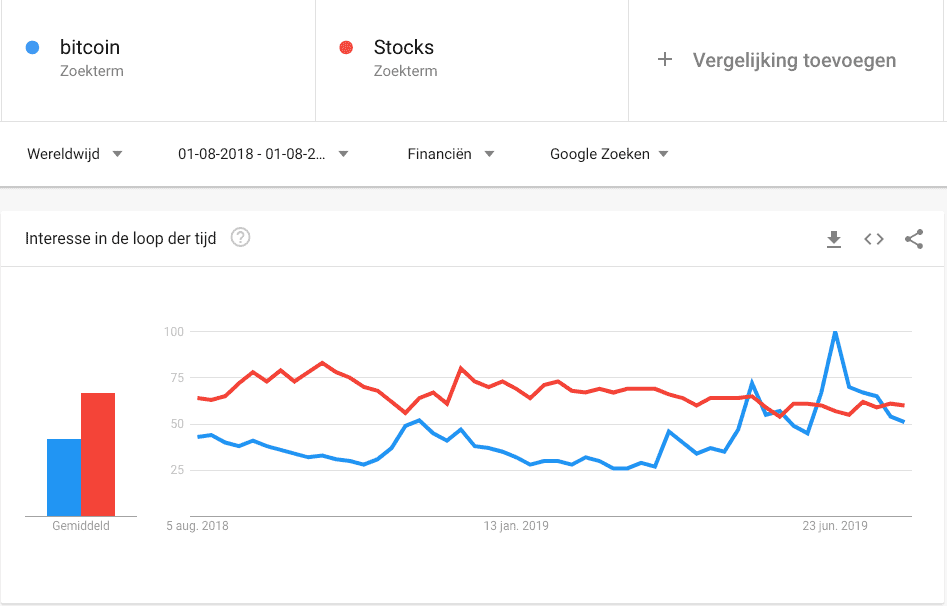 Afbeelding 1: Interesse in de loop der tijd (zoektermen "bitcoin" en "stocks). Bron: Google Trends
Op de grafiek in afbeelding 1 is te zien dat het zoekvolume op bitcoin op 21 juni begon aan een flinke stijging, die na een kleine dip kort ver boven het aantal zoekopdrachten naar "stocks" geraakte.
Tevens is het interessant om te zien waar ter wereld het meest naar bitcoin of "stocks" wordt gezocht: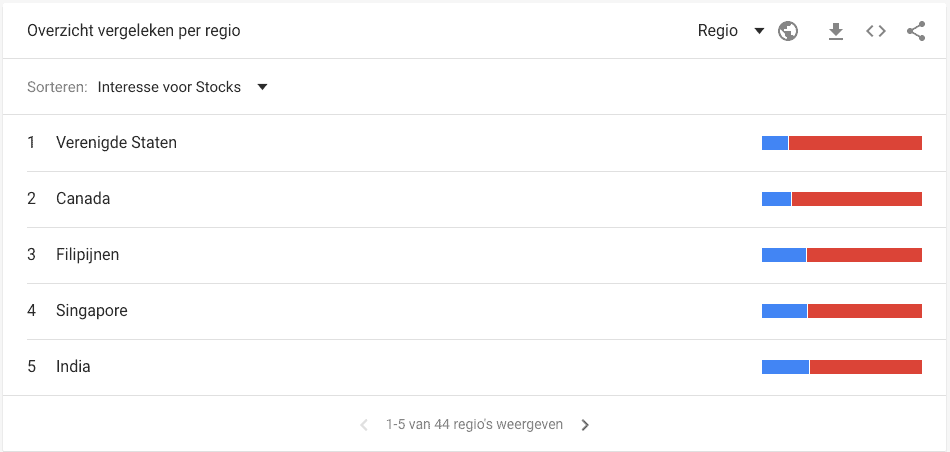 Afbeelding 2: Landen waar het meest wordt gezocht op "stocks"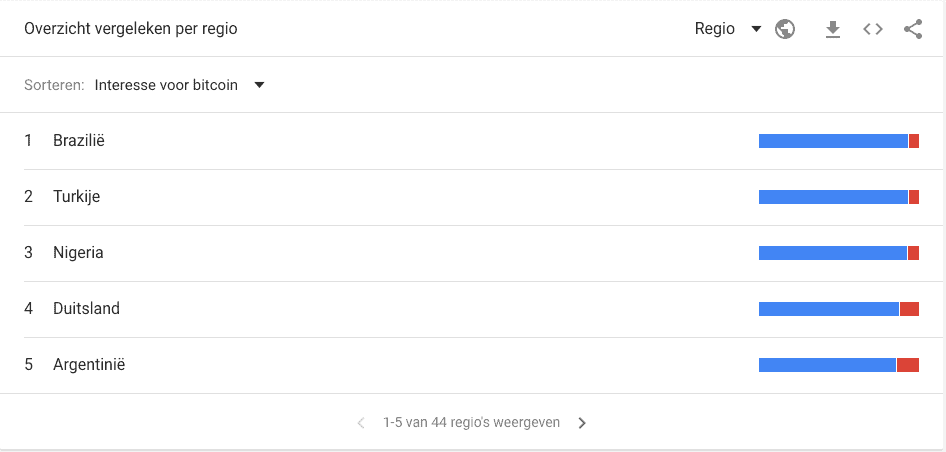 Afbeelding 3: Landen waar het meest wordt gezicht op bitcoin
Er zijn verschillende fundamentele aspecten die van invloed zijn geweest op de piek van eind juni in bitcoin-zoekvolume.
Zo heeft de berichtgeving omtrent Facebooks cryptocurrency Libra er wellicht iets mee te maken en zullen ook de uitspraken van de Amerikaanse president Trump over bitcoin het zoekgedrag van veel mensen hebben beïnvloed.
Wat gaat de bitcoin (BTC) koers toch doen? Maandag verscheen de laatste bitcoin-koersanalyse van Crypto Insider David. Heb je die gemist? Klik dan hier om zijn analyse alsnog te lezen.
Wil je op de hoogte blijven van het laatste nieuws? Abonneer je dan op onze push-berichten, Facebook– of Twitter. Meediscussiëren? Meld je dan aan voor ons Telegram kanaal.