De koersen van Bitcoin en andere cryptocurrencies hebben na het hoogtepunt van eind 2017 dit jaar een behoorlijke daling ondervonden met november als slechtste maand in jaren. Wat doet dat met het vertrouwen in Bitcoin en andere cryptocurrencies onder Nederlanders? BTC Direct onderzocht het.
BTC Direct voerde een onderzoek uit onder 1.370 respondenten via SurveyMonkey. Het team van BTC Direct concludeert dat de dalende koers van Bitcoin (BTC) geen invloed heeft gehad op het vertrouwen in Bitcoin onder Nederlanders. BTC Direct voerde vorig jaar een dergelijk onderzoek uit waardoor het mogelijk is om resultaten te vergelijken.
Tevens wordt gerapporteerd dat 90% van de respondenten die geïnvesteerd heeft in Bitcoin mannelijk is, voornamelijk tussen de 25 en 45 jaar oud is en uit Noord- of Zuid-Holland komt. De 10% vrouwen die Bitcoin bezit blijkt vaker ouder dan 45 jaar.
Vrouwen blijken iets meer vertrouwen (30%) te hebben in Bitcoin dan mannen (28%). De categorie 18-25 jaar (34%) blijkt meer vertrouwen te hebben dan 65+'ers (25%). In de jongere groep doen altcoins het beter in vergelijking met de 65+'ers. Bitcoin blijft aan top als het aankomt op vertrouwen, gevolgd door Ethereum (ETH), Ripple (XRP), Litecoin (LTC) en Stellar (XLM).
Als men de resultaten per provincie neemt dan schiet Groningen er bovenuit. In die provincie is de grootste stijging van vertrouwen te zien. Flevoland scoort ook goed. In Utrecht blijkt het vertrouwen het hardst gedaald.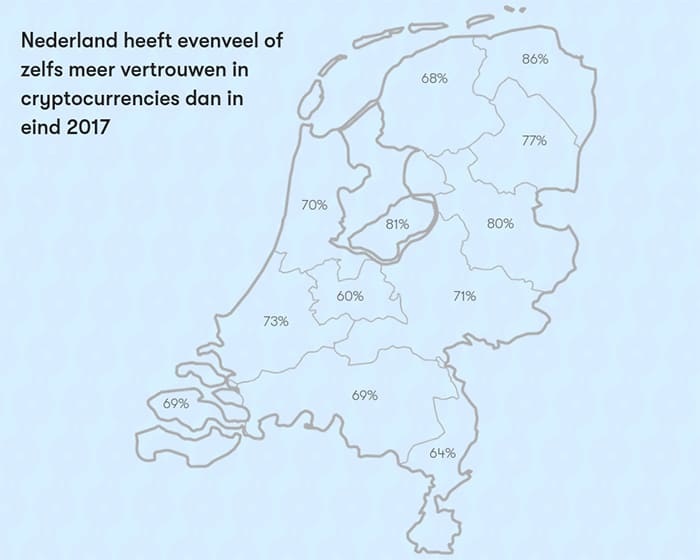 Uit het rapport is te herleiden dat een groot deel van de Nederlandse Bitcoin bezitters heeft geïnvesteerd voor langere termijn en zich geen zorgen maakt over de huidige "crypto-winter."
Vorige maand voerde cryptocurrency-exchange Luno een dergelijk onderzoek uit. De exchange onderzocht 10 landen, met 1.000 respondenten uit elk land, en hoe deze landen zich verhouden tot Zuid-Afrika als het gaat om kennis en bezit van Bitcoin. Daaruit bleek dat Zuid-Afrika voorloopt op Europa en dat onder de Europese landen Nederland het best scoort.
Wil je op de hoogte blijven van het laatste nieuws? Abonneer je dan op onze push-berichten, 
Facebook
– of Twitter.
[ci-widget-v2]