Er stroomt steeds minder geld uit de crypto-gerelateerde beleggingsfondsen, zo blijkt uit de cijfers van Bloomberg. In het derde kwartaal van 2022 haalden investeerders 'slechts' voor 17,6 miljoen dollar aan kapitaal uit de crypto-fondsen.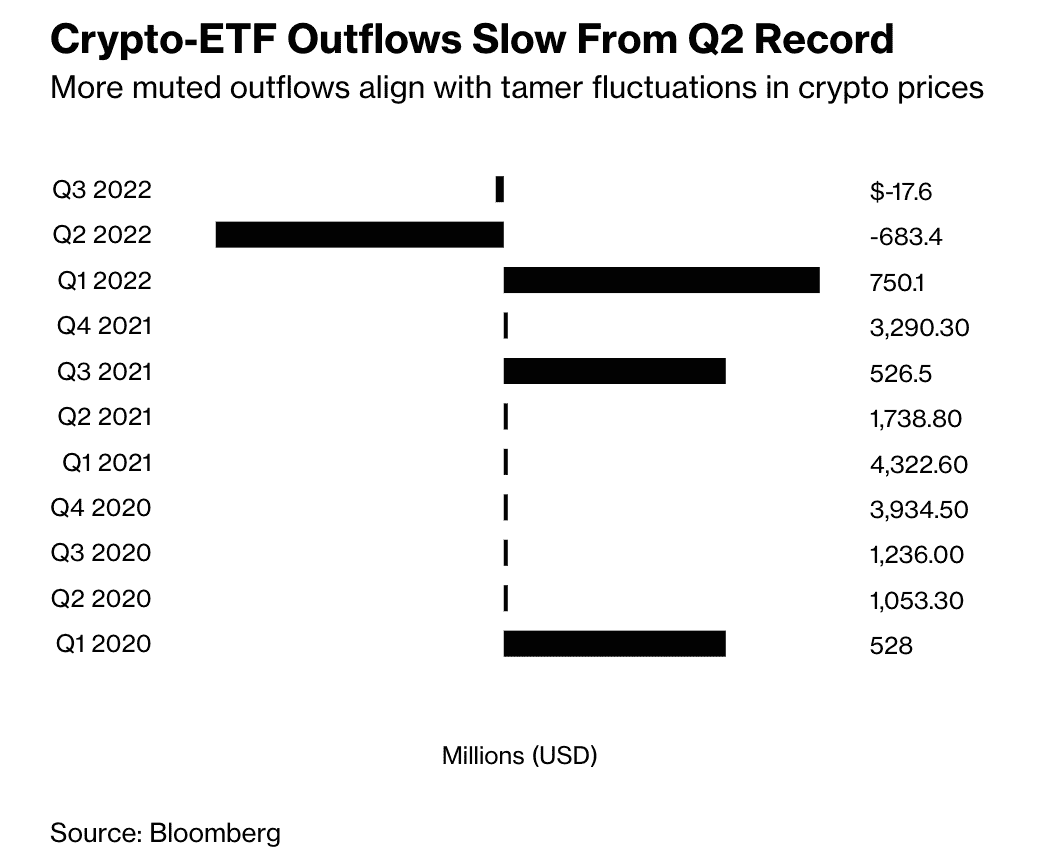 Het einde van de bearmarkt?
In het tweede kwartaal van dit jaar stroomde nog $683,4 miljoen dollar aan kapitaal uit crypto-fondsen en in het derde kwartaal was dat nog slechts $17,6 miljoen dollar. Dat lijkt erop te wijzen dat de meeste bears hun posities al hebben verkocht en we steeds dichter bij de bodem komen, als we die met de koers van $17.600 dollar in juni niet al bereikt hebben.
Opvallend is overigens dat de maand juli vooral een positieve maand was voor de fondsen, gezien die maand een plus van 200 miljoen dollar markeerde. Dat betekent dat augustus en september een min van ruim 200 miljoen dollar opleverden.
Uiteindelijk moeten we dus nog maar afwachten hoe de situatie zich de komende maanden gaat ontwikkelen. Veel lijkt daarbij af te hangen van de ontwikkelingen op macro-economisch vlak, waarbij de ogen vooral gericht zijn op de Amerikaanse Federal Reserve.
Macro-economische donderwolken
We zitten al maanden in de macro-economische malaise, maar de situatie is er jammer genoeg nog niet beter op geworden. In Nederland alleen al kwam de inflatie deze maand binnen op 17,1 procent. Ook in de rest van Europa gaat het met een gemiddelde inflatie van 10 procent helemaal de verkeerde kant op.
In de Verenigde Staten kampen ze, zij het in mindere mate, met hetzelfde probleem. Centrale banken over de hele wereld moeten momenteel de rente flink opvoeren om de inflatie te beteugelen. Het effect daarvan is dat risico-assets als bitcoin het lastig hebben.
Hoe lang deze situatie nog duurt is niet duidelijk. Het is wachten totdat centrale banken erin slagen om de inflatie onder controle te krijgen of moeten ingrijpen omdat er iets breekt in het systeem, zoals de Bank of England afgelopen week op de obligatiemarkt.