De waarde van de crypto-markt is de afgelopen week met $50 miljard  gezakt; van $300 miljard naar $250 miljard. De koers van Bitcoin is in de afgelopen 24 uur gedaald van $7.250 naar $6.950. Een verdere, maar verwachte daling, na gisteren.



Het marktvolume van cryptocurrencies is binnen een week gezakt van $18 miljard naar $7 miljard. Bitcoin is gezakt van $5,5 miljard naar $4,1 miljard.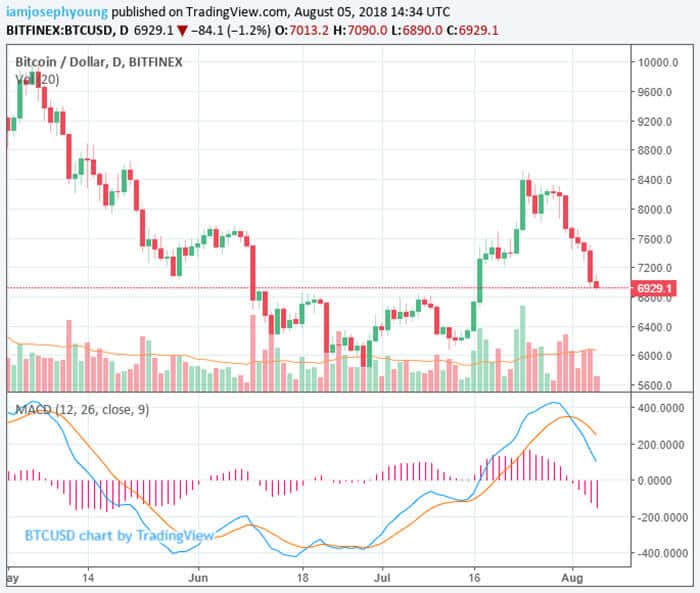 Tether (UDST), een cryptocurrency die vaak stijgt als Bitcoin daalt, is tevens gezakt. Het volume van Tether stond gisteren nog op $3 miljard en vandaag op $2,5 miljard.
Deze dalingen vallen juist samen met positieve ontwikkelingen in de crypto-wereld. Bijvoorbeeld NYSE en Starbucks hadden deze week nog aangekondigd cryptocurrencies te zullen adopteren. Tevens is de grote Zuid-Koreaanse crypto-exchange Bithumb  weer terug. Toch lijkt de vraag naar cryptocurrencies te blijven dalen.
Er wordt gespeculeerd dat de grote daling in de markt voornamelijk komt door de OTC (over-the-counter) markt. Een onderzoek van de Labb group gaf aan dat deze OTC markt twee tot drie keer groter is dan de cryptocurrency-exchange markt.
Een rapport van UBS, Union Bank of Switzerland kwam eerder deze week uit waarin stond dat Bitcoin nog veel te instabiel is:
Onze bevindingen suggereren dat Bitcoin, in haar huidige vorm, te instabiel en te beperkt is om een legitieme manier van betalen te worden voor wereldwijde transacties of als reguliere activa-klasse.