De koers van ethereum gaat als een achtbaan op en neer. Gisteren markeerde de munt nog een daling maar nadat de Amerikaanse centrale bank een renteverhoging bekend maakte, steeg de waarde richting een dagwinst van 15%.
De stijging zou kunnen komen door die renteverhoging, maar het is waarschijnlijker dat er nog iets anders speelt.
Ethereum koers 1600 euro
Op het moment van schrijven wordt ethereum op Binance verhandeld voor 1622 euro. In de afgelopen 7 dagen is de koers van ethereum met 5,5% gestegen. De laatste twee dagen leek het echter of de week negatief zou worden afgesloten, maar de koers heeft zich goed weten te herpakken.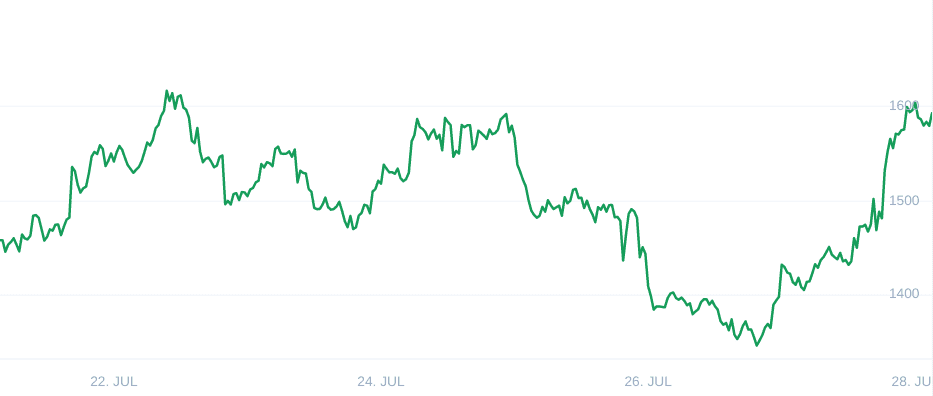 Nadat veel cryptobedrijven omvielen in mei en juni, werd eindelijk een (tijdelijke) bodem bereikt. Vanaf dat moment lijkt de markt zich vooral bezig te houden met de aanstaande fusie van de twee blockchains van Ethereum. Deze fusie wordt ook wel The Merge genoemd.
Ethereum over op proof of stake
Ontwikkelaar Tim Beiko zei tijdens een conference call met andere ontwikkelaars dat 19 september een haalbare deadline is voor deze fusie. Na de fusie zal Ethereum geen gebruik meer maken van proof of work, maar louter proof of stake gebruiken. Voordat die fusie plaats kan vinden moet er uiteraard goed getest worden.
Ethereum heeft hierin een kleine maar belangrijke stap gezet.
Test Ethereum 26 uur eerder
De tiende shadowfork van Ethereum ging 26 uur eerder online dan verwacht. Dit komt doordat er sneller gemined werd nadat de hashrate op het netwerk toenam. Shadowforks zijn gerichte testen op specifieke componenten van de fusie. Ze simuleren een of twee wijzigingen aan de blockchain die in de toekomst zullen plaatsvinden.
Dit soort testen zijn kleinschaliger dan de verschillende hardforks die plaatsvinden op de testnetten, zoals op Sepiolia eerder deze maand. De grotere testen dienen meer voor het nabootsen van de gehele fusie, en kijken niet naar de kleinere componenten van de blockchain.
11 augustus belangrijk voor Ethereum
Nu kunnen de ogen van alle investeerders zich richten op 11 augustus. Op die dag zal de laatste grote test plaatsvinden op Goerli, een testnet van Ethereum. Dit wordt de derde (en laatste) test in zijn soort en als deze succesvol is, dan kan de fusie op het echte netwerk van Ethereum beginnen.