In de Premium omgeving van Crypto Insiders worden dagelijks actuele technische analyses gedeeld door ervaren analisten. De afgelopen periode kwam Avalanche (AVAX) hier regelmatig ter sprake. In deze rubriek blikken we terug op deze technische analyse en brengen we de recente ontwikkelingen en verwachtingen voor de komende periode in kaart. Mocht je na het lezen van dit artikel nog vragen hebben kun je deze eenvoudig stellen in onze Discord community, hier worden onze technische analyses doorgaans minimaal 48 uur eerder gedeeld met onze leden.
In de vorige analyse van AVAX keken we naar wat het project precies inhoudt en naar de recente ontwikkelingen van die periode. Hieronder duiken we meteen in de recente ontwikkelingen van deze periode. Wil je precies weten wat AVAX doet? Neem dan een kijkje naar de vorige analyse.
AVAX is over de afgelopen 24 uur met ongeveer 15% gestegen. Ook het volume van AVAX is binnen hetzelfde tijdsbestek toegenomen, in deze periode steeg het volume namelijk met 8%. Over de afgelopen zeven dagen ging het zelfs nog beter. In deze periode steeg de koers namelijk met ongeveer 16%. AVAX staat op het moment van schrijven op de 16e plaats op basis van marktwaarde, een plek lager dan de vorige keer dat we naar AVAX keken.
Ontwikkelingen rondom Avalanche (AVAX)
Helaas is er geen recent crypto nieuws uitgekomen over AVAX. Dit betekent echter niet dat zij niet achter de schermen druk bezig zijn met het ontwikkelen van verschillende functionaliteiten voor het platform. Ondanks dat er geen duidelijke roadmap beschikbaar is, kunnen we door middel van interviews met Emin Gün Sirer, de CEO van Ava Labs, toch achterhalen waar ze mee bezig zijn.
Zo heeft hij in een interview aangegeven dat Avalanche een bridge wil bouwen waardoor Avalanche met elke blockchain die waarde heeft verbonden kan worden, waaronder kleinere private blockchain die ontworpen zijn voor bedrijven. In dit interview sprak hij nog over verdere mogelijke updates. Door niet alleen dit interview, maar ook andere interviews en blogposts kunnen we toch een klein kijkje achter de schermen nemen bij Avalanche, en het klinkt allemaal erg goed!
Technische analyse AVAX koers
AVAX heeft de entry gehaald die we in de vorige analyse van 6 juni beschreven, echter wil dit nog niet betekenen dat we de bodem al bereikt hebben. Op de lange termijn zouden we zelfs nog richting de $10 kunnen zakken.
Vanaf hier zouden we weer een opleving in de koers kunnen zien, dit betekent dat we mogelijk omhoog gaan, echter verwachten we dat de koers na deze opleving toch eerst naar beneden zal gaan.
Op het moment vormt er een wave A op de koers rond de $19,65. Een wave A is het begin van een ABC-patroon. Om het ABC-patroon af te maken moet de B en de C nog volgen. De B zou hoger moeten liggen dan de A, waardoor we naar boven gaan, echter zal de C juist weer omlaag zijn. Dit is op de grafiek ook afgebeeld met de zwarte (C).
In een video analyse heeft een van onze analisten nog verdere toelichting gegeven op de onderstaande grafiek. Deze video staat in de Discord omgeving gearchiveerd.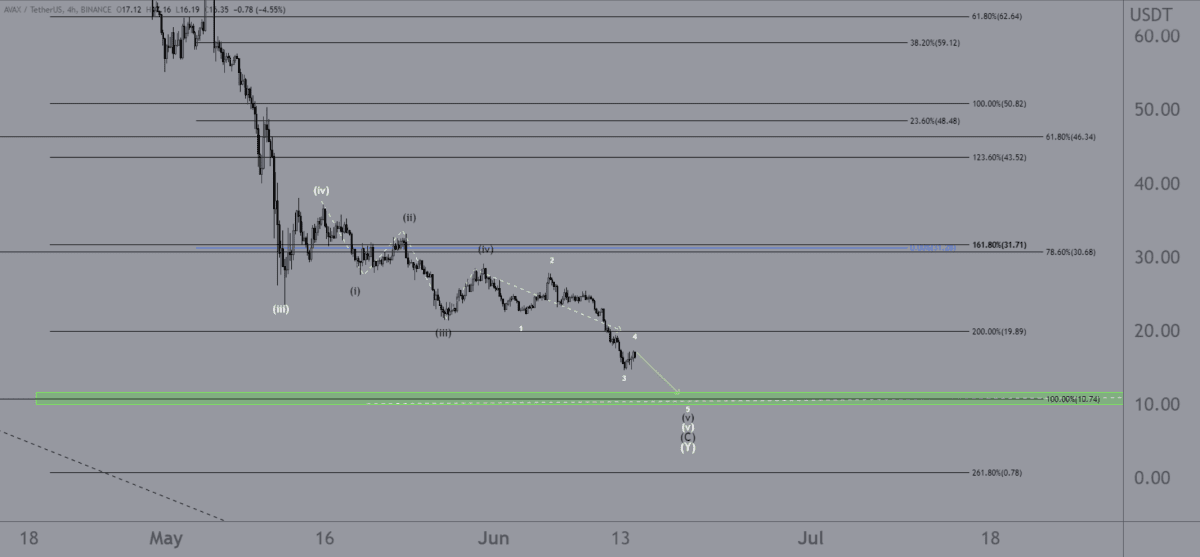 Wat zijn de verwachtingen voor AVAX?
Helaas is er voor Avalanche nog geen up-to-date roadmap beschikbaar voor 2022. Hier is bewust voor gekozen door het Avalanche team. Maar zoals eerder aangegeven is er wel aardig wat te achterhalen door verschillende interviews met de CEO van AVA Labs.
Of het laatste nog verdere impact gaat hebben op de prijs is afhankelijk van een groot aantal factoren die dagelijks verschillen. Zoals we de laatste tijd gemerkt hebben kan de koers ook ineens hard dalen in een gekke markt. Ook is de crypto-markt zwaar onderhevig aan economische gebeurtenissen en traditionele aandelenmarkten. Dit maakt het soms lastig om het juiste moment te bepalen om in een bepaald project te investeren. Toch kunnen wij je daarbij helpen:
AVAX kopen of verkopen?
Wil jij graag dit soort koersanalyses van crypto eerder zien? Dan verwijzen wij je graag door naar onze Premium community voor leden. Hier bediscussiëren ervaren analisten en handelaren dagelijks hun eigen handelsplannen. Ook delen we hier regelmatig aanvullende koersanalyses en updates van projecten die we eerder in deze rubriek hebben behandeld. Via Discord kunnen we 24/7 kennis met elkaar delen en proberen we samen met onze leden de markt voor te blijven.
---
Disclaimer: Beleggen brengt risico's met zich mee. Onze analisten zijn geen financieel adviseurs. Raadpleeg altijd een adviseur bij het maken van financiële beslissingen. De informatie en tips die op deze website worden verstrekt zijn gebaseerd op eigen inzichten en ervaringen van onze analisten en dienen alleen voor educatieve doeleinden.