Bitcoin (BTC)  is met 1% gedaald sinds 00:00. De actuele prijs is op het moment van schrijven $20.961 op crypto exchange Coinbase. De euro prijs van bitcoin is €21.155 op de Nederlandse exchange Bitvavo. Het handelsvolume steeg in hetzelfde tijdsbestek met 40%. Over de afgelopen zeven dagen daalde bitcoin met 12,5% in waarde. In de afgelopen 24 uur daalde de koers met ongeveer 2%. De totale marktwaarde van Bitcoin bedraagt op het moment van schrijven $401,5 miljard. Vergeleken met de totale crypto marktkapitalisatie komt de bitcoin dominantie hiermee uit op 39,95%, hetzelfde niveau als 24 uur geleden.
Bitcoin nieuws van gisteren
Bitcoin koers in accumulatiefase: analist
Caleb Franzen, Senior market analist voor Cubic Analytics, heeft op Twitter een bitcoin analyse gedeeld waarbij hij gebruik maakt van de 18-month Williams%R Oscillator. Het valt hem hierdoor op dat bitcoin, net als in 2012, 2014 en 2017, in het oversold gebied hangt.
Sinds de sluit van juni dit jaar bevindt de koers zich al op dit niveau. Als we naar vorige keren kijken dat de koers in dit gebied kwam, zien we dat dit de perfecte accumulatieperiodes zijn geweest. Mogelijk is dit dus de laatste kans om bitcoin goedkoop in te slaan voor we hard omhoog gaan
#Bitcoin analysis using the 18-month Williams%R Oscillator.

Why 18 months? It's equivalent to analyzing the price trend over 1.5 years of data!

When $BTC crosses below the "oversold" threshold, it's been a great accumulation signal.

Signal flashed as of the June 2022 close. pic.twitter.com/MNtqKg2m3b

— Caleb Franzen (@CalebFranzen) August 22, 2022
Premium crypto analyse van de dag: Ripple (XRP)
Ripple (XRP) is enorm veel besproken in de Discord community van Crypto Insiders. Daarnaast heeft XRP over de afgelopen maanden een soortgelijk patroon laten zien als dat bitcoin liet zien. De koers bewoog namelijk in een opwaartse trend. Toch is de koers ondertussen aan de onderkant van dit kanaal uitgebroken en lijkt deze trend verbroken te zijn.
Dit is echter eerder ook al gebeurd rond juli dit jaar. De koers wist na deze uitbraak vrij snel weer in het kanaal te schieten. Mocht dit gebeuren kan de trend weer voortgezet worden. Zo niet dan kijken we naar het eerstvolgende steunniveau op $0,308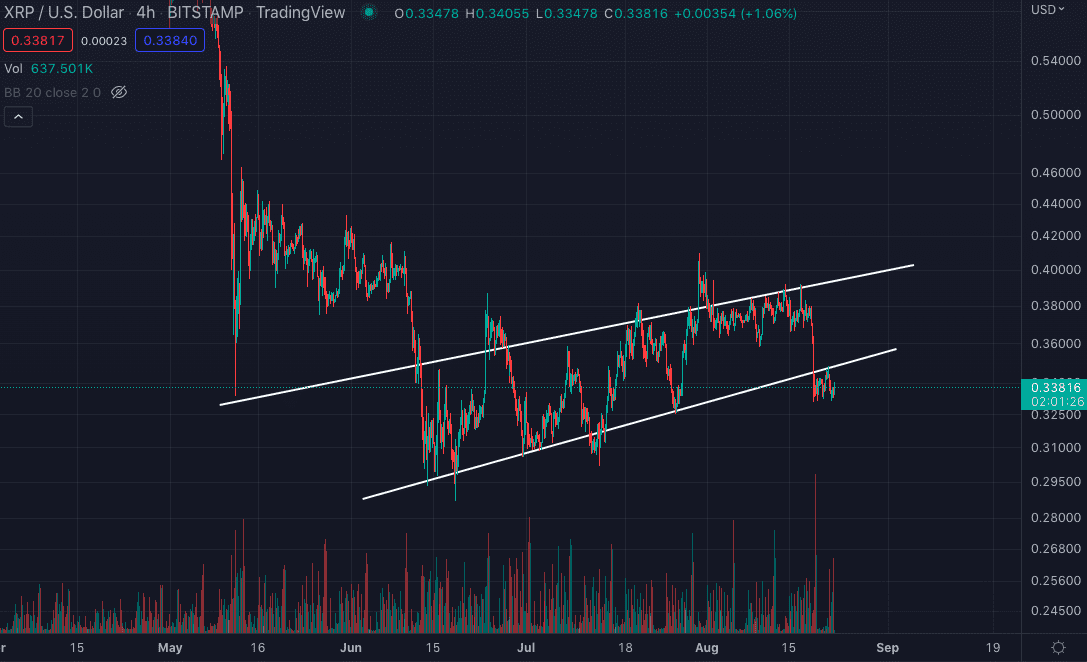 Handel samen met Crypto Insiders op Discord
Zoek jij hulp met handelen in crypto? Dan verwijzen we je graag door naar onze Discord groep voor leden. Hier bediscussiëren ervaren analisten en handelaren dagelijks hun analyses en handelsplannen. Ook delen we hier als eerst onze technische en fundamentele analyses. In onze Discord community kunnen we 24/7 kennis met elkaar delen en proberen we onze premium leden op de hoogte te houden.
Disclaimer: Beleggen brengt risico's met zich mee. Onze analisten zijn geen financieel adviseurs. Raadpleeg altijd een adviseur bij het maken van financiële beslissingen. De informatie en tips die op deze website zijn verstrekt is gebaseerd op eigen inzichten en ervaringen van onze analisten en dienen alleen voor educatieve doeleinden.