Altcoins zijn alle cryptocurrencies die naast bitcoin (BTC) bestaan. Het woord altcoin staat voor alternatieve cryptocurrency. Het verhaal van cryptocurrency begon in 2009 met de lancering van de Bitcoin blockchain en het minen van het eerste blok op 3 januari 2009. Daarna duurde het tot 2011 voordat het eerste alternatief op bitcoin werd geïntroduceerd in de vorm van Namecoin. Altcoins zijn munten die net op een andere manier zijn ingericht dan Bitcoin omdat de makers het niet eens waren met de inrichting van Bitcoin of omdat ze functionaliteiten misten.
Litecoin (LTC) is een voorbeeld van een altcoin die er ook al sinds de begindagen bij is. Voormalig Google ingenieur Charlie Lee kreeg het idee voor Litecoin omdat hij Bitcoin niet snel genoeg achtte voor dagelijkse betalingen. Litecoin moest zich tot Bitcoin verhouden zoals zilver staat tot goud. Om dat te bewerkstelligen kopieerde Lee de computercode van Bitcoin en bracht hij enkele fundamentele wijzigingen aan. In plaats van iedere tien minuten een blok, produceert het Litecoin netwerk iedere 2,5 minuut een blok. Wat betekent dat Litecoin vier maal zoveel blokken produceert als Bitcoin en dus een grotere transactiecapaciteit heeft. De meeste altcoins zijn uiteindelijk, zoals Litecoin, niet veel meer dan een kopie van Bitcoin met enkele kleine aanpassingen. Er zitten echter ook weleens bijzondere projecten tussen die het langer volhouden en wat unieks te bieden hebben.
De dans van Bitcoin en Ethereum
De eerste naam die opkomst als je denkt aan een succesvolle altcoin is natuurlijk Ethereum (ETH). Het idee voor Ethereum werd in 2013 bedacht door Vitalik Buterin, waarna de productie in 2014 van start ging en het netwerk werd gelanceerd in de zomer van 2015. Het grote idee van Ethereum is om te fungeren als een 'wereld-computer' waarop je in theorie iedere applicatie zou kunnen bouwen op een decentraal fundament. Tot op de dag van vandaag is het platform nog altijd in ontwikkeling en is nog niet compleet duidelijk welke toepassingen er over 10 tot 20 jaar de boventoon voeren op Ethereum. Op het moment van schrijven lijkt Decentralized Finance (DeFi) een veelbelovende toepassing voor Ethereum en zijn ook de zogenaamde Non-Fungible Tokens (NFTs) populair.
In hoeverre Ethereum nu echt een concurrent is van Bitcoin is niet helemaal duidelijk. Waar de focus van Bitcoin puur ligt op geld, lijkt dat bij Ethereum niet het geval. Bitcoin is nog altijd de meer gevestigde naam en in die zin meer een zekerheid dan Ethereum. Het narratief van Bitcoin als een zogenaamde store of value begint ook in de traditionele financiële wereld voet aan de grond te krijgen. Ethereum moet zich qua toepassingen wat dat betreft nog iets meer bewijzen. Wat het mogelijk wel interessanter maakt om in Ethereum te investeren, aangezien meer risico ook betekent dat er meer potentie is om te groeien.
De grootste altcoin van de markt is op dit moment bezig met de transitie naar Ethereum 2.0, waarmee het platform op de lange termijn volledig moet overstappen van Proof-of-Work naar Proof-of-Stake. Wederom een ontwikkeling waarbij nog veel vraagtekens zijn, waarbij er dus risico in het spel is, maar waar enorm veel potentie zit. Mocht het Ethereum lukken om succesvol over te gaan op Proof-of-Stake, dan kan dat met het oog op de klimaatproblematiek een belangrijke overwinning op Bitcoin betekenen. Al is het nog maar de vraag, zoals eerder werd aangegeven, in hoeverre Bitcoin en Ethereum nu echt met elkaar concurreren. In de basis lijken de technologieën op elkaar, maar de toepassingen waarvoor ze ingezet worden zijn compleet anders.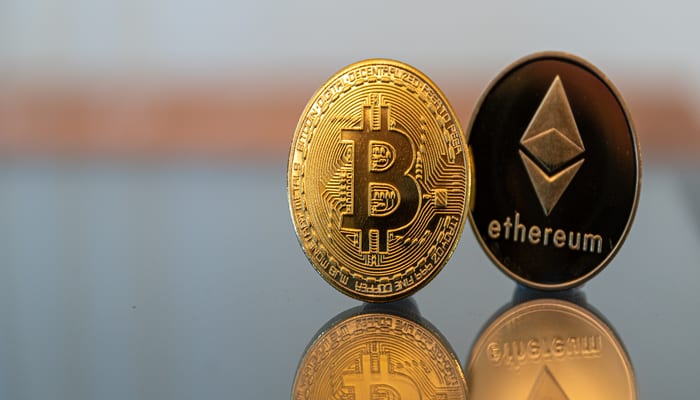 Altcoins met potentie
Wat altcoins voor de gemiddelde investeerder zo interessant maakt is dat ze in theorie veel meer potentie hebben dan Bitcoin. Bijna iedere dag starten er wel nieuwe projecten waarvan de market cap op dat moment nog extreem laag is. Stap je op het juiste moment in een veelbelovende altcoin, dan kan dit weleens de jackpot betekenen. Het feit dat je met een altcoin de spreekwoordelijke jackpot kan winnen, betekent echter ook dat er veel risico mee gepaard gaat. De meeste altcoins maken hun potentie helaas niet waar. Het belangrijkste advies dat je met betrekking tot altcoins kunt krijgen is om je goed in te lezen en pas te investeren als je echt begrijpt hoe de technologie werkt en op welke manier het project in kwestie een toepassing ziet. Als je dat niet kunt uitleggen, dan zou je eigenlijk niet moeten investeren, tenzij je van een gokje houdt natuurlijk.
Vanwege de volatiliteit van de markt en de grillige prestaties van altcoins is het vaak stuivertje wisselen in de top 10 op CoinMarketCap. Waar XRP bijvoorbeeld jarenlang in de top 3 heeft gestaan op basis van market cap is deze altcoin de afgelopen tijd teruggevallen tot plek 8. Daarnaast was Litecoin altijd een munt die bovenin meedraaide, maar op het moment van schrijven vinden we de altcoin van Charlie Lee terug op plek 21 van de lijst. Ethereum staat echter redelijk stabiel op plek 2 en daar achter vinden we Binance Coin. Het verschil tussen Bitcoin en Ethereum en vervolgens het verschil tussen Ethereum en de rest van de markt is echter zo groot, dat je de vraag kunt stellen of je ze nog wel concurrenten van elkaar kunt noemen.
Bitcoin en Ethereum zijn gevestigde namen en de rest van de altcoins moeten zich de komende jaren nog bewijzen. Al zou je kunnen stellen dat zelfs Ethereum zich nog moet bewijzen, aangezien het netwerk enkele grote veranderingen te wachten staat en de uiteindelijke toepassingen van Ethereum nog niet uitgekristalliseerd zijn.
De dominantie van Bitcoin
Door de jaren heen is de dominantie van Bitcoin ten opzichte van de rest van de markt gestaag afgenomen. Op het moment van schrijven ligt de dominantie van Bitcoin net onder de 40 procent. Het laagste punt voor deze statistiek was echter in januari 2018, toen de dominantie van Bitcoin in de markt op 32 procent lag. Wat betekent dat altcoins, in ieder geval op basis van market cap 68 procent van de markt in handen hadden. Je moet je echter wel bedenken dat het daarbij om duizenden projecten gaat die samen een grotere marktwaarde dan Bitcoin hebben. Op dit moment is Ethereum de grootste 'concurrent' van Bitcoin met een dominantie van 20,3 procent. Waarmee de marktwaarde van Bitcoin nog altijd bijna tweemaal zo groot is als die van Ethereum.
Het wordt interessant om te zien hoe deze statistiek zich op de lange termijn gaat ontwikkelen. De echte toepassingen van de technologie die op wereldwijde schaal worden gebruikt moeten zich nog aandienen. Duurt dat te lang, dan kan het zijn dat men het vertrouwen in altcoins verliest en dat Bitcoin de grootste blijft. Al moet gezegd worden dat in ieder geval NFTs tot nu toe een blijvertje lijken, gezien de enorme populariteit die deze toepassing momenteel geniet.