Stablecoins zijn de afgelopen jaren steeds belangrijker geworden in de crypto-industrie. Zó belangrijk zelfs dat de industrie zonder deze tokens eigenlijk direct in elkaar zou klappen. Het transactievolume is in augustus met 33% toegenomen. Toch heeft dit mogelijk niet zoveel te maken met een groeiende adoptie.
Groei voor stablecoins?
Dat schrijft The Block op basis van zijn eigen onderzoek. Het on-chain volume is in augustus met 32,9% toegenomen tot in totaal 866 miljard dollar, vermoedelijk ten opzichte van vorige maand. Dat is een record, zij het een ietwat bescheiden record. Mei was de maand van het vorige record, dat stond op 808 miljard dollar.
Een harde groei in het volume geeft normaal gesproken aan dat de populariteit ook hard groeit, maar dat lijkt nu juist niet het geval te zijn. CoinGecko noteert juist een lichte krimp in deze markt. Alle stablecoins bij elkaar zijn nu zo'n 154 miljard dollar waard, met in totaal 85 verschillende tokens.
Het totale on-chain volume voor crypto in het algemeen is ook gekrompen, om precies te zijn met 4,2% (398 miljard dollar). Beide krimpingen geven duidelijk aan dat er steeds minder liquiditeit in de crypto-wereld is, en dat is juist een slecht teken voor de markt. Er is steeds minder valuta om te investeren in crypto-activa tegen een bepaalde prijs, wat suggereert dat crypto-prijzen naar beneden bijgesteld moeten worden. Uiteraard kan dat snel veranderen, het sentiment in de crypto-industrie kan razendsnel veranderen.
Verband met Tornado Cash crypto mixer
The Block meent dat de krimp komt door de sancties op de crypto-mixer Tornado Cash. Begin vorige maand hebben de Verenigde Staten het illegaal gemaakt voor Amerikanen om de dienst te gebruiken, en niet veel later is de website volledig offline gehaald. Er stonden ook veel stablecoins op de bijbehorende adressen.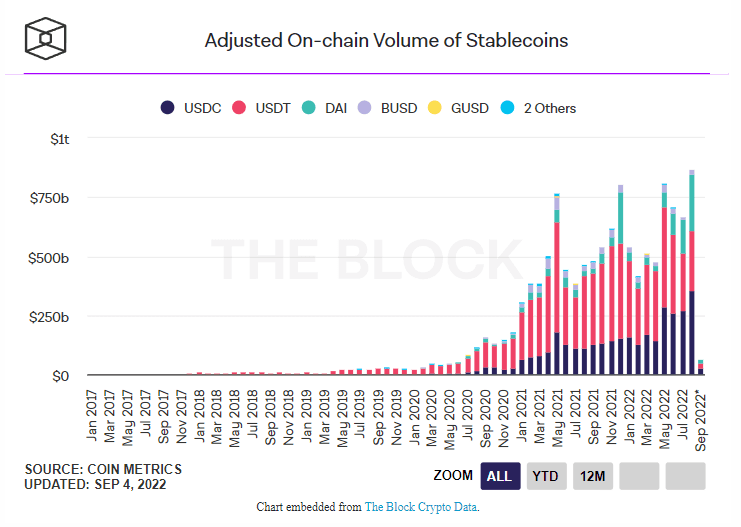 Dit leidde ertoe dat MakerDAO besloot om USDC volledig te vervangen door ETH, Dit lijkt de oorzaak te zijn van de flinke stijging in het volume, want het volume van de bijbehorende stablecoin DAI is bijna verdubbeld. Dat geeft aan dat mensen op basis van dit nieuws hun DAI-tokens hebben verplaatst. Ook het volume van USDC is toegenomen, mogelijk in verband met het nieuws van de sancties van Tornado Cash-wallets met USDC.