Bitcoin (BTC) is in de afgelopen 24 uur met 3,1% gestegen en sinds middennacht met 1,1% gestegen. De actuele prijs is op het moment van schrijven $20.400 op crypto exchange Coinbase en €20.390 op de Nederlandse exchange Bitvavo. Het handelsvolume steeg in de afgelopen 24 uur met 20,2%. De totale marktkapitalisatie van bitcoin bedraagt op het moment van schrijven $390,7 miljard en de bitcoin dominantie komt uit op 39,3%.
Bitcoin nieuws van gisteren
Technische analyse: bitcoin kan kort stijgen
Gister lieten de analisten uit de Discord omgeving van Crypto Insiders onze leden al weten dat zij op de korte tot middellange termijn een stijging van de bitcoin koers verwachten. Deze verwachtingen ontstonden uit verschillende factoren. Een van de belangrijkste technische factoren is de Relative Strength Index (RSI) divergentie. Een RSI divergentie komt voor wanneer de koers in kracht stijgt, maar in waarde daalt.
Dit is op de grafiek hieronder te zien in de witte trendlijn van wave 3 naar 5. Vlak na het delen van deze analyse, begon de koers te stijgen. Dit lijkt het begin te zijn van een zogheten innerwave, een kleinere koersbeweging binnen een groter patroon of koersbeweging.
Wat kunnen we nu van bitcoin verwachten?
Bitcoin heeft een aardige sprong gemaakt waarmee de weg omhoog is ingezet. Helaas verwachten we niet dat deze wave erg veel kracht heeft. Sterker nog, de analisten verwachten dat deze zwakke wave niet verder komt dan de witte weerstandslijn die op grafiek te zien is.
Fundamentele analyse: Mt. Gox invloed
Het nieuws omtrent de mogelijke distributie van bitcoin naar gedupeerden van het Mt. Gox faillissement zorgt voor veel spanning in de markt. In mei werd nog aangegeven dat de uitgave van de Mt. Gox bitcoin niet voor problemen zou zorgen in de markt, maar momenteel lijkt het sentiment te zijn omgedraaid. Omdat de gedupeerden al sinds 2014 op hun crypto tokens wachten, is men bang dat deze gedupeerden massaal hun bitcoin zullen verkopen. De bitcoin koers is sinds 2014 namelijk ongeveer 50x gestegen. Dit kan voor veel verkoopdruk zorgen in de markt en de koers op de korte termijn flink laten dalen.
Als we een kijkje nemen naar de on-chain data, kunnen we inzage krijgen in de bitcoin balans van de Mt. Gox wallet. Hier zien we dat de huidige bitcoin balans 137.890 bitcoin bedraagt. Dit is een flinke hoeveelheid en bedraagt ongeveer 0,72% van het totaal circulerend aanbod en 10% van het dagelijkse handelsvolume. Als dit in een keer verkocht wordt, kan de koers fors dalen.
In 2018 werden ook al bitcoins van Mt. Gox op de markt verkocht. Dit kwam neer op een totale hoeveelheid 64.215 BTC n en vervolgens daalde de koers. De angst van veel investeerders is daarom niet gek, maar er is een groot verschil. In 2018 kwamen deze BTC op de markt toen de koers een piek had bereikt van $20.000. Momenteel ligt de koers zo'n 70% onder zijn piek.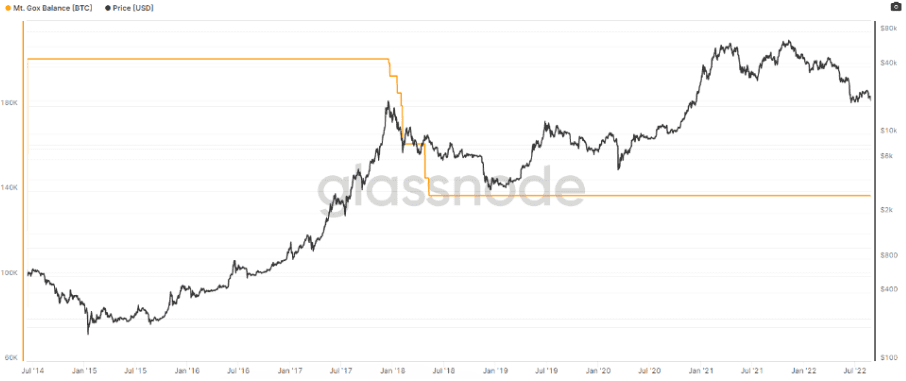 Premium crypto analyse van de dag: Avalanche (AVAX)
In onze Discord omgeving werd onlangs een analyse voor avalanche (AVAX) gedeeld. Hierin was te lezen dat onze analisten nog een flinke daling verwachten voor AVAX. Die daling vanaf de rode verkoopzone is sindsdien ingezet. Het lijkt erop dat AVAX een 12345 Elliott Wave patroon aan het vormen is. Dit patroon naar beneden kan de koers richting $8 brengen. De analisten verwachten een korte innerwave 2 omhoog voordat we een krachtige wave 3 naar beneden krijgen. Voorlopig zijn onze analisten dus erg bearish over AVAX.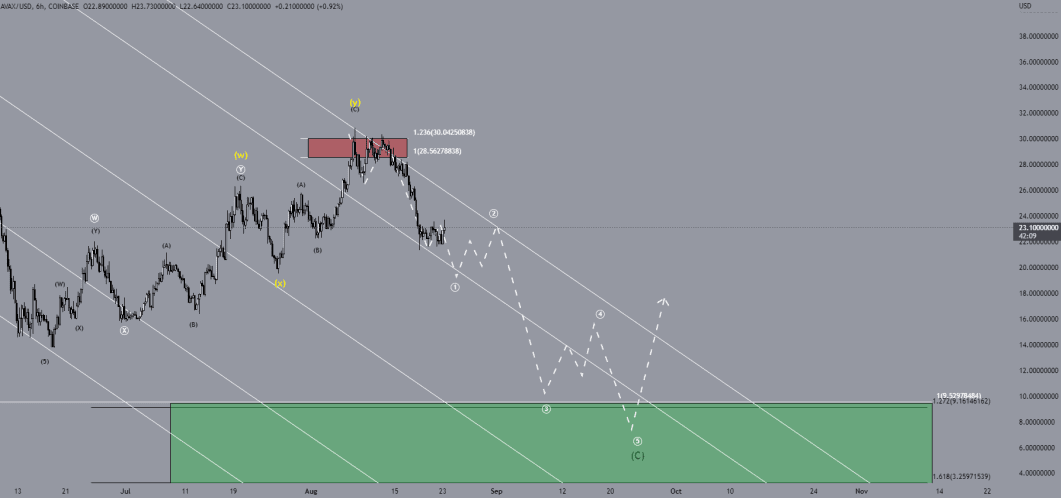 Handel samen met Crypto Insiders op Discord
Wil jij dit soort analyses eerder lezen of zoek je hulp met handelen in crypto? Dan verwijzen we je graag door naar onze Discord community voor leden. Hier bediscussiëren ervaren analisten en handelaren dagelijks de stand van de economie en laten zij zien waar zij op dit moment in handelen. Actuele onderwerpen binnen de cryptocurrency sector worden hier dagelijks doorgenomen met honderden andere crypto enthousiastelingen. In deze omgeving proberen we elkaar dus op de hoogte te houden om zo de markt voor te kunnen blijven!
Disclaimer: Beleggen brengt risico's met zich mee. Onze analisten zijn geen financieel adviseurs. Raadpleeg altijd een adviseur bij het maken van financiële beslissingen. De informatie en tips die op deze website zijn verstrekt is gebaseerd op eigen inzichten en ervaringen van onze analisten. Deze dienen daarom alleen voor educatieve doeleinden.