Dit gebeurde met de bitcoin koers terwijl jij lag te slapen
Bitcoin (BTC) is in de afgelopen 24 uur met 6,3% gestegen, maar sinds middennacht met 2% gedaald. De actuele prijs is op het moment van schrijven €22.967 op crypto exchange Coinbase en €22.964 op de Nederlandse exchange Bitvavo. Het handelsvolume steeg in de afgelopen 24 uur met 1,6%. De totale marktkapitlisatie van bitcoin bedraagt op het moment van schrijven $448 miljard en de bitcoin dominantie komt hiermee uit op 41,5%.
Bitcoin nieuws van gisteren
Hoewel het gister een enorm warme dag was voor Nederland, viel het voor bitcoin qua nieuws wel mee. We zagen enkel dat een miljardair weinig positiefs over bitcoin te zeggen had. Daarnaast keken we in de bitcoin marktanalyse naar de koers op basis van de 200-weken moving average (MA) en de fear and greed index.
De bitcoin geschiedenis herhaalt zich
De afgelopen dagen waren erg positief voor de koers van bitcoin. In tijden van hoge volatiliteit is het altijd goed om even een stapje terug te doen en te kijken naar de lange termijn.
Gister deelde een Twitter analist een interessante grafiek waarbij hij precies dat deed. Hier keek hij op basis van de maandelijkse grafiek naar de bitcoin koers. De analist probeert hierbij op basis van het verleden de komende prijsactie te bepalen. Hiervoor is de grafiek opgedeeld in een aantal verschillende stukken. De oranje lijnen representeren de Bitcoin halvings. Hiermee heeft de analist een interessant patroon kunnen vinden.
#Bitcoin Bullish Scenarios

"This time is different."

According to past cycles & considering next potential halving, here's projections on what next cycle may look like. #BTC #cryptocurrency pic.twitter.com/BQI1XvkX0L

— Washigorira (@Washigorira) July 19, 2022
Het valt dan op dat elke cyclus tot nu toe vergelijkbaar verloopt, al is het op een ander prijsniveau. We zien dat na de eerst de halving een harde stijging volgt en vervolgens de koers een een all-time high vestigt. Daarna zien we een periode waarin de koers langzaamaan daalt tot we een candle krijgen met een harde daling. Na deze harde daling volgt een lange periode van een zijwaartse bearmarkt om vervolgens in anticipatie op de nieuwe halving te stijgen.
Dit verloop hebben we tot nu toe twee keer eerder gezien. In dez huidige cyclus lijken we ook op schema te lopen tot en met de candle die de harde daling laat zien. Op het moment hebben we de lange periode van een zijwaartse bearmarkt voor de boeg. Als we het koersverloop van de vorige cycli nu ook volgen, zouden we medio 2023 in de fase komen waar de koers langzaamaan begint te stijgen in anticipatie op de nieuwe halving uit 2024. Dat zou overeenkomen met deze recente lange-termijn koersvoorspelling.
Premium crypto analyse van de dag: WAVES
Op 28 juni deelden onze analisten uit de Discord omgeving van Crypto Insiders een analyse over WAVES. Hierin leek de koers in een AB=CD harmonisch patroon te traden. Hier konden we de retest aan de onderkant van wave C gebruiken als een mooie instapzone. Als de koers dit patroon volgt dan wordt een flinke stijging verwacht. De volledige analyse is te lezen in de Discord omgeving van Crypto Insiders.
Wil jij dit soort analyses eerder lezen? Neem dan ook een kijkje in de Premium omgeving. Hier kan je ook direct in contact komen met verschillende analisten en crypto enthousiastelingen die klaar staan om jou te helpen!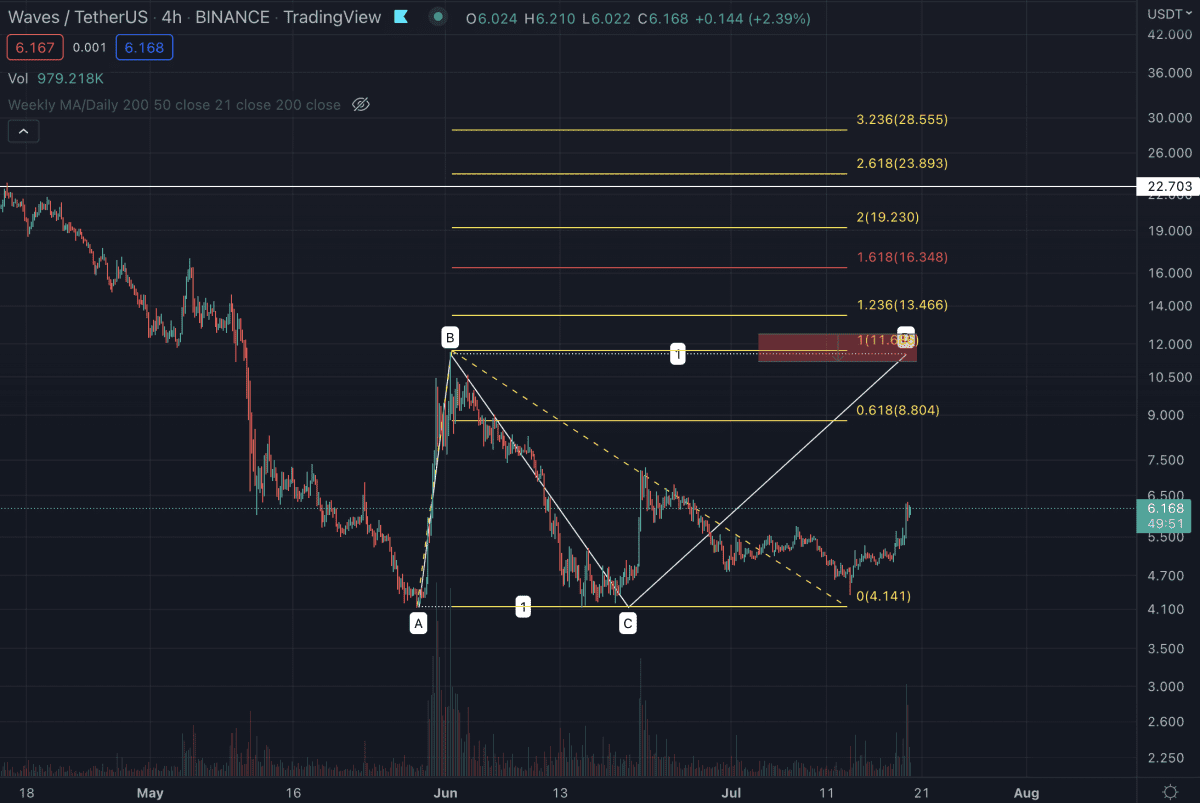 Handel samen met Crypto Insiders op Discord
Zoek jij hulp met handelen in crypto? Dan verwijzen we je graag door naar onze Discord groep voor leden. Hier bediscussiëren ervaren analisten en handelaren dagelijks hun analyses en handelsplannen. Ook delen we hier als eerst onze technische en fundamentele analyses. In onze Discord community kunnen we 24/7 kennis met elkaar delen en proberen we samen met onze premium leden de markt voor te blijven.
Ook hield onze hoofdanalist, bekend als AppY, onlangs een ask me anything (AMA) sessie voor onze premium leden. Deze is nu voor iedereen terug te zien en staat vol met zeer interessante technische analyses!
Disclaimer: Beleggen brengt risico's met zich mee. Onze analisten zijn geen financieel adviseurs. Raadpleeg altijd een adviseur bij het maken van financiële beslissingen. De informatie en tips die op deze website zijn verstrekt is gebaseerd op eigen inzichten en ervaringen van onze analisten en dienen alleen voor educatieve doeleinden.