Bitcoin (BTC) is in de afgelopen 24 uur met 1,4% gestegen, maar sinds middennacht is de koers al met 2,9% gestegen. Bitcoin schiet op het moment van schrijven omhoog en test weer de weerstand rond $21.600. Dat is ook gelijk de BTC prijs op crypto exchange KuCoin en €21.600 op de Nederlandse exchange Bitvavo. Het handelsvolume steeg in de afgelopen 24 uur met 1%. De totale marktkapitlisatie van bitcoin bedraagt op het moment van schrijven $412 miljard en de bitcoin dominantie komt hiermee uit op 41,5%.
Bitcoin nieuws van gisteren
In de marktupdate van gisteren was te lezen dat bitcoin afgelopen weekend steeg door een flinke short squeeze en dat de Lightning Network capaciteit een nieuwe all-time high heeft bereikt. Daarnaast bleek uit on-chain gegevens dat lange-termijn houders weigeren hun BTC tegen lagere prijzen te verkopen.
Echter heeft Poetin andere plannen met crypto en ondertekende een nieuwe wet. Crypto als bitcoin mogen voortaan niet meer gebruikt worden in Rusland als betaalmiddel voor goederen en diensten.
Na maanden zijwaartse prijsactie een nieuwe bull-markt?
Dave the Wave, een bekende analist op Twitter, heeft onlangs een interessante analyse gedeeld. Hierin vergeleek hij de vorige bear-markten met de huidige en vond een overeenkomst. Het viel de analist op dat de koers tijdens de twee vorige bear-markten in een vergelijkbare driehoekspatroon bewoog. Beide keren vond een duidelijke neerwaartse trend plaats vanaf de all-time high. De bodem vormde vervolgens door een aantal zijwaartse candles. De koers brak toen uit deze driehoek met een grote groene candle.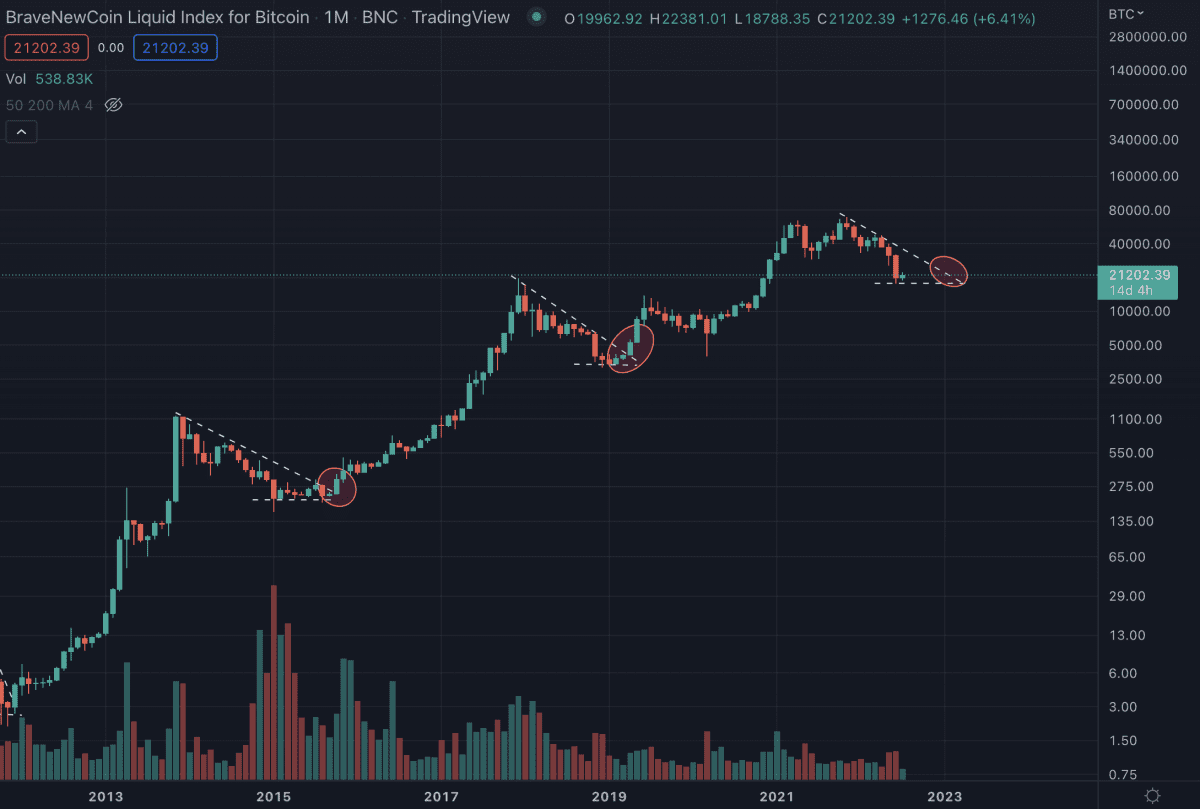 Als we naar de huidige prijsactie kijken, zou dit patroon opnieuw kunnen afspelen. De neerwaartse trendlijn is al te tekenen. We kunnen echter nog niet met zekerheid de onderkant van de driehoek tekenen. We weten immers nog niet of de koers al zijn bodem heeft bereikt. Mocht dit wel de bodem zijn, dan lijkt de kans groot dat we eerst nog een aantal maanden zijwaartse prijsactie zullen zien om vervolgens met een grote groene candle uit te breken. Dat zou het begin van een nieuwe bull-markt kunnen zijn.
Premium crypto analyse van de dag: ETH
Onlangs werd in de Discord community van Crypto Insiders een technische analyses gedeeld van ethereum (ETH). In deze grafiek werd op 11 juni getekend dat ETH naar $895 zou dalen en dat gebeurde op 18 juni. Vanochtend bereikte ETH de verkoopzone van $1.400. Deze werd voorspeld aan de hand van een WXY Elliott Wave patroon, waar onze analisten de Y wave op de 100% van de Fibonacci hadden verwacht. Dit bleek uiteindelijk ook precies het geval te zijn. De koers is sinds de $895 met ongeveer 56% gestegen.
Wil jij ook dit soort analyses lezen? Neem dan een kijkje in de Discord omgeving van Crypto Insiders. Hier kan je ook direct in contact komen met verschillende analisten en crypto enthousiastelingen die klaar staan om jou te helpen!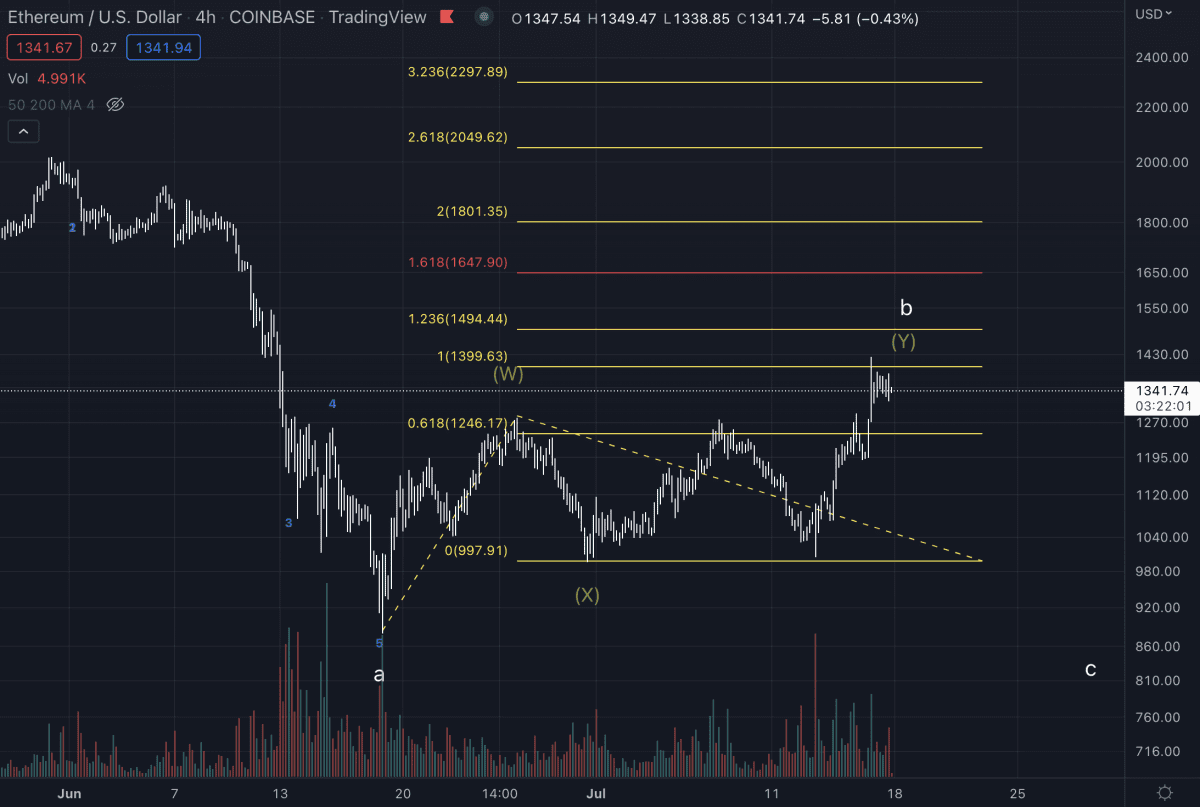 Handel samen met Crypto Insiders op Discord
Zoek jij hulp met handelen in crypto? Dan verwijzen we je graag door naar onze Discord groep voor leden. Hier bediscussiëren ervaren analisten en handelaren dagelijks hun analyses en handelsplannen. Ook delen we hier als eerst onze technische en fundamentele analyses. In onze Discord community kunnen we 24/7 kennis met elkaar delen en proberen we samen met onze premium leden de markt voor te blijven.
Ook hield onze hoofdanalist, bekend als AppY, onlangs een ask me anything (AMA) sessie voor onze premium leden. Deze is nu voor iedereen terug te zien en staat vol met zeer interessante technische analyses!
Disclaimer: Beleggen brengt risico's met zich mee. Onze analisten zijn geen financieel adviseurs. Raadpleeg altijd een adviseur bij het maken van financiële beslissingen. De informatie en tips die op deze website zijn verstrekt is gebaseerd op eigen inzichten en ervaringen van onze analisten en dienen alleen voor educatieve doeleinden.