Bitcoin (BTC) is in de afgelopen 24 uur met 2,5% gedaald en sinds middennacht met 2,9% gedaald. De actuele prijs is op het moment van schrijven $22.900 op crypto exchange KuCoin en €22.400 op de Nederlandse exchange Bitvavo. Het handelsvolume daalde in de afgelopen 24 uur met 6,5%. De totale marktkapitlisatie van bitcoin bedraagt op het moment van schrijven $437 miljard en de bitcoin dominantie komt hiermee uit op 42%.
Bitcoin nieuws van gisteren
Gister was een drukke dag voor Bitcoin. Zowel rondom de koers als in het nieuws gebeurde er veel. Uit dit bericht bleek dat door de onrust in de boerensector, steeds meer Nederlandse boeren uit protest naar bitcoin grijpen. Ook zou nu 60% van Bitcoin-mining nu op groene stroom lopen. Tot slot toch iets minder positief nieuws. Een grote whale blijkt $1 miljard aan BTC te hebben gedumpt. Dit is mogelijk erg bearish voor de koers.
Analist ziet het somber in voor bitcoin (BTC)
Vandaag nemen we een analyse van Il Capo Of Crypto, een analist die actief is op Twitter, door. Hij had gister namelijk een interessante analyse gedeeld. Hij geeft toe dat bitcoin op korte-termijn er bullish uit begint te zien, maar waarschuwt dat de koers op de de hogere timeframe, of de middenlange termijn, nog altijd bearish uitziet.
De bitcoin koers vestigt al een week lang een patroon van higher highs en higher lows. Dat is een opwaartse trend voor bitcoin, maar als we iets uitzoomen op de grafiek, dan zien we het tegenovergestelde. Dan vestigt de koers namelijk een patroon van lower lows en lower highs, oftewel lagere pieken en dalen. Bitcoin zit in het grotere plaatje dus nog in een neerwaartse trend. De analist verwacht dat bitcoin pas rond de $16.000 een bodem vindt.
Low timeframe trend is bullish, no doubt about it. High timeframe trend is still bearish and this is another lower high.

Ltf bearish confirmation is below 22k. Main target remains 15.8k-16.2k pic.twitter.com/QFFmsCKrw4

— il Capo Of Crypto (@CryptoCapo_) July 20, 2022
Premium crypto analyse van de dag: RUNE
Enkele weken geleden werd er in de Discord community van Crypto Insiders een analyse voor thorchain (RUNE) gedeeld. Hierin werd de koopzone vastgesteld tussen de $1,50 en $2. Ook werd aangegeven dat de koers vanwege het ABC of 12345 Elliott Wave patroon mogelijk nog hard kon stijgen. Die stijging vond ook plaats en de koers is sinds de aangegeven instapzone tussen de 38% en 93% gestegen. Op dit moment bevinden we ons in de verkoopzone waar winst genomen kan worden. In de Discord community wordt RUNE nog veel besproken.
Wil jij dit soort analyses eerder lezen? Neem dan ook een kijkje in de Premium omgeving. Hier kan je ook direct in contact komen met verschillende analisten en crypto enthousiastelingen die klaar staan om jou te helpen!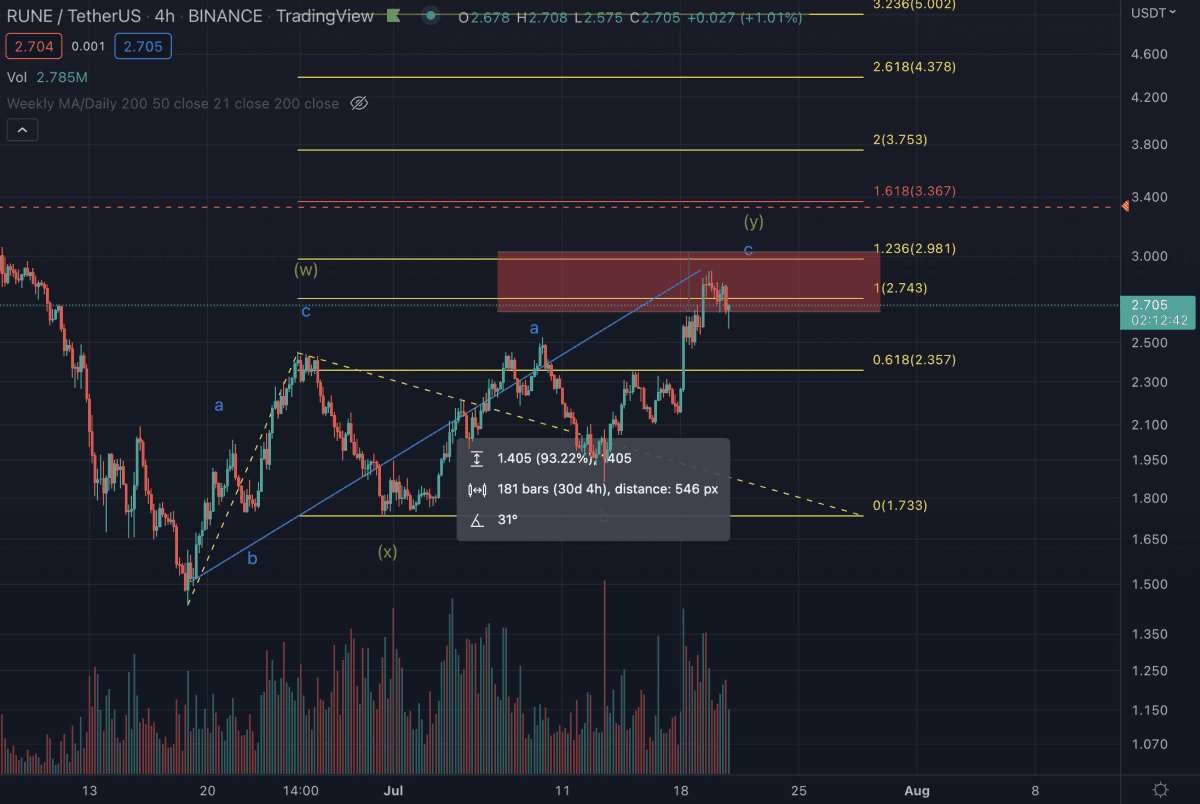 Handel samen met Crypto Insiders op Discord
Zoek jij hulp met handelen in crypto? Dan verwijzen we je graag door naar onze Discord groep voor leden. Hier bediscussiëren ervaren analisten en handelaren dagelijks hun analyses en handelsplannen. Ook delen we hier als eerst onze technische en fundamentele analyses. In onze Discord community kunnen we 24/7 kennis met elkaar delen en proberen we samen met onze premium leden de markt voor te blijven.
Ook hield onze hoofdanalist, bekend als AppY, onlangs een ask me anything (AMA) sessie voor onze premium leden. Deze is nu voor iedereen terug te zien en staat vol met zeer interessante technische analyses!
Disclaimer: Beleggen brengt risico's met zich mee. Onze analisten zijn geen financieel adviseurs. Raadpleeg altijd een adviseur bij het maken van financiële beslissingen. De informatie en tips die op deze website zijn verstrekt is gebaseerd op eigen inzichten en ervaringen van onze analisten en dienen alleen voor educatieve doeleinden.