Gister was het weer een interessante dag voor bitcoin (BTC). De koers zakte weer iets maar stuiterde op het niveau dat we hebben getekend in de ochtend update van 28 juni. De steunlijn heeft het tot nu toe dus gedaan zoals verwacht. Dat de koers is gedaald is voor de whales niet onopgemerkt gebleven. Zo ook niet de grootste institutionele whale die we kennen, namelijk Microstrategy. Zij hebben weer 480 BTC bijgekocht.
Toch kwam er ook iets minder goed nieuws voorbij naar aanleiding van de daling van bitcoin, namelijk de ondergang van een van de miningoperaties van Compass Mining. Door de dalende koers was deze locatie niet meer rendabel en konden zij hun energierekening niet betalen.
Dit gebeurde er met de bitcoin koers terwijl jij lag te slapen
Bitcoin is met 1,5% gedaald sinds 00:00. De actuele prijs is op het moment van schrijven $19.950 op crypto exchange Coinbase. De euro prijs van bitcoin is €19.063 op de Nederlandse exchange Bitvavo.
Bitcoin daalde de afgelopen 24 uur met 0,7% in waarde. Het handelsvolume daalde in hetzelfde tijdsbestek tevens met 0,7%. Over de afgelopen zeven dagen daalde bitcoin met 1,7% in waarde. De totale marktwaarde van Bitcoin bedraagt op het moment van schrijven $381 miljard. Vergeleken met de totale crypto marktkapitalisatie komt de bitcoin dominantie hiermee uit op 42,9%, iets lager dan 24 uur geleden.
Higher highs en higher lows voor bitcoin
Een analist van het YouTube kanaal TheChartGuys heeft onlangs in zijn livestream een analyse van bitcoin gedeeld. Hierin keek hij op de lagere timeframe naar de koers van bitcoin en merkte hij een erg interessant patroon op dat er mogelijk voor kan zorgen dat de koers weer omhoog zou kunnen gaan.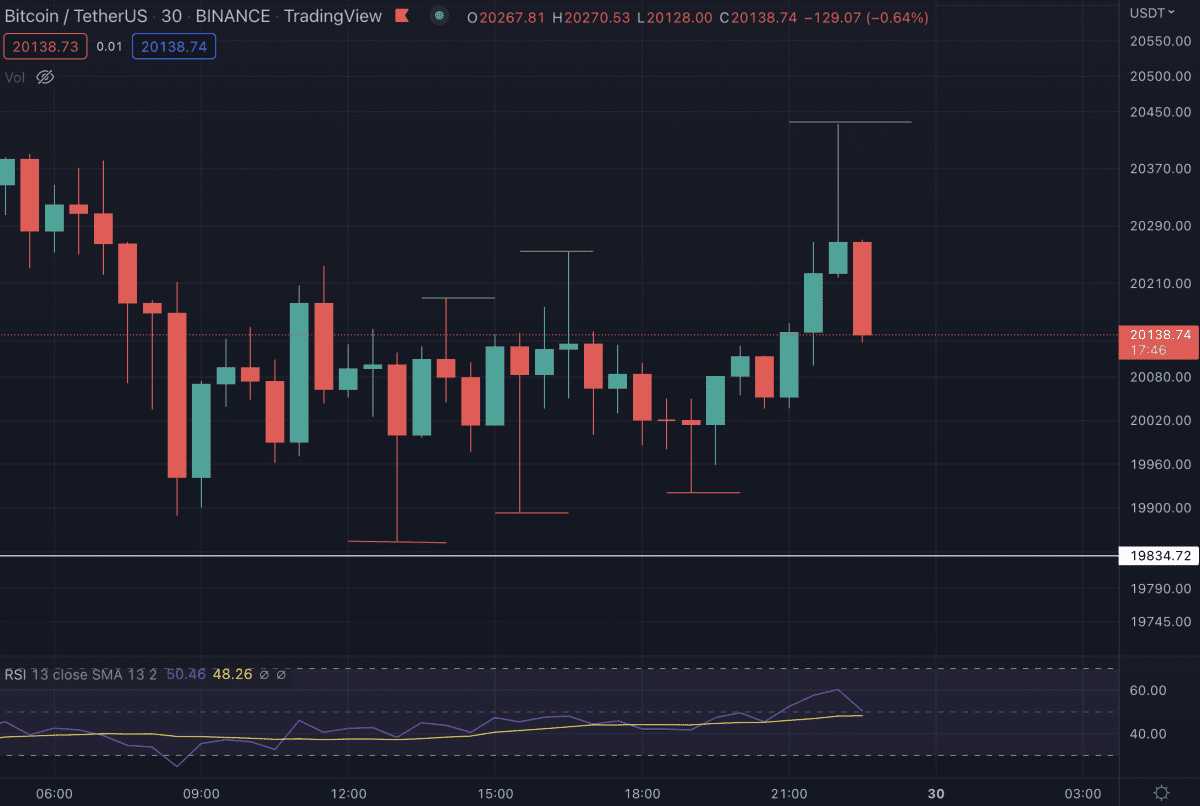 In de livestream keek hij eerst naar bitcoin op de 30 minuten grafiek, dit wil dus zeggen dat elk blok op de grafiek een half uur lang is. Hier viel het hem op dat de koers een high low, higher high patroon maakte, ofwel dat de koers steeds een hogere bodem zette en een hogere piek maakte. Dit is ook te zien op de grafiek hieronder.
Dit heeft ervoor gezorgd dat de koers op de 4 uur grafiek wist uit te breken. Waar we vervolgens op zullen moeten letten is of er een nieuwe lagere piek (lower high) wordt gemaakt op deze timeframe.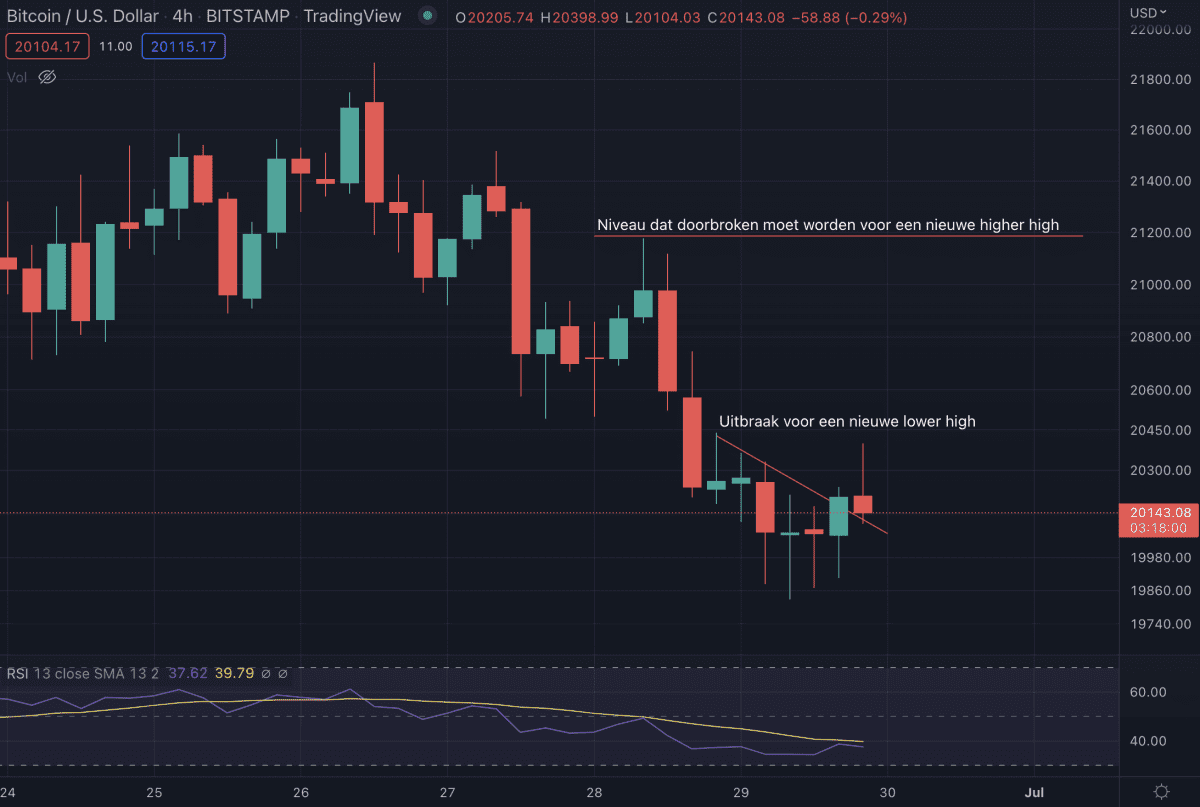 Mocht dit het geval zijn dan blijven we voorlopig bearish en zouden we uiteindelijk mogelijk naar de niveaus kunnen zakken zoals we die in de Discord omgeving hebben aangegeven.
Om een hogere piek (higher high) te maken moeten we richting de $21.200 stijgen. Dit zou mogelijk nog een zware opgave kunnen zijn. Mocht dit gebeuren dan zouden we op de middellange termijn mogelijk bullish kunnen worden.
Premium crypto analyse van de dag: XRP
Gisteren hebben de analisten van Crypto Insiders in de Discord omgeving een nieuwe analyse van Ripple (XRP) gedeeld. Hierop is te zien dat XRP mogelijk voorlopig gevaarlijk kan zijn voor de bulls. De koers lijkt een Elliott Wave 12345 patroon te maken, waarbij we op het moment bezig zijn met het afronden van de neerwaartse 5e wave. Dit zou uiteindelijk mogelijk voor een interessante mogelijkheden kunnen zorgen.
De volledige analyse en de updates voor XRP zijn te lezen in de Discord omgeving. Ook kan je direct in contact komen met ervaren handelaren die klaar staan om al je vragen te beantwoorden.
Handel samen met Crypto Insiders op Discord
Om antwoord te krijgen op de vraag of dit het juiste moment is om te kopen of verkopen verwijzen we je graag door naar onze Discord groep voor leden. Hier bediscussiëren ervaren analisten en handelaren dagelijks hun eigen in- of uitstapmomenten. Ook delen we hier als eerst onze technische en fundamentele analyses. In onze Discord community kunnen we 24/7 kennis met elkaar delen en proberen we samen met premium leden de markt voor te blijven.