Er zijn gister een aantal opvallende dingen gebeurd rondom bitcoin (BTC). Zo kwam het nieuws voorbij dat er in Nederland het eerste bitcoin spot exchange traded fund (ETF) is goedgekeurd. Dit ETF zal op Euronext Amsterdam te verkrijgen zijn. In Amerika zagen we echter het tegenovergestelde gebeuren, hier werd een aanvraag voor een spot ETF van bitcoin juist afgewezen door de SEC. De uitgever, Grayscale, was het hier niet mee eens en spant een rechtszaak aan tegen de SEC. Ontwikkelingen rondom deze zaak zullen we natuurlijk strak in de gaten houden!
Dit gebeurde er met de bitcoin koers terwijl jij lag te slapen
Bitcoin is met 3% gestegen sinds 00:00 tijdens een redelijke pump vannacht. Vervolgens zakte de koers echter weer bijna helemaal terug. De actuele prijs is op het moment van schrijven $19.400 op crypto exchange Coinbase. De euro prijs van bitcoin is €18.500 op de Nederlandse exchange Bitvavo. Het handelsvolume steeg in hetzelfde tijdsbestek met maar liefst 46%! Over de afgelopen zeven dagen daalde bitcoin met 7% in waarde. In de afgelopen 24 uur daalde de koers met ongeveer 2,8%. De totale marktwaarde van Bitcoin bedraagt op het moment van schrijven $407,3 miljard. Vergeleken met de totale crypto marktkapitalisatie komt de bitcoin dominantie hiermee uit op 43,5%, hetzelfde niveau als 24 uur geleden.
Slechtste maandelijkse candle sluiting in jaren
Het is ondertussen alweer de eerste van de maand en dat betekent dat er weer een nieuwe maandelijkse candle is gesloten op de grafiek van bitcoin. Het is echter wat minder positief dat de candle onder de opwaartse trendlijn (oranje) sluit. Dit zou mogelijk dus kunnen betekenen dat we nog verder weg zullen zakken.
Tijdens de corona crash van 2020 zagen we ook dat de koers even snel onder deze lijn terecht kwam, echter wisten de bulls weer de overhand te krijgen en schoten in dezelfde candle weer omhoog. Dit keer hadden we deze mazzel niet.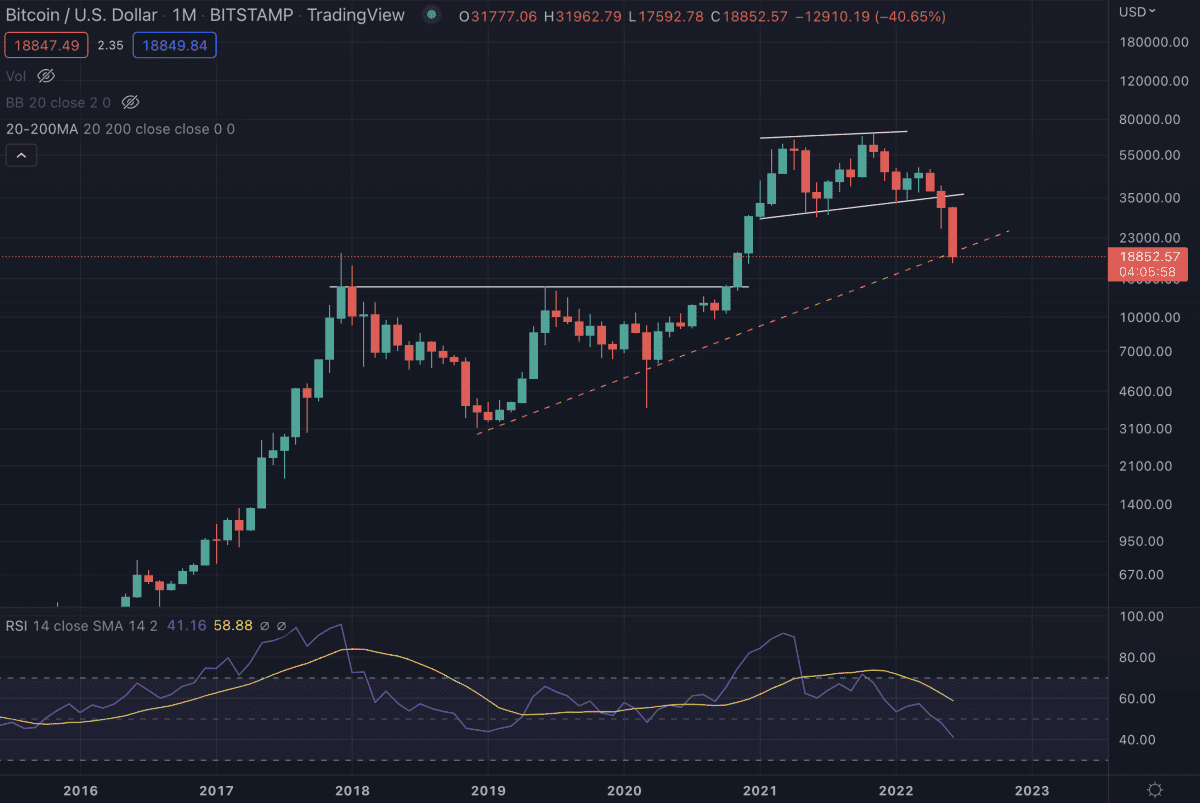 Wat voor gevolgen deze uitbraak aan de onderkant heeft is natuurlijk voor nu nog niet geheel duidelijk. Het zou ook zomaar kunnen dat deze candle onder dit niveau sluit, maar de volgende candle toch weer hierboven schiet. Het zal dus afwachten zijn op de volgende candle om te zien wat het verloop zal worden. Vooralsnog lijkt het koersdoel zoals beschreven in de Discord omgeving van Crypto Insiders nog te staan.
Premium crypto analyse van de dag: MATIC
In mei voorspelde onze analisten in de Discord omgeving het volgende scenario voor MATIC, hier zagen zij namelijk dat de koers in een 12345 Elliott Wave patroon een 4 en 5 wave aan het vormen was. Hierdoor konden zij een inkoopzone tekenen rond de 127,2% en 161,8% van de Fibonacci levels. Onlangs hebben we kunnen zien dat deze zone perfect werd geraakt en een mooie long positie geopend kon worden rond dit niveau. Stieren kregen hierna de overhand en de koers schoot hard de lucht in richting de eerste targets.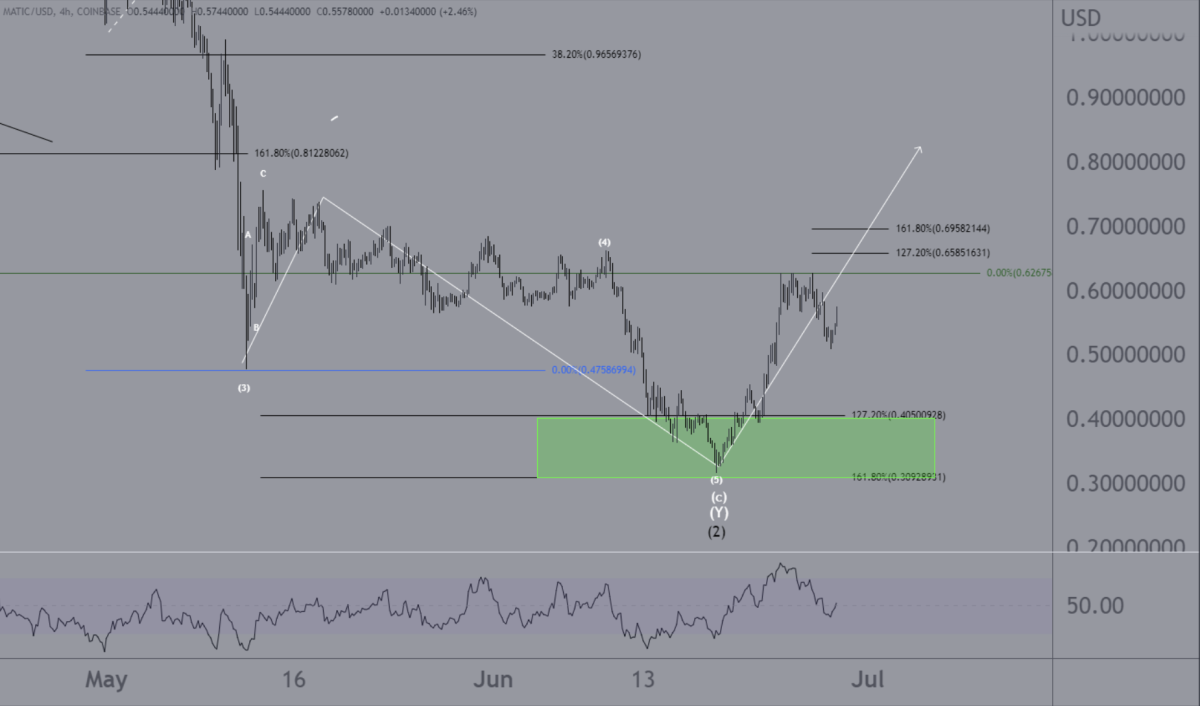 Mocht je live deze analyses willen ontvangen? Neem dan een kijkje naar de Premium omgeving van Crypto Insiders waar dit soort analyses met je worden gedeeld. Ook hier kan je je vragen stellen en verzoekjes indienen bij een van onze ervaren analisten om meer te leren over de markt en het handelen op deze markt.
Handel samen met Crypto Insiders op Discord
Om antwoord te krijgen op de vraag of dit het juiste moment is om te kopen of verkopen verwijzen we je graag door naar onze Discord groep voor leden. Hier bediscussiëren ervaren analisten en handelaren dagelijks hun eigen in- of uitstapmomenten. Ook delen we hier als eerst onze technische en fundamentele analyses. In onze Discord community kunnen we 24/7 kennis met elkaar delen en proberen we samen met premium leden de markt voor te blijven.