Goedemorgen!

Gister was bitcoin (BTC) weer veel in het nieuws. Zo zagen we bijvoorbeeld dat er een gloednieuwe bitcoin exchange traded fund (ETF) werd gelanceerd, echter was deze toch speciaal. Investeerders kunnen namelijk met deze ETF short gaan. Daarnaast maakte de grote baas van Ethereum het Stock-to-Flow model van bitcoin belachelijk en voorspelde een Bloomberg analist de bodem voor bitcoin. Deze nieuwtjes hebben vannacht geen overduidelijke invloed gehad op de koers.
Bitcoin is met ongeveer 2% gestegen sinds 00:00. De actuele prijs is op het moment van schrijven $20.532 op crypto exchange Coinbase. De euro prijs van bitcoin is €19.580 op de Nederlandse exchange Bitvavo. Het handelsvolume daalde in hetzelfde tijdsbestek met 3,3%. Over de afgelopen zeven dagen daalde bitcoin met 2% in waarde. In de afgelopen 24 uur daalde de koers met ongeveer 1,2%. De totale marktwaarde van Bitcoin bedraagt op het moment van schrijven $391,6 miljard. Vergeleken met de totale crypto marktkapitalisatie komt de bitcoin dominantie hiermee uit op 43,4%, hetzelfde niveau als 24 uur geleden.
Bitcoin analist ziet duidelijke overeenkomsten met vorige crash
Onlangs viel de analyse van Twitter analist met de naam TechDev erg op. Hij deelde namelijk met zijn bijna 400.000 volgers de onderstaande analyse. Hierin viel het hem op dat een aantal indicatoren bij het huidige koersverloop van bitcoin toch wel erg op het oude koersverloop leek. 
Hij vergelijkt de daling die we zagen in 2014 met die van 2018 en nu. Hierin valt het de analist op dat we bij elke daling in ieder geval een ABC Elliott Wave naar beneden maken, een divergentie hebben op de MACD, consolidatie op de 100 moving average met uiteindelijk een uitbraak aan de onderkant en een bodem op de 61,8% fibonacci van wave A. 
– A to the 50W EMA
– B above the 20W
– Final leg of C after 20 crosses 50
– Terminates after 20 crosses 100?

Curious if this year+ #BTC correction continues to follow the blueprint of the last two. pic.twitter.com/Q95ukHy62t

— TechDev (@TechDev_52) June 18, 2022
Daarnaast geeft hij nog een aantal extra signalen, echter komen de dalingen op deze manier wel op erg veel punten overeen. Wil dit ook zeggen dat de bodem bijna in zicht is? Hier is de analist zelf ook benieuwd naar. Hij geeft tot slot aan dat hij zal kijken of bitcoin wederom dit plan volgt of dat we dit keer hier juist van afwijken.
Bitcoin voorspellingen van de analisten van Crypto Insiders
Eerder deze week voorspelde onze analisten het volgende scenario. Onderstaande grafiek is op het moment van schrijven 21 juni nog van toepassing. Onze analisten hebben op basis van Elliott Wave en Fibonacci analyse de conclusie getrokken dat we in een ABC patroon zitten. De B wave zal ons nog een stuk omhoog brengen, echter verwachten we daarna toch weer een sterkere dip om het patroon af te maken. 
Kijk voor de volledige analyse met prijsniveaus in de Discord omgeving van Crypto Insiders!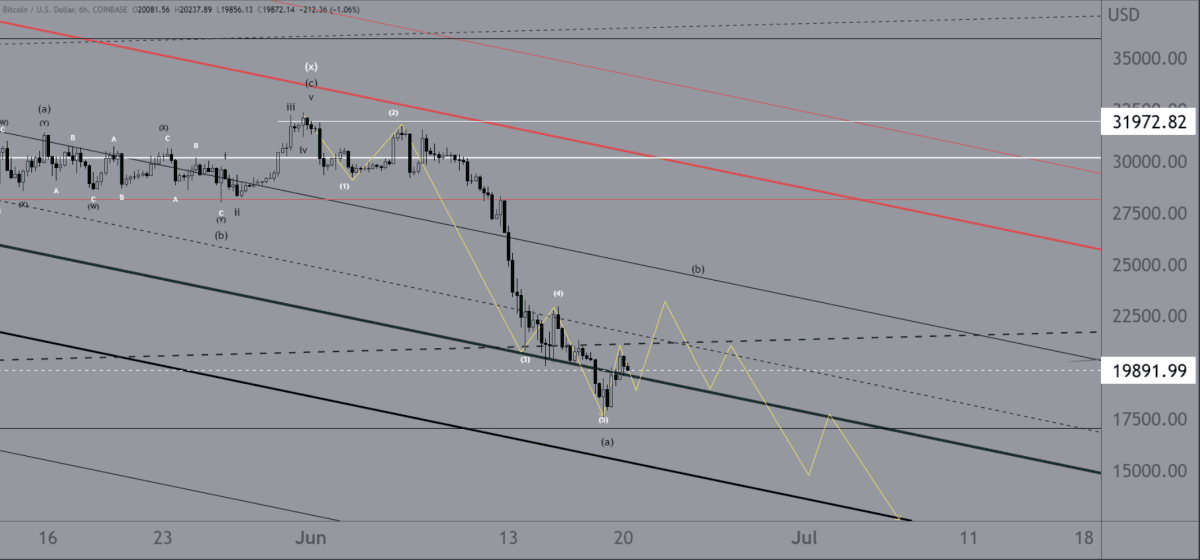 Dagelijks actuele analyses ontvangen?
Ook de analisten van Crypto Insiders hebben hun eigen analyses gedeeld in de Premium Omgeving van Crypto Insiders voor leden. Hier wordt o.a. bitcoin dagelijks besproken en zal je op de hoogte gehouden worden van alle ontwikkelingen rondom de koers en het project zelf. Ook analyseren onze analisten verschillende andere cryptocurrencies. Er staan op het moment al verschillende technische analyses voor je klaar! Neem een kijkje in onze discord omgeving voor leden.