Disclaimer: Beleggen brengt risico's met zich mee. Onze analisten zijn geen financieel adviseurs. Raadpleeg altijd een adviseur bij het maken van financiële beslissingen.
---
Bitcoin (BTC) maakte woensdagochtend nog een low rond $18.600, maar herstelde gisteren iets en consolideerde de rest van de dag tussen $19.100 en $19.400. Tot vanochtend dan, toen brak bitcoin eindelijk uit.
De koers maakte zojuist een flinke sprong en schoot van $19.400 naar een prijs van $20.600 op KuCoin en €20.450 op Bitvavo.
Daarmee staat de BTC koers vandaag 6,5% in de plus. Het handelsvolume van bitcoin steeg  in de afgelopen 24 uur met 17,4%. De totale marktkapitalisatie komt momenteel uit op $393 miljard en de dominantie van bitcoin op 38,4%.
Toch zijn de meningen zeer verdeeld, ook onder de analisten uit onze Discord omgeving. Is bitcoin nu uit zijn neerwaartse trend gebroken of gaat de koers binnenkort alsnog nieuwe lows maken?
Bitcoin nieuws van gisteren
Breekt bitcoin uit downtrend, of krijgen we nieuwe lows?
Na de stevige daling op 6 september, lijkt de bitcoin koers zijn weg omhoog weer te vinden. Bitcoin vormde de afgelopen dagen een neerwaarts kanaal. Zojuist brak de koers door de bovenkant van dit kanaal.
Toch is een nieuwe low niet meteen helemaal weg te denken. Als we namelijk de zogeheten Elliott Wave theorie toepassen, lijkt de kans op een nieuwe low zelfs groot. Dit heeft ermee te maken dat binnen de regels van de Elliot Waves een impulsieve trend pas eindigt als vijf waves zijn voldaan, momenteel zien we er slechts drie.
Een nieuwe low zou al in de komende dagen kunnen gebeuren. De analisten verwachten dat deze rond $18.000 zal zijn.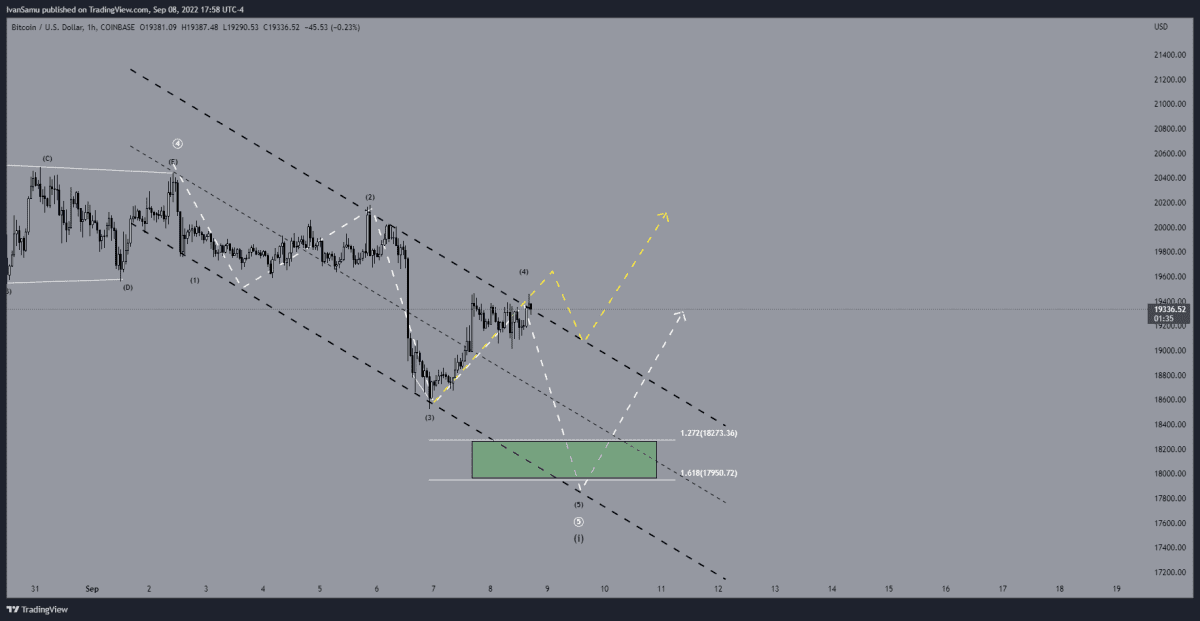 Mining capitulatie ten einde, bodem in zicht?
De Bitcoin hash ribbon metriek probeert periodes te identificeren waarin bitcoin miners capituleren. Dit is het geval wanneer mining duurder wordt dan oplevert en kan een indicatie zijn van een markt bodem. Tijdens een dergelijke periode moeten miners hun voorraden aan BTC verkopen om hun kosten te dekken.
Op de onderstaande grafiek wordt de miner capitulatie aangegeven in 't rood. De overgang van rood naar wit geeft aan dat de miner capitulatie voorbij is. Wanneer miner capitulatie voorbij is neemt de verkoopdruk af en dat kan gunstig zijn voor de bitcoin koers.
Eind augustus ging de rode zone over naar wit. Dit suggereert dat de mining capitulatie is gestopt. Historisch gezien kan dit een indicatie zijn dat een bodem voor bitcoin dichtbij is.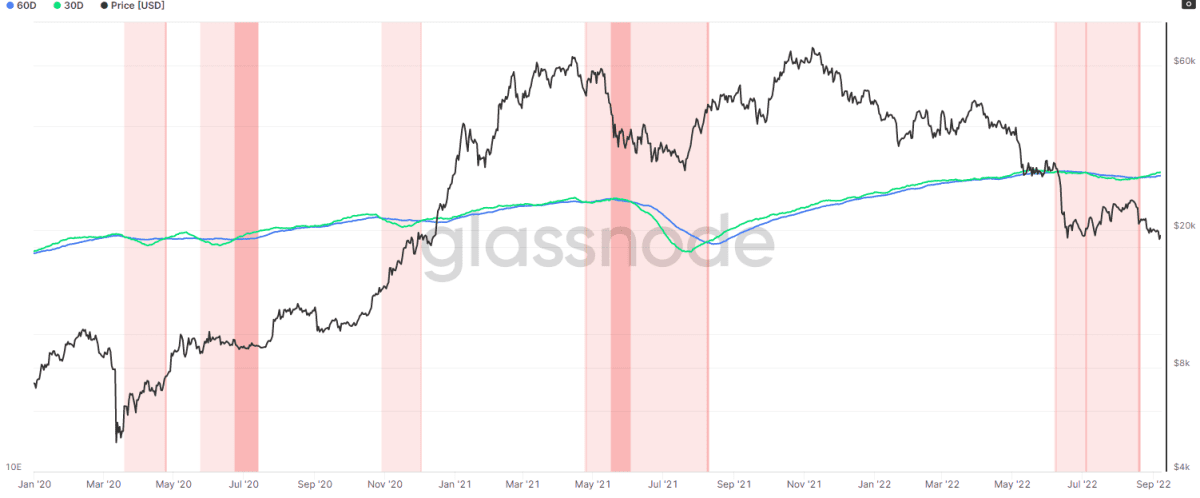 Handel samen met Crypto Insiders op Discord
Zoek jij hulp met handelen? Wil je graag meer kennis opdoen over de markt? Neem dan een kijkje in onze Discord groep voor leden. In deze omgeving willen we de leden leren hoe zij zelf analyses kunnen lezen en maken. Daarnaast komen actuele onderwerpen elke dag aan bod en kijken we naar de verschillende sectoren binnen de markt. In onze Discord community kunnen we 24/7 kennis met elkaar delen en proberen we onze premium leden op de hoogte te houden. Wil jij dit soort analyses eerder lezen? Neem dan ook een kijkje in de Discord omgeving. Hier kan je ook direct in contact komen met verschillende analisten en crypto enthousiastelingen die klaar staan om jou te helpen!