Bitcoin (BTC) klom gisterenochtend weer verder omhoog en heroverde toen de $22.000. Rond $22.400 werd de weerstand echter te groot en bitcoin piekte gisteren rond $22.450. Gisterenavond werd bitcoin wederom afgewezen rond $22.400, maar hield ook stand boven $22.100. Op het moment van schrijven komt de BTC prijs weer uit op $22.400 op Coinbase en €22.100 op Bitvavo.
Daarmee staat de bitcoin koers vandaag 2,8% in de plus en lijkt op het punt te staan om weer een poging te wagen om door de weerstand te breken. Het handelsvolume steeg met 15,7% in de afgelopen 24 uur. De totale marktkapitalisatie komt uit op $427 miljard en de dominantie op $40,1%.
Amerikaanse inflatiecijfers vandaag
Het belooft weer een spannende dag te worden. Om half 3 vanmiddag wordt namelijk weer de volgende consumentenprijsindex (CPI) van de VS gepubliceerd. Dit heeft dit jaar al meerdere malen tot hevige reacties op de financiële markten geleid.
Mochten de inflatiecijfers hoger uitpakken dan wordt verwacht, dan is dat wellicht een teken dat de Federal Reserve de rentes sneller zal verhogen en zullen de markten negatief reageren. Het kan echter ook andersom uitpakken. De volgende Federal Open Market Committee (FOMC) meeting is op 20-21 september.
The August #inflation print is coming out tomorrow:
– Anything above 8.74% would be bad.
– A drop below 8.3% would be good.
– A drop all the way to 7.6% would be excellent.

That's what you get by looking at the historical month on month fluctuations of the CPI. pic.twitter.com/w0lkKGuKv3

— ecoinometrics (@ecoinometrics) September 12, 2022
Bitcoin nieuws van gisteren
Breekt BTC door dit belangrijk level?
Op de 4-uurs grafiek zien we dat bitcoin een belangrijk niveau nadert. Het gaat namelijk om de 0.618 Fibonacci. In de wereld van technische analyses is dit een erg belangrijk niveau en ligt momenteel rond $22.663. Vaak zien we namelijk een verandering van de trend zodra dit niveau wordt geraakt. Als bitcoin deze prijs breekt, worden de kansen op een nieuwe high boven $25.200 steeds groter.
De analisten uit onze Discord omgeving verwachten echter dat bitcoin niet succesvol zal zijn in het breken van deze prijs. Dit heeft er voornamelijk mee te maken dat de koers vanaf de vorige top van $25.200 een 12345 Elliot Wave omlaag heeft gemaakt. Dit betekent vaak dat de 0.618 Fibonacci niet gebroken wordt en de koers de oorspronkelijke trend zal voortzetten.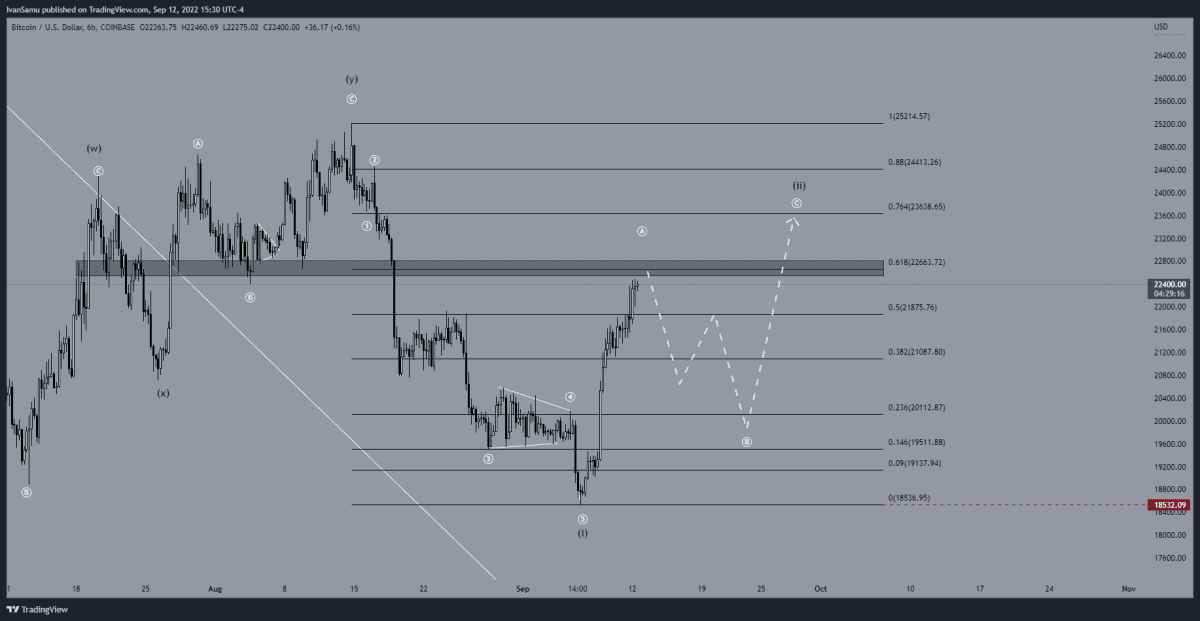 Bitcoin zoekopdrachten naar recordlaagtes
De prijs van bitcoin is onderhevig aan de mate van interesse. Als de interesse hoog is, dan zoeken meer mensen in Google naar bitcoin. Vaak zien we dat een sterke koersstijging gepaard gaat met een hoger zoekvolume naar bitcoin. In een bear-markt zien we meestal het aantal zoekopdrachten dan ook afnemen.
Afgelopen maanden staat het aantal zoekacties naar "bitcoin" op een nieuw dieptepunt. In de maand september zijn het aantal zoekopdrachten blijven steken op een recordlaagte van minder 30% ten opzichte van de hoogst behaalde zoekopdrachten. Vooralsnog is er geen zicht op dat de trend kan omslaan. Het laat zien dat het sentiment over bitcoin onder het grote publiek nog erg laag is.

Handel samen met Crypto Insiders
Zoek jij hulp met handelen? Heb je vragen en wil je technische analyses voor direct ontvangen? Word lid en probeer een Premium-lidmaatschap 30 dagen gratis. Hier delen onze analisten 24/7 hun marktkennis en de nieuwste analyses. Hier kan je ook direct in contact komen met verschillende marktexperts en crypto-enthousiastelingen die klaar staan om jou te helpen!
Disclaimer: Beleggen brengt risico's met zich mee. Onze analisten zijn geen financieel adviseurs. Raadpleeg altijd een adviseur bij het maken van financiële beslissingen. De informatie en tips die op deze website zijn verstrekt is gebaseerd op eigen inzichten en ervaringen van onze analisten en dienen alleen voor educatieve doeleinden.