Bitcoin is met de recente rally een van de best presterende activa dit jaar geworden. De grootste cryptocurrency op de markt is met bijna 40% gestegen in 2019, en verslaat daarmee grote activa als olie, de Nasdaq en de S&P 500.
Analist en investeerder Charlie Bilello heeft de activa op een rijtje gezet:

2019 Returns…
Bitcoin $BTC: +39%
Oil $USO: +38%
Nasdaq 100 $QQQ: +22%
S&P 500 $SPY: +17%
Small Caps $IWM: +17%
MLPs $AMLP: +16%
REITs $VNQ: +15%
EM $EEM: +14%
EAFE $EFA: +13%
Commodities $DBC: +12%
High Yield $HYG: +8%
Investment Grade $LQD: +6%
Bonds $AGG: +2%
Gold $GLD: -1%

— Charlie Bilello (@charliebilello) April 19, 2019

De prijsstijging van 2 april bracht de prijs van bitcoin (BTC) plotseling van ongeveer $4.100 naar iets boven de $5.100: een stijging van ongeveer 25%. Op het moment van schrijven ligt de prijs van bitcoin iets boven de $5.300, wat een stijging is van bijna 40% sinds de jaarwisseling.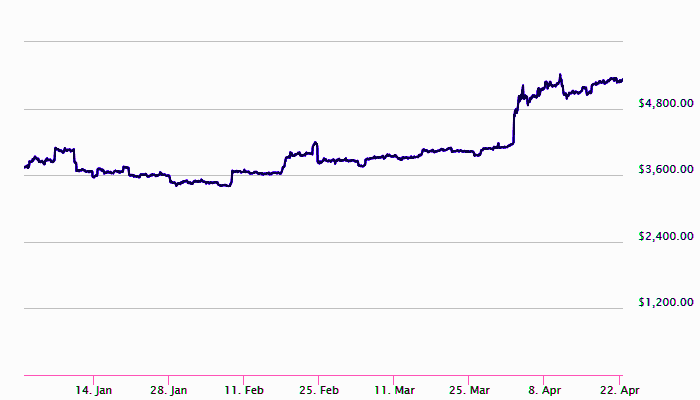 De aandelenmarkt zag net voor de jaarwisseling een behoorlijke crash, maar de grootste aandelen als de Nasdaq en de S&P 500 zagen dit jaar weer sterke stijgingen, rond 15% tot 25%. Verassend is dat olie het vooral goed doet. Jarenlang presteerde olie slecht en daalden de prijzen, maar dit jaar doet olie het beter dan verwacht en ziet het een groei van 38%. Alleen goud doet het niet zo goed en zag zelfs een daling van ongeveer 1% in 2019.
Naast bitcoin doet ook de Binance Coin (BNB) het erg goed dit jaar. Met een groei van maar liefst 322% in 2019 is het zelfs de enige cryptocurrency op het moment die zijn all-time high (ATH) uit 2017 dit jaar heeft doorbroken.
Volgens een groot aantal crypto-analisten heeft de koers van bitcoin inmiddels een nieuwe bodem bereikt. Steeds meer prominente figuren uit de cryptocurrency-industrie doen bullish voorspellingen over de prijs van bitcoin. Voorspellingen dat bitcoin naar de $10.000, $20.000, $200.000 of zelfs $1 miljoen kan gaan doen weer de rondte.
De wekelijkse analyse van de koers van bitcoin (BTC) door Crypto Insider David kan je hier vinden.
Wil je op de hoogte blijven van het laatste nieuws? Abonneer je dan op onze push-berichten, Facebook– of Twitter. Meediscussiëren? Meld je dan aan voor ons Telegram kanaal.