De groene golf die de relatief meevallende inflatiecijfers veroorzaakte voor bitcoin (BTC) en de meeste andere koersen, lijkt vanmiddag op weerstand te stuiten. Toch was er vandaag opvallend goed nieuws te melden, wat de koers een extra zetje kan geven in het doorbreken van de huidige weerstandszone.
Bitcoin prijs stijgt 2% naar $24.500
Maar eerst de huidige stand van zaken. Kijkend naar de grafieken zien we de prijs van bitcoin sinds gisteravond in een opwaartse trend. Vanmiddag stuitten de bulls echter net onder $25.000 op weerstand. Dat is ook de zone waar het handelsvolume weer iets toe begint te nemen.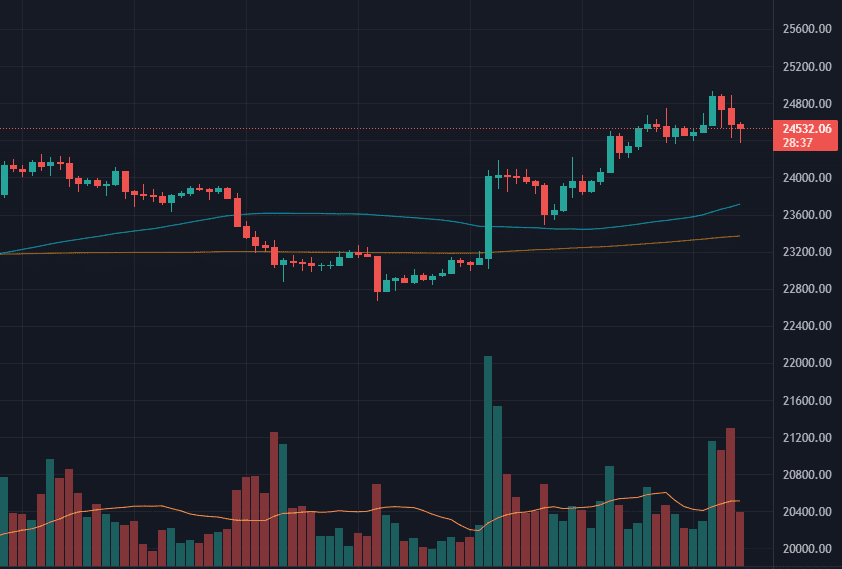 Bitcoin handelt op het moment van schrijven rond de prijs van $24.500 op Coinbase, ongeveer 2% hoger dan 24 uur geleden. Op de Nederlandse exchange Bitvavo komt de BTC euro prijs uit op €23.736. De weerstandszone geeft zich dus nog niet gewonnen. BTC ondervond hier de afgelopen weken al drie keer eerder grote moeite.
Bitcoin naar $28.000?
Analist TechDev vergelijkt de huidige situatie met die in 2014. Dat is natuurlijk al wat jaren geleden. Toch merkt hij meerdere gelijkenissen op. Op basis van deze gelijkenissen deed hij vandaag de volgende uitspraken op Twitter:
"Bitcoin duwt door de 10W exponential moving average (EMA) op 24,2K heen.

Een close hierboven en de 20W [EMA] is de volgende weerstand voor de lange termijn bij 28K.

Verwacht daar een eerste afwijzing.

Of de 10W als support geldt, zal bepalen hoe snel de volgende macro-impuls van start gaat imo."
#BTC pushing past the 10W EMA at 24.2K.

Close above and 20W is next HTF resistance at 28K.

Expecting initial rejection there.

Whether the 10W holds as support will determine how quickly the next macro impulse takes off imo. https://t.co/QcbcZZnEmj pic.twitter.com/zDoJDDh3Et

— TechDev (@TechDev_52) August 11, 2022
In mei handelde de bitcoin koers nog een maand lang boven de $28.000 voordat een verdere crash volgde. Dit kan aanduiden dat er in deze zone flinke weerstand kan liggen, mochten we daar de komende week naartoe stijgen.
Het belangrijkste bitcoin nieuws van vandaag
In het bitcoin nieuws vandaag waren twee opvallende nieuwtjes te lezen. Ten eerste was het grote nieuws dat BlackRock, 's werelds grootste vermogensbeheerder, een bitcoin fonds heeft gelanceerd. Dit is natuurlijk groot nieuws. Een directe reactie van de BTC koers bleef echter vooralsnog uit.
Verder viel te lezen dat Mike McGlone, een analist bij Bloomberg, verwacht dat bitcoin naar $100.000 kan stijgen. Volgens hem is het slechts een kwestie van tijd dat goud naar $2.000 per ons, olie naar $50 per vat en bitcoin naar $100.000 stijgen. In zijn tweet legt hij uit hoe hij bij zijn uitspraken komt.