Gister was het voor bitcoin (BTC) een rustige dag qua nieuws. Allereerst bleek dat inmiddels alle 'toeristen' uit crypto-land zijn vertrokken en enkel de long term holders overblijven, ofwel de investeerders die snel geld wilden verdienen zijn weg en de lange termijn investeerders houden hun BTC nog altijd vast. Daarnaast bleek ook bitcoin-mining voor het eerst in een jaar winstgevender is dat ethereum-mining.
Dit gebeurde er met de bitcoin koers terwijl jij lag te slapen
Bitcoin schoot gisterenavond nog naar een piek van $20.600, maar de koers begon daarna weer te dalen. Op het moment van schrijven komt bitcoin op een prijs van $20.000 uit op crypto exchange Coinbase. De euro prijs van bitcoin is €19.600 op de Nederlandse exchange Bitvavo.  Bitcoin is dus met 2% gedaald sinds middennacht. Over de afgelopen zeven dagen daalde bitcoin 1,3% in waarde. De totale marktwaarde van bitcoin bedraagt op het moment van schrijven $382 miljard.
Om een duidelijk beeld te krijgen van de markt, is het soms goed om even helemaal uit te zoomen op de grafiek. Hier is te zien dat bitcoin sinds zijn all-time high in een neerwaartse trend zit waarbij de koers een patroon van lower highs en lower lows maakt. In het Nederlands wil dit zeggen dat de BTC koers steeds lagere pieken en lagere dalen maakt.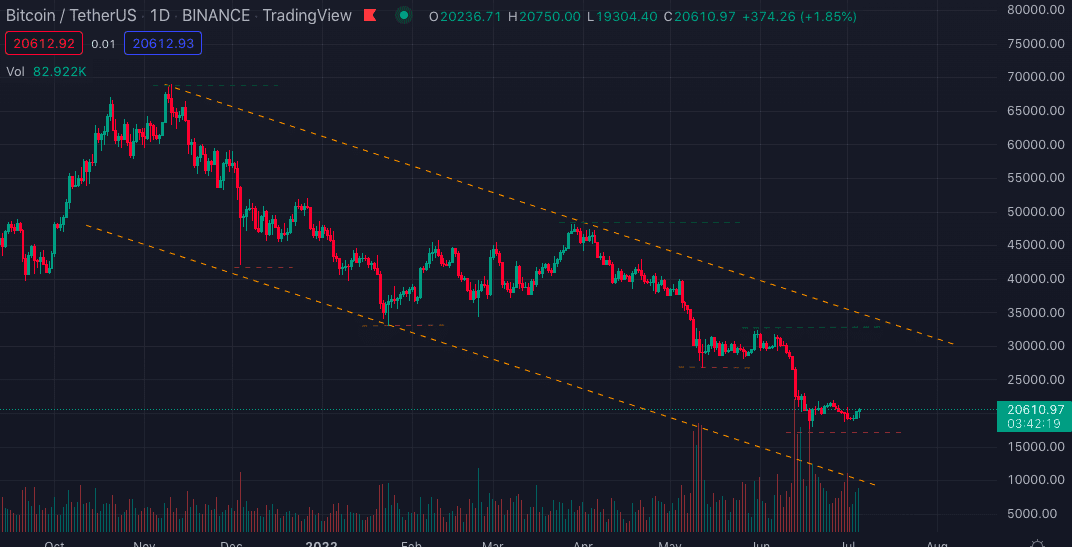 Dit patroon is kenmerkend voor een bearish markt. Dat betekent dat de markt wacht op een zogenaamde reverse, oftewel omkeer. Dan zou bitcoin echter eerst een hogere piek moeten vestigen, namelijk rond $33.000 en dat is momenteel nog ver weg.
Als we naar de onderstaande 4-uursgrafiek kijken, dan valt het op dat bitcoin de laatste weken een zogeheten symmetrisch driehoekspatroon vormt. Dit is een neutraal patroon en geeft dus geen voorkeur naar boven of naar onder aan. Toch zien we dat het bereik steeds krapper wordt en dat de koers dus een uitbraak nadert. Op een gegeven moment moet de BTC koers een keuze dan maken en het wordt spannend om te zien welke kant deze uitbreekt. In de premium omgeving van Crypto Insiders delen ervaren analisten regelmatig hun mening gedeeld over waar zij inschatten waar bitcoin heen gaat.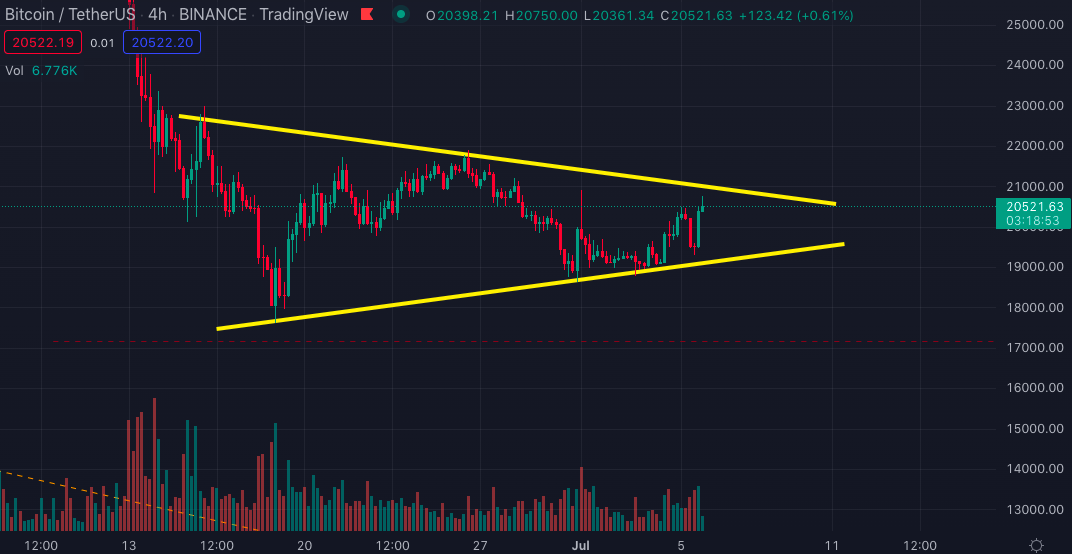 Premium crypto analyse van de dag: RUNE
De onderstaande grafiek van thorchain (RUNE) werd op 23 juni 2022 in de Discord omgeving van Crypto Insiders gedeeld met onze leden.  Onze analist analyseerde de RUNE koers met behulp van een Elliot Waves analyse. De RUNE koers leek hier een ABC of een 12345 patroon te vormen. Een C wave zal altijd rond de 100% Fibonacci eindigen en een 3 wave op de 161,8%.
Hieruit was op te maken waar de ideal koopzone voor RUNE lag en waar het doel gesteld kon worden voor een winst tussen de 33% een 55%. Voor nu is ons eerste target behaald. We zullen nu kijken of de koers weer naar beneden gaat of naar die 161,8% stijgt.
Mocht dat laatste gebeuren, dan vormt mogelijk nog een wave 5 die wellicht hoger uitkomt. Alsdit gebeurt, zullen we de nieuwe grafiek delen in de Discord omgeving met bijbehorende nieuwe targets.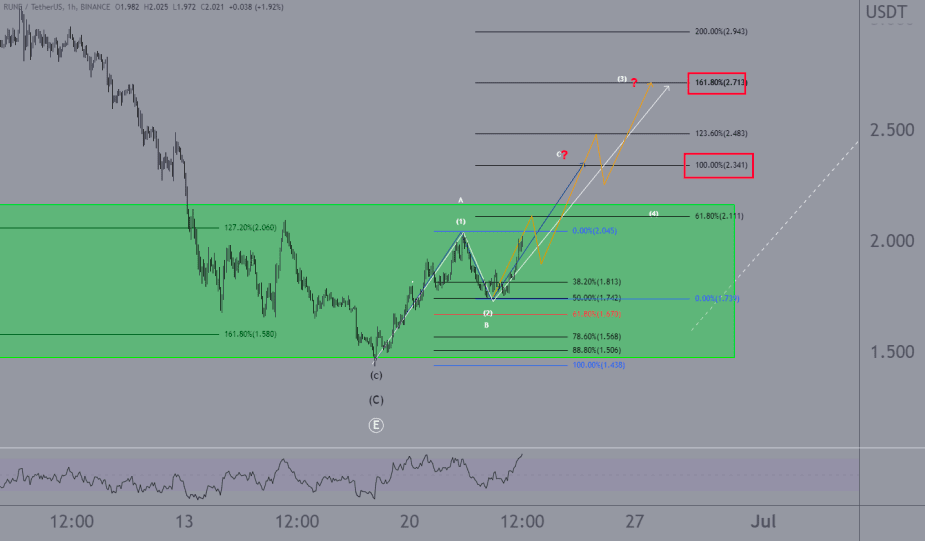 Handel samen met Crypto Insiders op Discord
Zoek jij hulp met handelen in crypto? Dan verwijzen we je graag door naar onze Discord groep voor leden. Hier bediscussiëren ervaren analisten en handelaren dagelijks hun analyses en handelsplannen. Ook delen we hier als eerst onze technische en fundamentele analyses. In onze Discord community kunnen we 24/7 kennis met elkaar delen en proberen we samen met onze premium leden de markt voor te blijven.
Ook hield onze hoofdanalist, bekend als AppY, onlangs een ask me anything (AMA) sessie voor onze premium leden. Deze is nu voor iedereen terug te zien en staat vol met zeer interessante technische analyses!