Crypto Insiders leden ontvangen in onze Discord omgeving dagelijks nieuwe technische analyses voor cryptocurrencies. In dit artikel delen we een recente analyse van curve (CRV) uit onze Premium groep. Ben je nog geen lid of mocht je na het lezen van dit artikel nog vragen hebben, probeer dan een Premium-lidmaatschap 30 dagen volledig gratis.
Wat is Curve?
Curve is een gedecentraliseerde exchange voor stablecoins die door middel van een automated market maker (AMM), ofwel geautomatiseerde marktmaker in het Nederlands, haar liquiditeit beheert. Ook kunnen de CRV tokens gebruikt worden om op verschillende voorstellen te stemmen die over de toekomst van het project gaan. Een houder van de token kan dus meebeslissen met wat er met het project zal gebeuren.
Technische analyse CRV koers
Gisteren deelde de analisten van Crypto Insiders een nieuwe analyse van de CRV koers in de Premium omgeving. Zij zagen dat, ondanks het sentiment op de markt erg bearish is, CRV mogelijk nog een opwaartse beweging kon maken. Dit hadden de analisten voorspeld omdat CRV net een 12345 Elliott Wave patroon had afgemaakt. Daarna volgt meestal een correctieve beweging in de andere kant van de trend op.
In dit geval hadden de analisten een ABC EW patroon verwacht naar boven, waarbij de koers tussen de 100% en 123,6% Fibonacci uitkomt, ofwel een prijs tussen de $0,736 en $0,815.
Inmiddels heeft deze stijging al in een hele kort tijd plaatsgevonden, een stuk sneller nog dan verwacht. De koers was in slechts enkele uren met ongeveer 80% gestegen richting deze verkoopzone. Echter verwachten de analisten dat de koers na deze zone weer zijn neerwaarste trend zal voortzetten.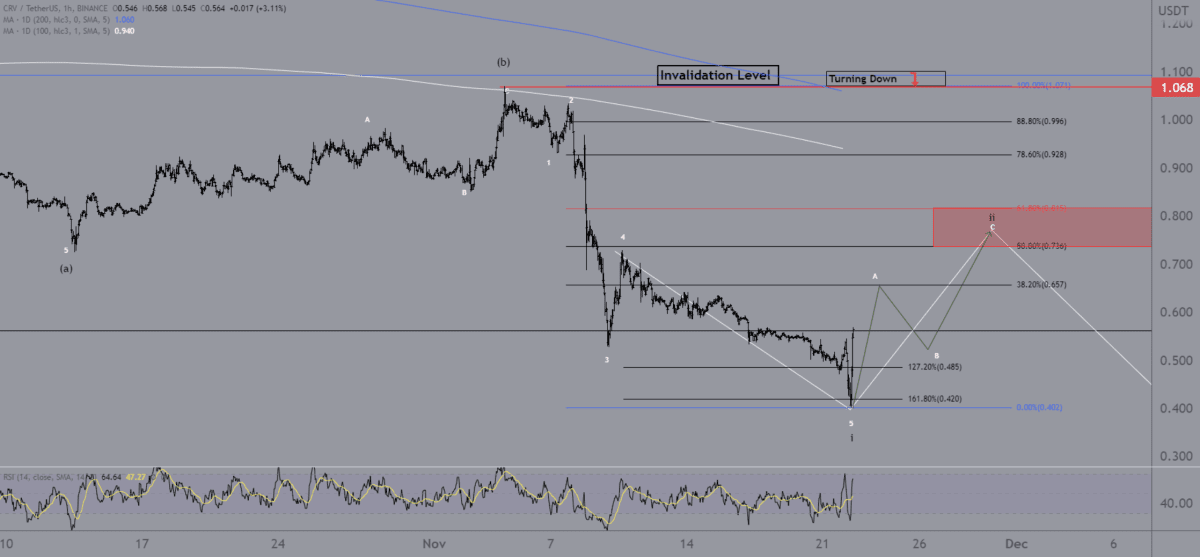 Mogelijk ook een interessante analyse
Vanochtend publiceerden wij ook een recente analyse van de ethereum (ETH) koers. De analisten kwamen tot de conclusie dat hier iets drastisch is veranderd. Kortgeleden was het sentiment nog zeer positief over ether, maar inmiddels is dit totaal omgeslagen en moeten we zelfs rekening houden met een harde daling. De analisten nemen in deze analyse een aantal belangrijke prijsniveaus door.
Curve kopen of verkopen?
Overweeg jij CRV te kopen of verkopen? Zoek jij hulp met handelen in crypto? Dan verwijzen we je graag door naar onze Premium membersgroep. Hier ontvangen leden als eerst de nieuwste technische analyses van een groot aanbod aan crypto.
Ook krijg je toegang tot exclusieve crypto-projecten, koersvideo's, handelsplannen en ask me anything (AMA) sessies met onze analisten. In onze Discord kunnen we 24/7 kennis met elkaar delen en proberen we samen met onze leden de markt voor te blijven. Voor meer informatie, neem een kijkje op onze Premium informatiepagina en probeer de eerste 30 dagen gratis.
Disclaimer: Beleggen brengt risico's met zich mee. Onze analisten zijn geen financieel adviseurs. Raadpleeg altijd een adviseur bij het maken van financiële beslissingen. De informatie en tips die op deze website zijn verstrekt is gebaseerd op eigen inzichten en ervaringen van onze analisten. Deze dienen daarom alleen voor educatieve doeleinden.