Lange tijd waren non-fungible tokens (NFT's) een enorme hype. Het waren vooral twee categorieën waar deze hype sterk aanwezig was, namelijk digitale kunst/collectibles en gaming NFT's. Maar nu lijkt de hype langzaam op te drogen. Is dit het einde van het NFT-tijdperk?
NFT zoek- en handelsvolumes
Om een beter idee te krijgen van de huidige stand van zaken op de NFT-markt, zetten we eerst op een rijtje hoe het ervoor staat met de handelsvolumes. Uit data van The Block blijkt dat de absolute piek van de wekelijkse NFT handelsvolumes in augustus 2021 werd bereikt. Sindsdien is het eigenlijk alleen maar bergafwaarts gegaan, zoals te zien op de onderstaande grafiek.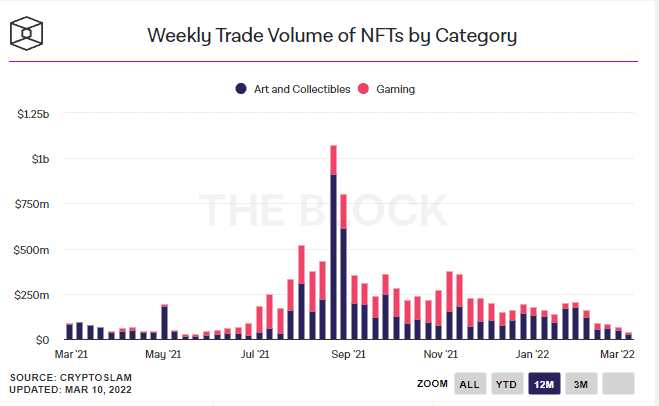 Waar het gemiddelde volume in de eerste week van 2022 nog rond $180 miljoen lag, daalde dit in de week van 6 maart naar $68 miljoen. Op de absolute piek lag het wekelijkse NFT-volume nog op meer dan $1 miljard! Kortom, het is duidelijk dat de activiteiten in zowel de gaming als art en collectibles categorieën flink is afgenomen.
Ditzelfde is duidelijk zichtbaar op Google Trends. Uit deze data kunnen we opmaken hoe hoog het zoekvolume ligt per zoekwoord, in dit geval dus "NFT." De piek van het zoekvolume kwam iets later dan de piek in handelsvolume. In de eerste weken van 2022 lag het zoekvolume het hoogst, om de afgelopen maanden flink af te zwakken. Daarmee komt het zoekvolume weer uit op het niveau van oktober 2021.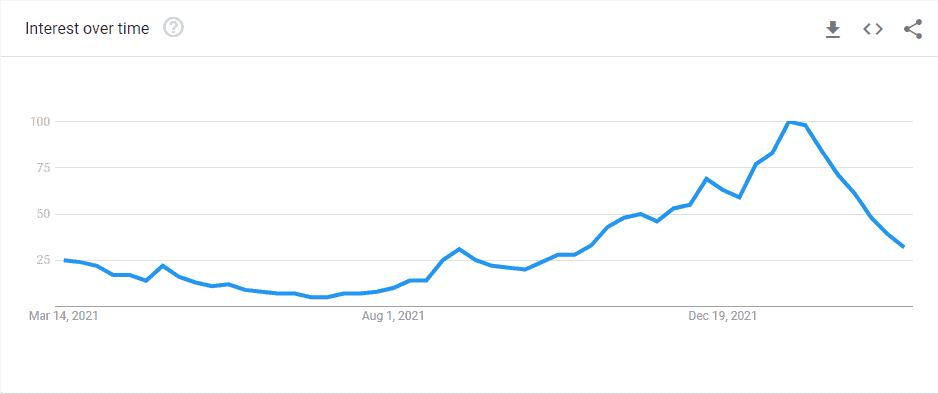 NIET het einde van NFT's
Het lijkt er enigszins op dat we het knappen van de NFT-zeepbel zien plaatsvinden. De tijden van NFT rotsen die voor een half miljoen worden verkocht lijken voorbij. Maar dit is zeker niet het einde van NFT's.
NFT's kennen namelijk een hoop interessante toepassingen. Denk aan in-game voorwerpen die met NFT's ook echt waarde kunnen hebben. Of het makkelijker maken van de verkoop van je huis. Maar vooral op het vlak van gaming is er nog een hoop groeipotentie, met langzaamaan grote namen die zich eraan durven te wagen.
Dat de activiteiten binnen de NFT-markt nu sterk afnemen betekent niet dat deze use-cases ook verdwijnen. Wat mij betreft blijven NFT's dan ook een van de interessantere onderdelen van wat de crypto-industrie te bieden heeft!