Nadat Ethereum (ETH) op 13 augustus onder de $300 zakte en in de maand daarop steeds nieuwe dieptepunten bereikte, heeft het binnen een maand tijd een herstel van volume en momentum laten zien en is de prijs van $170 gestegen naar een huidige prijs van $230 (waarbij het op 23 september even de $250 aantikte).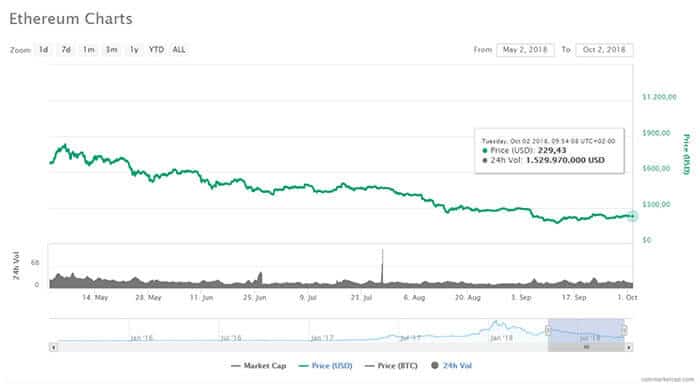 De prijsdaling van ETH in de afgelopen maanden werd door veel analisten verweten aan een sell-off van ETH-holdings van blockchain-projecten die eerder miljoenen dollars ophaalden middels initial coin offerings (ICO's) op de Ethereum-blockchain. Nu de ETH-prijs zich weer enigszins hersteld heeft is het de vraag of de grote sell-off ook daadwerkelijk voorbij is. Larry Cermak van crypto-onderzoeksbedrijf Diar zegt het volgende:
Er bestaat een grote misvatting dat ICO-bedrijven het grootste gedeelte van hun ETH-holdings van de hand gedaan hebben. Gemiddeld hebben deze projecten 62% van het bedrag dat ze aanvankelijk hebben opgehaald verplaatst of verkocht. Met andere woorden: ze bezitten nog altijd 38% van de aanvankelijk opgebrachte hoeveelheden. Dit veroorzaakt dan weer ETH-verkoopdruk, die waarschijnlijk niet snel zal verdwijnen.
5/ On average, all of these projects have moved or liquidated 62% of the amount that they initially raised. In other words, they are still holding 38% of the initially raised amounts.

— Larry Cermak (@lawmaster) September 10, 2018

Mocht de rest van de ETH-holding ook snel in de uitverkoop gedaan worden zou Arthur Hayes, CEO van BitMEX, zomaar eens gelijk kunnen krijgen met zijn voorspelling dat ETH ter zijner tijd minder dan $100 waard zal zijn. Aan de andere kant zou het ook zo kunnen zijn dat de daling van de ETH-prijs uiteindelijk niet is veroorzaakt door een sell-off van ICO's. Ripple (XRP) maakte in de afgelopen vijf maanden vrijwel dezelfde neerwaartse trend als ETH mee, maar de daling van XRP werd toegeschreven aan een normale marktbeweging. Het is mogelijk dat ook de daling van de ETH-prijs te maken heeft met het feit dat de gehele cryptomarkt een grote correctie heeft ondergaan.
Wil je op de hoogte blijven van het laatste nieuws? Abonneer je dan op onze push-berichten, 
Facebook
– of 
Twitter
 pagina.
[ci-widget-v2]